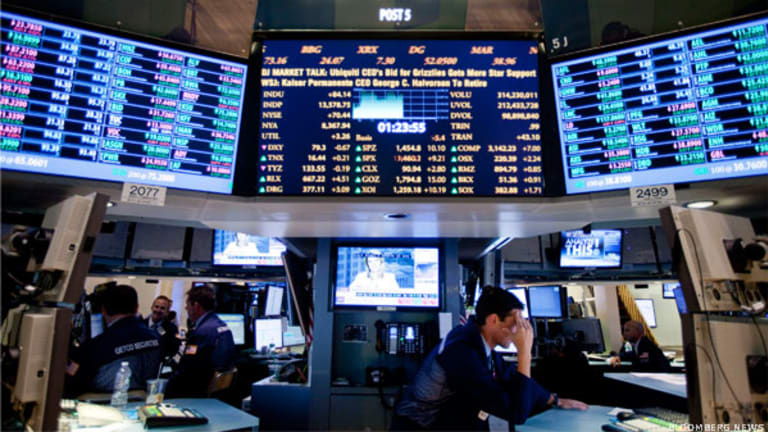 Stocks Close Higher by Over 1.5%, but Where was the Volume?
The Dow had its largest single day advance since November 4, but it was tough for traders to love the session as there was not much momentum or conviction in the action.
The open was impressive and there were some major developments in the market, but the day was pretty quiet overall and volume was anemic (outside of GM), therefore not much conviction or momentum to really make traders love the action. Stocks closed higher by about 1.5%, enjoying their largest single day advance since November 4. Returns are back to the flat line on the week after sluggish trading trends from Monday-Wednesday.
Global stock indexes enjoyed a rally as well. The German DAX rose 2% to 6,832, a new 2010 closing high. In Greece, the ASE Composite Index rose 2.6%. Oil, silver, copper and gold were up, breaking two days of losses, as the U.S. dollar slipped about 0.5%.
The Dow Jones Industrial Average ended up 173.35 points, or 1.57%, to close at 11,181. The S&P 500 rose 18.10 points, or 1.54%, to close at 1196, and the Nasdaq was up 38.39 points, or 1.55%, to finish at 2514.
The move higher this morning was due to three catalysts: 1) China signaled that its inflation-fighting techniques won't be as severe as feared; 2) Dublin indicated that it was moving closer to reaching a deal with the IMF and EU on bailout terms; 3) Philadelphia Fed Survey was better than expected which mitigated worries sparked by Monday's Empire State Manufacturing Survey, while Jobless Claims continue to show improvement.
General Motors ( (GM) ; $34.19) priced its IPO at $33.00 per share last night. Shares climbed 7% immediately after the launch to end about 3% higher on the day. The listing could net GM $23 billion and will reduce the government's stake in the company to below 40% from 60%.
A quick note on the calendar: Options traders are aware there are five trading days in the next ten, leaving five days for the options to decay. When the markets are not open, long premium option positions decay and traders are unable to capture or hedge price movements.
The CBOE Volatility Indexundefined traded lower, but at-the-money volatility stays elevated. VIX closed down $3.01, at $18.75. January 20 puts and December 30 calls were active on total option volume of 94,000 puts and 202,000 calls.
SPDR S&P 500 ETF (SPY) November puts were active as premium spreaders sold into the monthly expiration. SPY traded higher by $1.74 to close at $119.96. November 117, 119 and 120 puts were active on total call option volume of 1.39 million put contracts and 733,000 calls. November at-the-money (ATM) 120 put option implied volatility down to 17, December to 18 and January to 19, below its 26-week average of 23.
PowerShares QQQ Trust (QQQQ) spreaders were active in November contracts as low volatility environment returned on the tech rally. The Qs closed up $0.83, at $52.43. November options were active on total call option volume of 238,000 put contracts and 211,000 calls. November weekly put option implied volatility is at 19 and December is at 18, below its 26-week average of 24, suggesting decreasing price movement.
There is no economic data expected to be released on Friday, with only four notable companies reporting before the open: ANN, HNZ, MENT, YGE.
OptionsProfits For actionable options trade ideas from a team of experts, visit TheStreet's OptionsProfits now.
Readers Also Like:
Readers Also Like:
Readers Also Like: