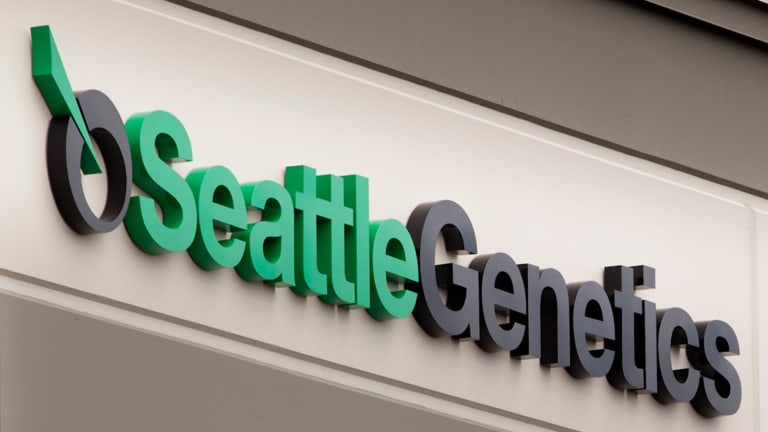 Still Bullish on Seattle Genetics Despite Volatility
Small cap biotech company Seattle Genetics has traded over the past 52 weeks between $30 and $52, and despite its 2.30 beta, Skip Raschke thinks it's worth the risk.
NEW YORK (TheStreet) -- (SGEN) is the trading symbol for the small cap biotech company Seattle Genetics. SGEN has traded over the past 52 weeks between $30 and $52. SGEN has a beta of 2.30, which for the most part is a warning to those who can't stand the heat thrown at them by high volatility. Now toss into the alchemy of a high beta the fact that the overall stock market volatility has been abnormally high over the past two months. Ergo: the caveat emptor warning is now sort of squared.
I have been following SGEN since April 2009 when its price was $9. Since September 2010, I have posted nine successfully closed, bullishly-biased, and 100% controlled risk trades in SGEN. Each SGEN trade posted to OptionsProfits was done so accompanied with a deep respect for the risk/reward attached to any high beta stock in question. In other words, only the unknown outlier potential was the negative factor involved in the trades relative to the best of my ability to time the trade. Also, no bearish set-ups have been or will be taken in SGEN primarily because I have a bias in SGEN that thinks the stock will someday be a takeover. (If you want to feel one of the worst feelings a trader can possibly suffer, then go short a stock that you have been successfully trading from the long side, and short it just as it "catches a bid." Nevermind! Do not do that).
So why SGEN, again, from the bull side now? Well, I never take my trader's eye off the stock, especially when the bears are controlling stock values. I treat SGEN trades in the same manner as I did my pit stocks decades ago. The strategy, the one that revolves around a core of stocks that you trade is a wise course of action for any trader. The bears that shorted SGEN and the longs recently closing out that dumped SGEN into the vacuum over the past month are probably now done selling the stock if the SGEN price pattern rhymes with previous SGEN bottoms made over the past six years. In addition, the one year stochastic and Relative Strength Index, while possibly coming up from this potential bottom, both have ample room to run (upward) if the path of least resistance (up) is now and once again in play.
SGEN Weekly
Source: StockCharts.com
Trading is an art form as much as it is a science. SGEN is very high PE stock that is being accumulated by those who think and believe that SGEN has the makings of a quality biotech company as time and SGEN grow. However, know that in the terms of a gambler's lingo, a long side trade on SGEN is a "bet on the come!" That fact alone is why all trades that I have posted to OP in SGEN are 100% risk controlled.
Fundamentally, SGEN is a small cap growth stock. SGEN has a net loss per share and will have the same well into 2016 if not beyond. Thus the technicals and pattern recognition are the important elements to any SGEN trade.
As of mid-August the total amount in percentage terms of SGEN's 93 million share float is 28% stock that has been sold short. In trades and times past that short interest total has peaked just prior to those SGEN shorts being squeezed. That set up once again rhymes (for me).
Almost everything that I have written above as per the "canvas" of SGEN's potential is laced with a palette of bullish bias. Your caveat emptor is: if in doubt, stay out. The trade tactic I prefer now for SGEN is the bullishly biased out-of-the-money vertical call spread, expiring in January.
Trade: buy 1 SGEN January 45 call and sell 1 SGEN January 50 call for a debit of $1.30.
The total risk for the spread is the $1.30 debit. The suggested target to close for a gain is a bid of $1.80 and the suggested stop out target is a bid of $0.80.
As always, this is a guideline, and you should always stick to your trading plan and what's best for your risk/reward tolerance.
OptionsProfits can be followed on Twitter at twitter.com/OptionsProfits
Skip Raschke writes regularly for Options Profits. You can get his trades first and interact with him there with a free trial.
Must Read: 13 Stocks Set for Huge Revenue Growth Even When Interest Rates Rise
At the time of publication, Skip Raschke held no positions in the stocks or issues mentioned.