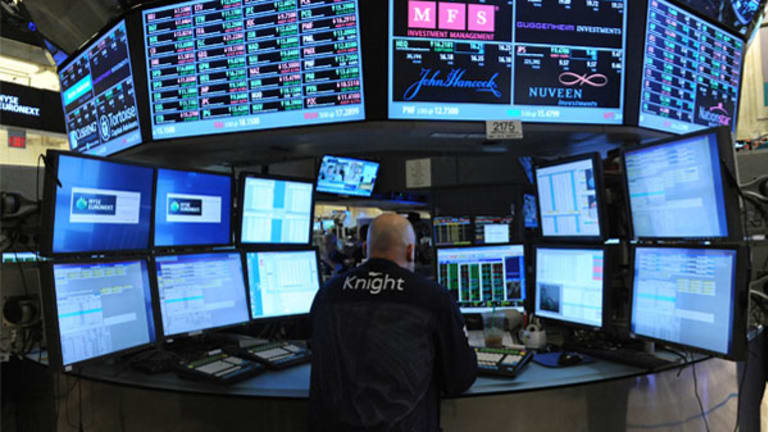 Steeling a Volatility Play
Even though the market is looking for any excuse to move higher, I think we trade sideways and choppy for a while.
Federal Reserve Chairman Ben Bernanke helped all the longs out on Friday (most of them...). The move higher underscored that the market wants any excuse to go up. The sales numbers in our last earnings cycle were not enough to drive the market higher so, a good old fashioned "thumbs up and I am here to help" from the Fed Chairman made things better. Great, but I still can not get too excited about it. Sideways (maybe more bounce) looks too real.
Since the equity market has been choppy over the last five days, I decided to focus Aqumin's AlphaVision landscape on changes in 10-day implied volatility over that period. For the same reason, I also wanted to look at total return over the five days.
The landscape below is showing the S&P 500, and you notice it is mostly tinged with green. That is IV10 going up in most of the names in the S&P 500, whether the stocks finished up or down for the week. What stood out to me was U.S. Steel (X) - Get United States Steel Corporation Report (skinny red building in the back). It was the worst performer for the week (although a nice pop on Friday) in the materials group and the 10-day implied volatility was declining the most for the S&P 500. The short-term X volatility is getting a bit cheaper at the money, and there is some decent upside skew in X (leftover from takeover rumors), which makes the call verticals look interesting. The market still wants to go up, Friday was a relief gasp, but I think it will move in fits and starts as will this S&P 500 stalwart.
U.S. Steel (X) Volatility
Source: Aqumin

With an 10-day historical volatility at 59v and the at-the-money calls trading for 48.5v, I would like to craft a cheap ratio call spread to take advantage of what I think is slightly up, but sideways activity.
Trades: Buy 1 X September 44 call for $1.88 (48.5v) and Sell 2 X September 47 calls at $0.86 (50.2v).
This trade has a debit of $0.16 and a -6 delta with X trading at $43.71.
At the time of publication, Andrew Giovinazzi held no positions in the stocks or issues mentioned.
Andrew is the Executive Vice President of Business Development for Aqumin, where he participated in the design team to apply AlphaVision to the financial markets. For 15 years he was a member of the Pacific Exchange and the Chicago Board Options Exchange, where he actively made markets and traded in both equity and index options.
OptionsProfits, a new provider of options news from TheStreet, educates investors and acts as a catalyst for trading.
Readers Also Like:
>>Put Sellers See Bottom in UNG
Readers Also Like:
>>Sanofi CEO: Genzyme is 'Stonewalling'
Readers Also Like: