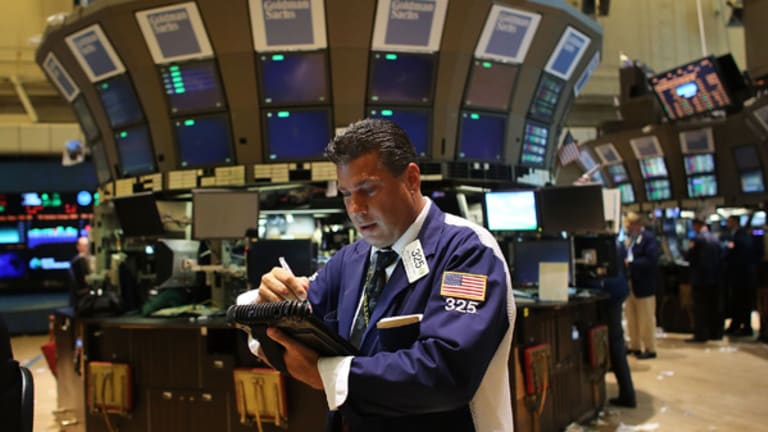 Skechers Sees Bullish Options Action
At least one Skechers investor has rolled out a bullish front-month position out and up.
Skechers
(SKX) - Get Skechers U.S.A., Inc. Class A Report
shares opened lower at the opening bell, but the stock has since turned up following news that Capstone initiated the footwear producer with a buy rating. At least one investor took the good news and rolled a front-month call position out and up.
SKX shares are currently up roughly 1%, or 35 cents, to $36.67 so far on the day. SKX has not announced an earnings release date, but the market anticipates the report around April 28. The stock rallied to a 52-week high of roughly $38 on March 26, and it looks like at least one investor expects the stock to climb to a new high throughout the next month.
At 12:08 p.m. EST, options action suggest an investor rolled roughly 7,000 April 35 calls up to the May 40-strike calls and collected roughly $1.30 per spread. The investor most likely sold to close the front-month calls for around $2.93 per contract and bought to open the May 40 calls for $1.63 per contract.
The April 35 calls are home to current open interest of more than 11,200 contracts and current open interest of the May 40 calls is just 183 contracts, which also suggests investors closed the front-month position to open the higher-strike calls. Investors who bought to open the May 40 calls will make money if the stock climbs higher than $41.63 prior to the May options expiration in 50 days. Even though investors collected premium on this trade, this action suggests bullishness because the roll maintains long exposure in the stock and calls for shares to climb even higher than the original strike price.
Implied volatility of the May 40 calls is 43% compared to the stock's 30-day historical volatility of 35%. The May 40 calls have gained 38 cents so far today.
Jud Pyle is the chief investment strategist for Options News Network and the portfolio manager of TheStreet.com Options Alerts. Click here for a free trial for Options Alerts. Mr. Pyle writes regularly about options investing for TheStreet.com.
Jud Pyle, CFA, is the chief investment strategist for Options News Network. Pyle started his career in finance in 1994 as a derivative analyst with SBC Warburg. After four years with Warburg, Pyle joined PEAK6 Investments, L.P., in 1998 as an equity options trader and as chief risk officer. A native of Minneapolis, Pyle received his bachelor's degree in economics and history from Colgate University in 1994. As a trader, Pyle traded on average over 5,000 contracts per day, and over 1.2 million contracts per year. He also built the stock group for all PEAK6 Investments, L.P. hedging, which currently trades on average over 5 million shares per day, and over 1 billion shares per year. Further, from 2004-06, he managed the trading and risk management for PEAK6 Investments L.P.'s lead market-maker operation on the former PCX exchange, which traded more than 10,000 contracts per day. Pyle is the "Mad About Options" resident expert. He is also a regular contributor to "Options Physics."