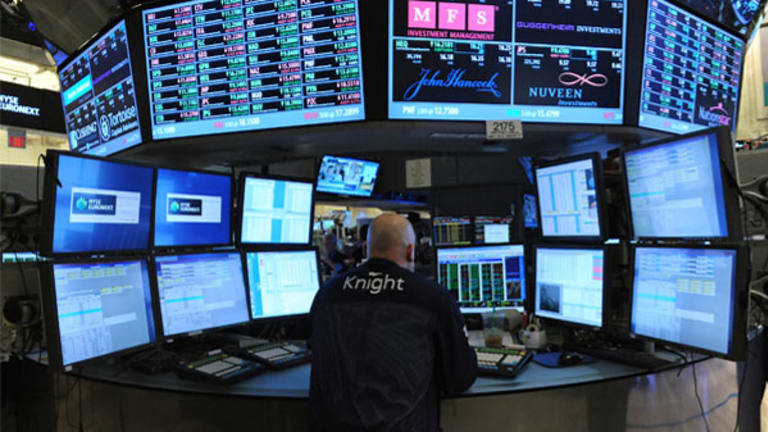 SINA: Strategy Based on Reader Feedback
We are going to sell SINA calls and delta-hedge our directional exposure with long stock.
In 2009 and 2010, SINA
(SINA) - Get Free Report
was one of those darling Chinese tech stocks that every momentum trader loved to own. But while peers like
Baidu.com
(BIDU) - Get Free Report
have continued to thrive, SINA, along with
Youku.com
(YOKU)
,
Sohu.com
(SOHU) - Get Free Report
and others made dramatic tops in late April 2011 and have traded flat or lower since then. The price action over the last several days is telling - while equities moved up almost in unison during the Monday and Tuesday sessions, SINA is only a few points away from its recent lows. The trend rank indicator in the lower panel (blue line) is about as low as it can get.
SINA Price Chart
Source: Amibroker
In terms of price expectations, I don't see any obvious edge: while the stock has been moving lower and the momentum traders have long departed, mean reversion could kick in at any time, taking the stock back up to 100. But there is definitely a worthwhile trade to consider in the options. The ratio of 60-day implied and historical volatility is as high here as it has ever been, which means that options buyers are willing to pay record premiums in excess of the actual price volatility that has been exhibited by the stock in recent months. With HV at about 80%, we can sell November at the money calls priced at 93% implied volatility. From the perspective of an option buyer, that 12-point difference is a hefty premium to pay just to gain exposure to a somewhat jumpy stock.
SINA 60-Day HV and IV
Source: Livevol Pro
Since my position demonstrating how to
proved to be so popular, I've committed to publishing one of these sorts of trades every month, in which we find a viable option trade and then add the delta-hedging component to it to demonstrate what pure volatility trading is all about.
Let's sell the SINA November 85 call at $13.10 to capture the high volatility risk premium and hedge our directional exposure with long stock. The call option has a delta right now of about 60, but since we're selling the call the position will be short 60 deltas, so we will buy 60 shares at the market price ($87.13 as of Tuesday's close) for each call sold. We will check in on the position each Friday to rebalance exposure as needed.
Trades: Sell to open 1 SINA November 85 call at $13.10 and buy 60 SINA for $87.13 per share.
Click here for a 14-day free trial to Options Profits
At the time of publication, Jared Woodard held no positions in the stocks or issues mentioned.