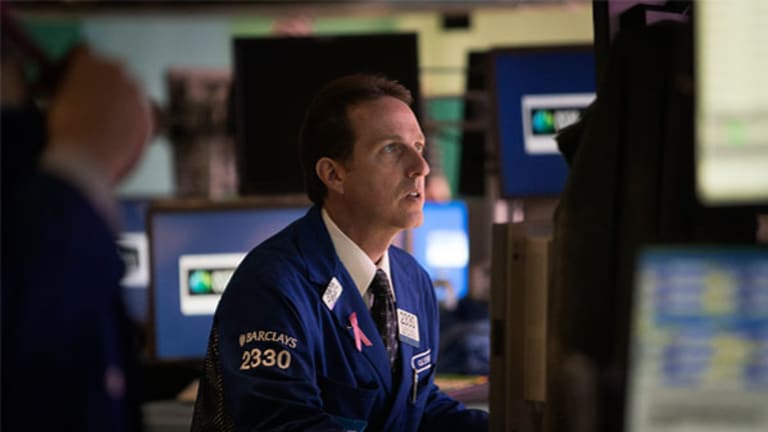 Shorts Still Not Very Aggressive
January options contracts expire this Saturday, January 22 and cease to trade tomorrow, Friday, January 21. Expect to see higher volume and volatility, especially since we are in the thick of earnings seas
Dip buyers reasserted themselves and helped the broader indices to finish off their worst levels. As has been the case for the past six weeks, the financials remain key for this tape. The weakness over the last 48 hours was mostly a result of profit taking combined with a dearth of buy demand. While shorts have picked up some, they are still reluctant to get very aggressive, are using tight stops and are quick to cover.
The Dow Jones Industrial Average ended down 2.49 points, or 0.02%, to close at 11,822. The S&P 500 fell 1.66 points, or 0.13%, to close at 12803, and the NASDAQ was down 21.07 points, or 0.77%, to finish at 2704.
Cyclicals lagged, while defensives acted well and financials bounced back from yesterday's weakness. Materials were off 1.5%, falling sharply on weakness in base metals, precious metals, and fertilizers. Energy was off close to 0.75%, underperforming on weakness in refiners, shipping/tankers, and E&Ps. Tech was off 0.7%, moving lower on weakness in semis, networking stocks, and hardware.
As a reminder, January options contracts expire this Saturday, January 22 and cease to trade tomorrow, Friday, January 21. Expect to see higher volume and volatility, especially since we are in the thick of earnings season.
The CBOE Volatility IndexI:VIX closed up 3.93%, at 17.99, on overall put volume of 104,000 contracts compared to 171,000 call contracts, with February 20 calls as the most active series.
SPDR S&P 500 ETF (SPY) - Get SPDR S&P 500 ETF Trust Report institutional spreaders painted the tape rolling January positions into February. SPY closed up closed down $0.17, at $128.08, on overall put volume of 1.33 million contracts compared to 822,000 call contracts. 60 and 90-day implied volatility are both at 17, indicating little price movement.
The PowerShares QQQ Trust (QQQQ) closed down $0.40, at $56.11, on 2.1x times the average daily volume. 60 and 90-day implied volatility is at 18 and 20, respectively, indicating longer-term price movement. Overall, 463,000 put contracts traded compared to 245,000 call contracts, with February 56 puts as the most active series on 75,300 contracts.
OptionsProfits For actionable options trade ideas from a team of experts, visit TheStreet's OptionsProfits now.
Readers Also Like:
>>Why Traders Get Confused With the VIX
Readers Also Like:
Readers Also Like: