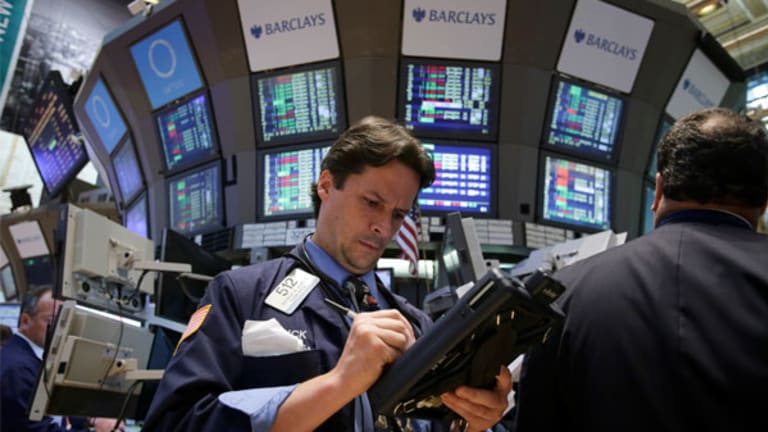 Trading is slowing midday Friday ahead of the Labor Day weekend. Monday is an exchange holiday and many players have already hit the exits to enjoy the extended weekend. With the Dow Jones Industrial Average down 175 points on disappointing jobs data, the three-day break will serve as a good opportunity to take a step back and look at the big picture. In that respect, several important macro-trends will be worth watching when trading resumes Tuesday.
While US exchanges are on holiday Monday, action in the European markets early next week will likely set the tone for trading on Wall Street Tuesday. The action in the iShares Germany Fund (EWG) - Get iShares MSCI Germany ETF Report will be worth watching. Germany's DAX lost 3.4% today and has been leading Eurozone equity markets lower since late-July. Consequently, EWG, which is a US-listed product that holds shares of leading German companies, is down 25.9% since July 26. Shares hit a 52-week low of $19.53 on August 19 and are down $0.55 to $19.85 today. We want to see those 52-week lows hold next week. If not, expect the volatility across the Atlantic to spill over onto US shores next week.
The action in the euro reflects underlying worries about the European Debt Crisis as well. Against the buck, the European currency had staged an advance from 1.409 on August 4 to 1.451 on August 29. However, the euro is on a four-day losing skid and is down Friday on concerns that talks to help debt-ridden Greece are breaking down. Currencyshares Euro Trust (FXE) - Get Invesco CurrencyShares Euro Trust Report, which is the fund that tracks the currency pair (X100), is down $0.74 to $141.41 today. Shares have lost 2.2% since August 29. $140 is the key level to watch on the euro ETF. If it breaks below, watch out! It's probably a good sign that the debt problems across the Eurozone are deepening.
Trends in the gold market will be worth noting. Gold is surging Friday, up $46.1 to $1,872.8 an ounce. The yellow metal performed well during most of August on flight-to-safety buying, but then saw a volatile decline last week on diminishing concerns about problems in the financial world. Today, however, fear is back and gold is making another dramatic run higher. Can it continue next week? SPDR Gold Trust (GLD) - Get SPDR Gold Trust Report, which is an exchange-traded fund that holds the metal stored in bank vaults, is up $4.65 to $182.52 and is likely to meet some resistance at August highs around $185. If it breaks beyond that level, it's a sign that levels of investor anxiety and fear remain high.
Crude oil is also at an important technical level. The action in crude is not necessarily a gauge of sentiment, but it holds important implications for energy-related companies, which currently account for about 13% of the S&P 500. Higher crude typically translates into higher profits for the industry. However, falling prices is also a sign of slowing demand for energy and weakening global economic conditions. The key level to watch on the US Oil Fund (USO) - Get United States Oil Fund LP Report, which is an ETF that tracks the commodity through futures, is around $35 per share. It coincides with the mid-August highs and trendline resistance.
Action in the bond pits is a powerful sentiment indicator. Bonds have been rallying along with gold and the yield on the ten-year Treasury, which moves opposite to price, dipped below 2% in mid-August. CBOE Ten-Year Rate Index (.TNX) tracks the yield on the ten-year (X10) and is down 1.22 to 20.24 today, indicating that the yield on the ten-year is plummeting back towards 2%. Will this level hold? If so, it could represent a double bottom for the index and a double top for bonds. If not, new lows in TNX indicate that the flight-to-safety trade is still on!
The iShares Real Estate ETF (IYR) - Get iShares U.S. Real Estate ETF Report fell to 52-week low of $49.05 on August 8 before rallying 15.2% to $56.5 on August 19. It fell again through August 22 before rallying to $57.5 earlier this week. Shares, which hold a variety of Real Estate Investment Trusts REITs and real estate companies, are likely to face resistance near recent highs around $57. Since REITs and real estate companies are among the more economically-sensitive names, a rally in IYR above recent resistance levels would signal increasing investor confidence in the economic outlook.
Finally, the action in General Electric (GE) - Get General Electric Company (GE) Report is also worth noting. GE is a large diversified company and a component of the Dow Jones Industrial Average. It is the only stock that was also a member of the original industrial average, which Charles Dow created in 1896. For a variety of reasons, GE can serve as a barometer for the performance of the US equity market. Shares rallied to test mid-August resistance highs of $16.50 two days ago. The rally stalled, however, and GE is down almost 5% since that time. Leadership from GE and a move beyond $16.5 through early next week would be a bullish short-term sign for the equity market.
New lows in the Germany ETF and a dip below $140 in the FXE would be an indicator that worries about the European Debt Crisis persist. That, in turn, could set the table for rocky trading on Wall Street when exchanges reopen Tuesday. New highs in GLD and new lows in TNX in early-September would also offer signs that the prevailing sentiment remains fearful, pessimistic and bearish. That negativity is likely to spill over into the equity market and keep volatility at high levels. Meanwhile, further losses in crude oil, the real estate ETF, GE and other economically sensitive issues would also be a negative because it portends economic weakness and a risk to earnings. However, if these groups can rally and break above recent resistance levels, the strength offers encouraging signs that the bearish trend seen throughout much of August is giving way to more constructive action in early-September.
Frederic Ruffy is the Senior Options Strategist at Whatstrading.com, a site dedicated to helping traders make sense of the complex and fragmented nature of listed options trading. In addition to writing market commentary and trading-related books and articles, Fred has also worked as an instructor, educating investors on advanced topics like measuring volatility, the benefits of sector rotation and the risks and potential profits from trading around earnings. An active trader himself, with over 15 years securities industry experience, his market observations and analysis of the options market are featured regularly in the financial press including Barron's, Reuters, The Wall Street Journal, Bloomberg, Futures Magazine, and more!
Click here for a 14-day free trial to Options Profits
At the time of publication, Fred Ruffy held positions in IYR.