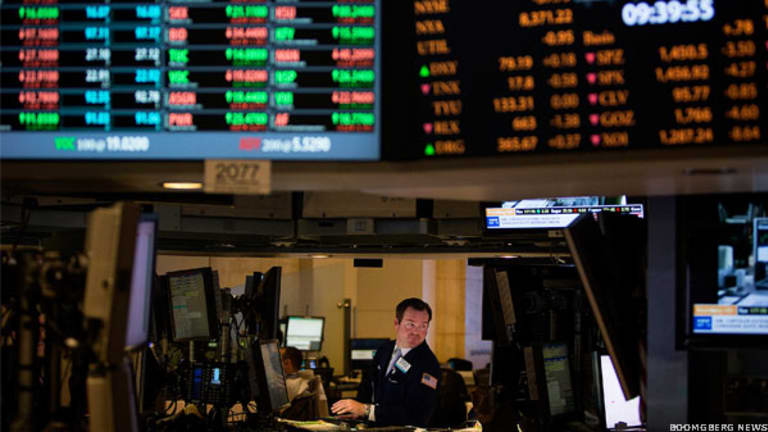 The chipmakers were under pressure Tuesday after
Microchip Technologies
(MCHP) - Get Microchip Technology Incorporated (MCHP) Report
slashed its first quarter earnings forecast. MCHP tumbled 12.1% and shares of many of its peers sank along with it. Meanwhile, implied volatility across the options contracts moved up, as investors now brace for a busy period of earnings from the chipmakers. The results could dictate whether or not Tuesday's slide is part of a larger trend. Volatility is to be expected.
The earnings season isn't off to a very good start for the semiconductor names after Microchip said earlier this week that it expects first quarter earnings of $0.53-$0.55, which is down from previous guidance of $0.58-$0.62 and below consensus estimates of $0.60. Microchip blamed poor global economic conditions including high unemployment, higher oil prices and lower consumer confidence for the weak results in its consumer market. Meanwhile, the automotive business was negatively impacted by supply issues stemming from the Japan quake. The computing sector was hurt by reduced purchases by several large customers. The company is seeing broad-based weakness across multiple business segments.
Microchip's warning weighed on the entire space yesterday. Atmel (ATML) lost 5.7%, Cypress Semiconductor (CY) - Get Cypress Semiconductor Corporation Report gave up 4.6%, Analog Devices (ADI) - Get Analog Devices, Inc. Report slid 5.1%, ON Semiconductor (ONNN) was off 8.9% and Freescale Semiundefined tumbled 7.4%. The Semiconductor HOLDRS (SMH) - Get VanEck Vectors Semiconductor ETF Report, which holds shares of 18 different chip and chip equipment stocks (MCHP is not one of them), lost 3.1%. As we can see from the chart, SMH is testing its 200-day exponential moving average.
Earnings are likely to dictate whether or not SMH can recapture its 200-day MA or whether a larger pullback is at hand. The calendar is light this week, but Intel (INTC) - Get Intel Corporation (INTC) Report comes into focus next week. The world's largest chipmaker releases results Wednesday afternoon. From that point forward, the sector will see a flood of earnings releases, including AMD and Rambus (RMBS) - Get Rambus Inc. Report on July 21, Texas Instruments (TXN) - Get Texas Instruments Incorporated Report and Broadcomundefined the 25th, and LSI (LSI) - Get Life Storage, Inc. Report, Teradyne (TER) - Get Teradyne, Inc. Report and Lam Research (LRCX) - Get Lam Research Corporation (LRCX) Report on the 27th. More than 100 chip and chip equipment companies are due to release results over the next few weeks.
Meanwhile, implied volatility in options on the chipmakers is higher heading into the reporting period. Implied volatility in Intel options, for example, is up about 25% to 27% in the past few days and within striking distance of this year's highs of 29%, which was seen around the time of the Japan quake. ADI, ATML, AMD, CY, ONNN, and BRCM have all seen substantial increases in implied volatility over the past week as well. The options market is bracing for big moves in the sector.
In terms of trading ideas, it might make sense to sit on the fence for a bit and see if other companies are facing broad-based weakness like Microchip. If so, consider bearish spreads, directional puts flys or ratio spreads on SMH, with a stoploss set just above the 200-day exponential moving average.
**On Wednesday, July 20 at 6:00 p.m. EDT, The Street's Options Profits is hosting a webinar featuring John Carter of Trade the Markets. John will show you how to pick stocks in various market conditions and incorporate options strategies to hedge positions. During this information-packed presentation, you will also learn about John's disciplined approach to trading and the tactics he employs to be a successful trader. The back half of the webinar will include an interactive, exciting Q&A session.
Please email: jill.malandrino@thestreet.com to secure a slot for the session as space is limited. Additional details including the webinar link will follow as we get closer to the presentation.
Frederic Ruffy is an experienced trader and provides daily commentary and analysis of the options market. He is co-founder of the web site, WhatsTrading.com. His work has also appeared in Futures Magazine, Technical Analysis of Stocks & Commodities, Stock Futures and Options, and Sentiment.
In addition to writing market commentary and trading-related books and articles, Fred has also worked as an instructor, educating investors on advanced topics like measuring volatility, the benefits of sector rotation and the risks and potential profits from trading around earnings. An active trader himself, with over 15 years securities industry experience, his market observations and analysis of the options market are featured regularly in the financial press including Barron's, Reuters, The Wall Street Journal, and Bloomberg.