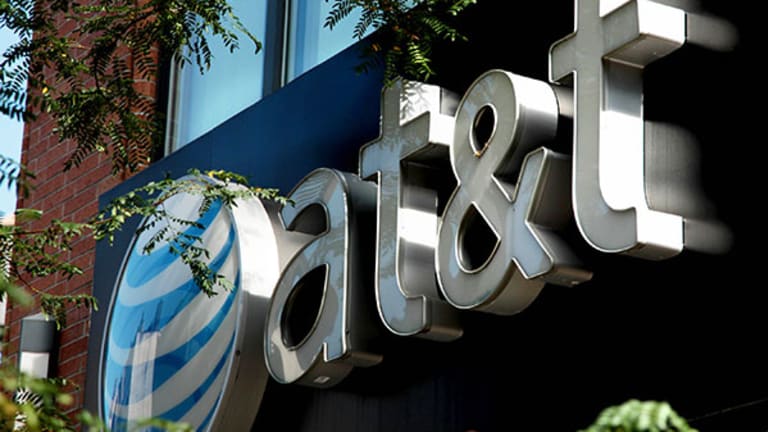 Publish date:
Selling Puts on AT&T Can Yield Additional Income
Investors in AT&T appear skittish about the acquisition of Time Warner as the stock has tumbled. The increase in volatility can be a "blessing for option sellers.
Investors in AT&T appear skittish about the acquisition of Time Warner as the stock has tumbled. The increase in volatility can be a "blessing for option sellers.
As Wall Street evaluates AT&T's (T) - Get Report plan to acquire Time Warner (TWX) for $85 billion, investors in the giant telecom company appear skittish about the acquisition as the stock has tumbled in recent days.
Skepticism from Wall Street on the pending merger pushed Dallas-based AT&T's stock lower on Monday by 1.68% to close at $36.86; it closed still lower on Tuesday at $36.70. Shares of Time Warner, the New York media company, were hit harder and declined by 3.06% to $86.74 on Monday before floating to $87.16 at market close on Tuesday. AT&T shares are down over 15% from their recent highs this summer, posting several closes above the $43 mark.
As investors and regulators review the potential mega deal, additional volatility will affect the stocks of both companies for several months. The increase in volatility can be a "blessing for option sellers, if it is done correctly," said Ron McCoy, a portfolio manager on Covestor, the online investing company and chief investment officer at Freedom Capital Advisors in Winter Garden, Fla.
Put sellers can benefit by selling the increased premium, he said. Investors can take advantage of the volatility and opt to sell AT&T puts at strike levels they are comfortable with. Since each put option is equal to 100 shares of a stock, an investor who is selling the $34 put for January is obligating himself to buy 100 shares at $34 and is currently getting paid $0.50 per share for that obligation. The purchaser of that same put has the right to sell AT&T shares at $34 up until the expiration.
"I sold the January $34 strike puts today, because I don't mind getting long on AT&T stock at those prices," McCoy said. "This is a good opportunity to sell puts for investors who want to go long on AT&T's stock."
Volatility is "good" for sellers of puts, because an increase in volatility can make options expensive, he said.
"Investors can reap the rewards and earn a profit," McCoy said.
The yield could act as a buffer and help the stock find eventual support, he said.
"This depends on how safe the market views a companies dividend," McCoy added. "In the case of AT&T, at $34, the yield would be 5.6% which might attract some investors looking for a higher yield."
The deal is extremely overpriced and AT&T is paying $18 billion more for Time Warner than it is worth on a standalone basis, based on a fair value estimate, said Michael Hodel, a CFA at Morningstar, a Chicago-based provider of investment research.
"As a result, the net loss of value to AT&T could be as low as $2 per share," he wrote in a research note. "AT&T will fund half of the purchase price with its shares, which we believe the deal terms overvalue. We are skeptical of the strategic benefits of combining content ownership and distribution."
While AT&T reported some progress in reigning in postpaid wireless and television customer losses to 268,000 in the third quarter, a decline compared to the 383,000 customers lost a year ago, this dip marks their eighth consecutive quarterly decline.
Since Time Warner is trading at an 18% discount from AT&T's offer price, it suggests that that shareholders are worried that FCC and anti-trust regulatory scrutiny will "steam roll the deal," said K.C. Ma, a CFA and director of the Roland George investments program at Stetson University in Deland, Fla.
Rumors have indicated that AT&T is overpaying, because it is "desperate" that its main source of revenue is declining at a rapid pace as TV viewership wanes, NFL viewership falls and its competitors -- T-Mobile (TMUS) - Get Report and Sprint (S) - Get Report  -- have been attracting mobile customers away.
"In addition, Facebook (FB) - Get Report and Alphabet (GOOGL) - Get Report are stealing advertisers from TV offerings," Ma said. "While Time Warner is a content producer which owns HBO, CNN, and Warner Brothers, Netflix (NFLX) - Get Report , Apple (AAPL) - Get Report , and Amazon (AMZN) - Get Report are replacing traditional cable content with original content and winning."