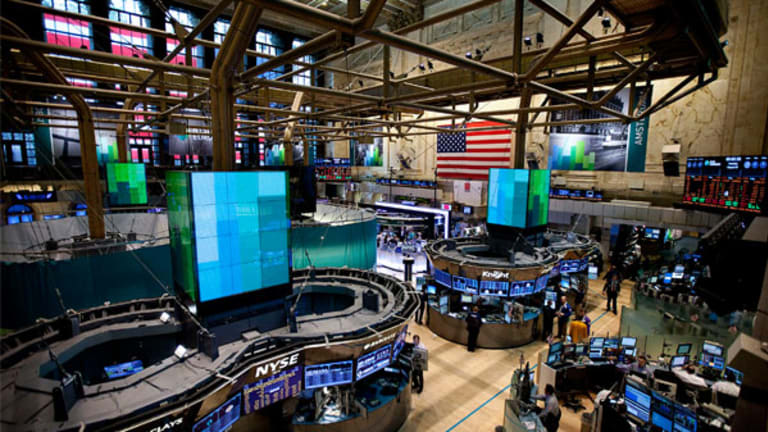 Right Prescription for Today's Market Headaches
This would be a good time to sell a put spread in WAG and we are also providing updates on the CIGX, NTRI and KFN positions.
last night because I have been so busy and needed to remind myself what my thoughts for this week would be. Generally, while I don't post them, I do a recap of what I have observed (I use AlphaVision to do the review) on Friday's. This review might end up becoming a newsletter, but in the meantime, I mostly was looking for implied volatility to come in before I started selling some more. I was pretty comfortable with the
Direxion Daily Emr Mkts Bull 3x Shs ETF
(EDC) - Get Direxion Daily MSCI Emerging Markets Bull 3x Shares Report
levels on Friday when things really came in, but looking forward now, I want to find a value play which will hold up in the chop that keeps coming.
I was surveying market activity yesterday in Aqumin's AlphaVision Landscape to generate an idea. Walgreen (WAG) popped up on a relatively flat day. Right now buying calls is going to be a bit harder to convert into a winner since implied volatility has been declining sharply (http://cfe.cboe.com/ for those interested) since Thursday and I want a trade that takes advantage of more sideways to slightly up. While WAG is a company I like (love the stores), entry points are tough in it. I think the view below was a nice heads up yesterday for a decent entry point. The big red spike is down on the day with declining implied volatility in the second expiration month (note the rolled earning date to June 21).
Click for the view here:
AlphaVision View
(If you want to learn more about 3D visualization of financial data visit www.aqumin.com/thestreet)
It's very typical post-earnings action except I thought the WAG numbers were a bit better than the market thought. On the earnings front I am following recent history a bit. Record earnings and steady growth have been finding buyers after the initial unhappiness with what some of the analysts say. This would be a good time to sell a put spread in WAG since I think the name will hold and regain its steady march up.
Trades: Sell to open 2 WAG April 39 puts at $0.89 (24.95% volatility) and buy to open 2 WAG April 37 puts for $0.33 (28.32% volatility), or a $0.56 credit with WAG trading $39.21, or better, on 26 delta.
Note you almost always give up some edge in put spreads...
The assumptions I am making are: WAG returning to lower historical volatility between now and the next earnings cycle and the name creeping back up in small fits and starts. I don't want to sell the implied any cheaper than this but 25% historical volatility has been on the high side for 30-day historical volatility for the last three months (save for yesterday of course).
A tip and updates for NutriSystem (NTRI), KKR Financial (KFN)...
My Star Scientific (CIGX) spread caused some confusion. The tip I would give traders when spreading is to do the hard side first. For example: If the stock is falling, get the short delta side off first. If implied volatility is coming in, trade the short option first. If you can't work the hard side, you have to pass. And be firm on this. I don't know everybody's experience level (lately I have seen very good trading from the OP subscribers who follow me), but that is a given for me spreads, buy/writes and anything requiring a leg that could get away.
The CIGX Implied volatility came in a bit which is not good for our trade. The bet here is expecting a move (did drop 10% yesterday) so sit tight for right now if you have it on. Decay and dropping IV is the risk of owning premium (the April should help a bit which is why I wanted the time spread for a small debit)
Also, I will print the volatility numbers at the time I write up the posts for reference. This is a much more accurate view of the market than actual option prices. I don't even look at option prices until I fill in the boxes for my post. I am only looking at volatility numbers until then. This way readers can see what has happened between writing and posting which no one can control. If you do not have access to any volatility information check out: (If you want to learn more about 3D visualization of financial data visit www.aqumin.com/thestreet)
I recommended in the comments yesterday to take off the NTRI April 14/13 strangle for $0.70 (we sold it for $1.0). NTRI has been pinned in between $13 and $14 for what seems like a month. I am ok with leaving the short put side open for the bigger risk takers because the name has value and $13 seems to be the spot where the buyers step in. Overall, I think it is best to close out winners when you trade options when you get the chance, so take this one.
KFN is really my only short term long call spread in April and it looked fine until it fell out of bed yesterday. I can't find news on it and for now and will chalk it up to noise. It is still fundamentally a very cheap stock (thinly traded), so when money finds it again it should have no trouble hopping back up.
No change on the balance of the positions.
At the time of publication, Andrew Giovinazzi held no positions in the stocks or issues mentioned.
Andrew is the Executive Vice President of Business Development for Aqumin, where he participated in the design team to apply AlphaVision to the financial markets. For 15 years he was a member of the Pacific Exchange and the Chicago Board Options Exchange, where he actively made markets and traded in both equity and index options. At the same time Andrew started and ran the Designated Primary Market Marker post for Group One, Ltd. on the floor of the CBOE where it became one of the highest grossing posts for the company in 1992 and 1993. While in Chicago and San Francisco, Andrew was instrumental in creating and managing a training program that allowed Group One, Ltd. to dramatically increase its trader count over an eight year period. He left Group One, Ltd. to co-found Henry Capital Management in 2001.
On March 31, TheStreet's OptionsProfits is hosting a webinar featuring Andrew Giovinazzi of Aqumin. Using specific trading ideas, Andrew will discuss how to pick the right strategy for your risk tolerance and overall portfolio. We will address how to formulate the proper trade, manage the position and make adjustments and exit strategies.
OptionsProfits For actionable options trade ideas from a team of experts, visit TheStreet's OptionsProfits now.
Readers Also Like:
>>Crossing, Internalization and the ISE's New QCC Order Type
Readers Also Like:
Readers Also Like: