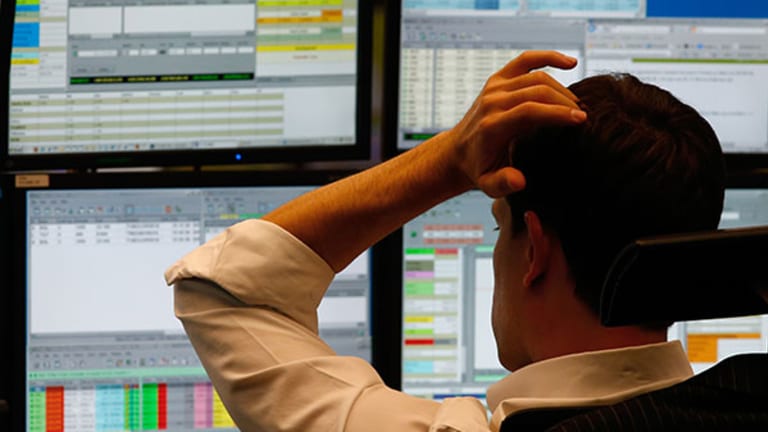 Retail Investors Flock to Derivatives for Income and Safety
Retail investor interest in derivatives continues to grow as investors learn more about the instruments and see them as an attractive way to hedge against risk and generate income.
Updated from 7:35 a.m. with additional details in third paragraph.
NEW YORK (TheStreet) -- Retail investor interest in derivatives continues to grow as investors learn more about trading the instruments and see it as an attractive way to hedge against risk and generate income, according to online brokers and industry data.
The increased derivatives trading is particularly impressive in light of the fact that until October's wild market swings, volatility had been at its lowest levels in several years. Volatility typically leads to an increase in derivatives bets, and indeed, October will be the second-best options trading month in history, according to Jim Binder, spokesman for The Options Clearing Corp. 
Most derivatives traded by retail investors are options, though some brokers have also seen success with futures. Options allow investors to put up small amounts of money to bet on the direction of a stock, though they are complex and some trades can be risky. While some options trades can put just a few hundred dollars at risk with significant upside, others do just the opposite: offering massive downside in exchange for a few hundred dollars of what may have seemed like an easy profit. One popular trade, according to brokerage executives, is what's known as a covered call. Covered calls are sold as a way to generate additional income from stock holdings in exchange for an agreement to sell the stock if it rises to a certain price by a specific date.
At TD Ameritrade (AMTD) - Get TD Ameritrade Holding Corporation Report , derivatives have accounted for a higher percentage of total trades each year since at least 2010. The tally is at 41% as of fiscal 2014 numbers released Tuesday, up from 28% in 2010. Futures, meanwhile, have gone from zero to roughly 8% of trade volume in three years, said TD Ameritrade CEO Fred Tomczyk on the company's earnings call Tuesday.
"The derivatives, every year I say this, you know, I think it's run its course, but every year it continues to grow," Tomczyk said. He wouldn't offer an guess as to when the growth might peter out, but added, "as long as that trend continues, we're going to continue to push."
The story is similar at Fidelity Investments, which through September this year has seen 10% more options trades from its retail customers than over the same period last year. That compares to 8% growth in equities during the same time frame. Over the past three years, options trades are up 15% vs. just 2% growth in equities among Fidelity's retail customers. 
Fidelity offers several tools to help customers learn about options trading and evaluate various strategies. It will come out with a new tool this year where, alongside a chart showing the historical return of a stock, customers will be able to see what their return would have been if they had sold a covered call as a way of generating additional income from owning the security.

Fidelity does not offer futures, however. 
"I wouldn't rule it out over time but we don't have the demand for it at this point," said Gregg Murphy, Fidelity's senior vice president of brokerage products.
This year will be the second best in history for the options industry, with more than 3.5 billion contracts trading so far, according to The Options Clearing Corp. The best year was 2011, which saw an unusually high level of activity due to the U.S. credit rating downgrade in August 2011 and the Japanese tsunami earlier in the year, according to spokesman Binder. While the OCC doesn't keep tabs on retail vs. institutional trading, the increase in the number of small trades involving between one and 10 contracts suggests retail investors are increasingly active, Binder said. (A contract is typically for 100 shares of the underlying security).
Brokerage firms are happy about the increase in options trading, and not just because they can charge more for the trades.
Active traders, highly educated with higher incomes, said options traders are "one of our most attractive demographics at the firm," according to Joe Vietri, CEO of optionsXpress, a subsidiary of Charles Schwab (SCHW) - Get Charles Schwab Corporation Report .
Schwab will hold 2,800 derivatives seminars in its branches this year where it will reach 25,000 people live and another 5,000 through Webinars.
Vietri said younger clients like options since it allows them to trade with less money, while older ones like the potential for income generation. optionsXpress has also seen growth in futures trading, which it has offered for about 10 years, though where growth has been "explosive" is in options on futures. 
Demand for options on futures typically comes from clients who start learning about options and become increasingly sophisticated.
"All the strategies and everything that we've taught them about options applies to futures on options so they don't have to learn sort of the different mechanics of the futures market," Vietri said.
When options were created in the 1970s, "they were really designed to allow people to create income and hedge risk," Vietri said. "Over the years I think options kind of got a bad name because they were associated with pure speculation." Now, however, "you're seeing much more usage of options for what they were really intended and what they were designed to do as opposed to speculation."
Disclosure: TheStreet's editorial policy prohibits staff editors, reporters and analysts from holding positions in any individual stocks.