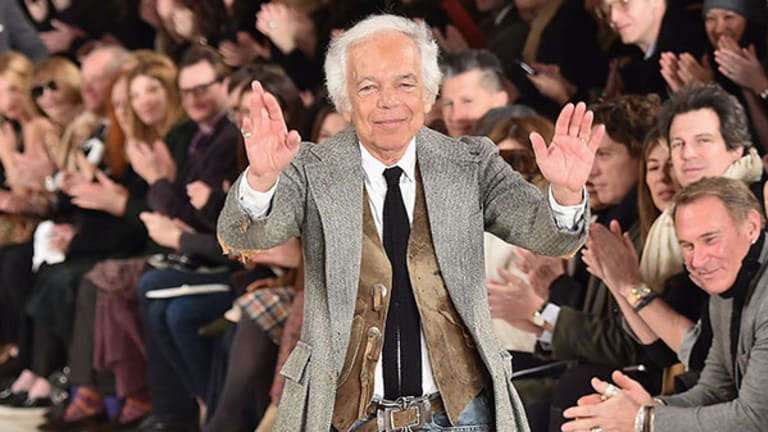 Ralph Lauren Stock Will Trade Lower -- Here's How You Can Profit
Since positive earnings reported earlier this month, Ralph Lauren stock (RL) has been trading higher. Expect a retreat in the near future.
Ralph Lauren (RL) has been trading higher over the past couple of weeks following the apparel and home furnishing company's earnings report. The stock appears poised to head lower, however, and traders should consider using an options strategy to profit from such a move.
The company reported earnings on Aug. 8, causing the stock to gap higher immediately. Since then it has continued to trade well above the previous resistance line at $102. The stock closed Wednesday at $107.87.
Based on the pattern, you should expect the price to decline in coming days and weeks. With this in mind, the stock is a likely candidate for an options strategy designed to generate income and control risks. The price chart shows why the timing is good right now.
Resistance was rising throughout this chart, from $98 last March to $102 more recently. The big move after earnings involved a large gap, but since then price has not continued to move higher. With this in mind, a variable-ratio write could be well-timed. In this strategy you sell more covered calls than you can fully cover, using two strike prices instead of one.
For example, if you own 300 shares of Ralph Lauren stock, you create a variable-ratio write by selling two call options at each of two different strike prices. (Remember that each option contract covers 100 shares of the underlying stock.) Based on Wednesday's close of $107.87, look at the Sept. 2 options (which expire in 8 days) for the following:
Sell two 108 calls @ bid 1.35 = 2.70, less $10 trading costs = $260 net
Sell two 109 calls @ bid 0.90 = 1.80, less $10 trading costs = $170 net
Total net credit = $430
If the stock price remains below both strikes for the next eight days, all these calls will expire worthless and you will earn a nice $430 in profit. If the price moves up above either strike, the calls can be closed or rolled forward. Because three of the four calls are covered, the actual market risk is quite small. Even with a price move above the strikes, time decay will be rapid over the next eight days, making this a good risk for options traders to take.
This article is commentary by an independent contributor. At the time of publication, the author held no positions in the stocks mentioned.
Besides blogging at TheStreet.com, Michael Thomsett also blogs at the Seeking Alpha and several other sites. He has been trading options for 35 years and has published books with Palgrave Macmillan, Wiley, FT Press and Amacom, among others.