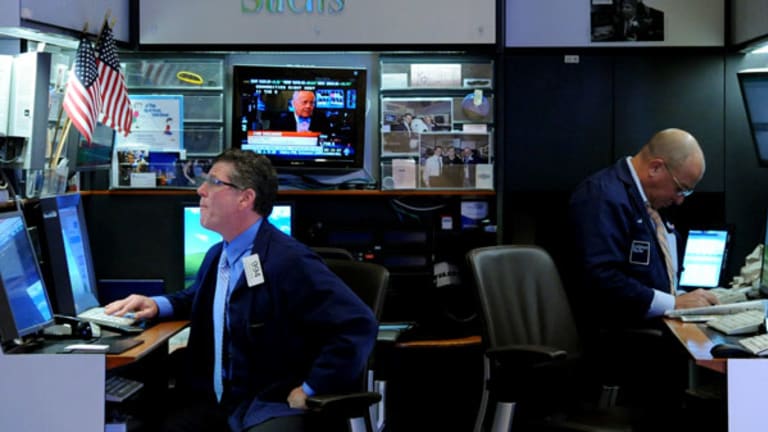 Profiting With Option Straddles
The straddle falls under the category of pure speculation. But there are ways to profit from this strategy and to search for the best option straddle opportunities.
The straddle falls under the category of pure speculation. But there are ways to profit from this strategy and to search for the best option straddle opportunities.
Stock options can be used for a wide variety of investment goals, and the strategies employed are going to reflect an investor's risk profile. Some investors love to use what are commonly accepted as conservative option strategies: the covered call, the protective put, and selling cash-protected puts with the intent of owning the underlying stock.
Those strategies all have their own merit. I've used them in the past and will continue to do so, but one of my favorite option-trading strategies falls under the category of pure speculation: the straddle. I'm going to show you how to profit with this strategy and how you can search for option straddle opportunities.
A long option straddle involves purchasing both a call and a put on the same stock and at the same strike price. With this strategy, you're not making a directional call on the stock. You're conceding that you don't know which way the stock is headed, but that it's going to have a large price move up or down. Instead of making a directional call on the stock, a straddle is a play on an estimated increase in the stock's volatility.
A profitable straddle requires a good catalyst. My favorite catalyst is a company's quarterly earnings conference call. Each quarter, companies will hold conference calls in which they release performance results and financial statements from the previous quarter. During most of these conference calls, companies will release estimated revenue figures for the next quarter or next full year.
Earnings season can be a particularly volatile time for most stocks; the increase in volatility is crucial for the straddle to work. Take a look at a chart of
Netflix
(NFLX) - Get Report
, which covers three earnings conference calls during the period of one of my trades.
NetFlix had a 16.9% drop after earnings on April 15, 2004, a 28% drop after earnings on July 15, 2004, and a 40.9% drop after earnings on Oct. 14, 2004.
I had been following the stock since its initial public offering and used an option straddle strategy during the October 2004 earnings release. I bought the October $17.50 straddle right before the close of trading on Oct. 14, 2004. The company was set to release its earnings after the close of trading that day. The stock was trading around $17.50 during the day and closed at $17.43. I ended up buying 30 Oct $17.50 put contracts and 35 Oct $17.50 call contracts. I bought more calls because I actually thought the earnings release was going to be favorable.
The puts cost me $1 and my calls were filled at 85 cents. The total premium was $1.85 which was 10.6% of the closing stock price. The stock was crushed after the earnings announcement. It dropped $7.13, or 40.9%, and closed at $10.30 on Oct. 15, 2004, leading to a net profit of almost 300%.
While some may call profiting from any speculative strategy pure luck, you can increase your odds by the amount of work you do prior to the trade. The key to remember is that anyone can get lucky from time to time, but hard work and patience can help you achieve consistency.
So why did I choose Netflix and what do I look for in an option straddle?
There are three main criteria that I need before I even consider a straddle:
1. A history of volatility following earnings.
2. Fewer than 100 million shares outstanding.
3. An average trading volume of more than 1 million shares a day.
The stock has to have shown me that it can move and move fast. Netflix is one of those stocks. Just look at the one day percentage price movements that occurred after earnings announcements from the first-quarter 2004 release to the second-quarter 2009 release.
The average one-day percentage price move from the 2004 first-quarter release to the 2009 second-quarter release is 13.7%. This is something worth calculating, as you need to compare this to the straddle premium percentage of the current stock price. Doing so will help you determine whether that straddle is underpriced or overpriced compared with the historical volatility of the underlying stock. I paid a 10.6% premium in my example, which is still a little less than the current average percentage price move. In fact, based on the two prior earnings releases before my trade, the average percentage price move was 22.5%.
The stock performance of companies with a low number of shares outstanding tends to be more volatile than the stock performance of companies with a large amount of shares outstanding. The reason is twofold: Every point the stock moves will increase or decrease that company's market capitalization by the total number of shares outstanding, and the smaller the number of shares out in the market means less supply needs to be burned through in order to push the stock up or down.
Below is a snapshot of the number of shares outstanding for Netflix from the first quarter of 2004 through the second quarter of 2009.
The trading volume of the stock also is important as a higher trading volume usually equates to a smaller spread, both in the stock and options market. A high stock trading volume means the option is likely to be more liquid and you should have no problem finding a good price to buy or sell your options. Of course, you will need to double check the option activity to verify this, but it is helpful to use the stock's trading volume as one of your first requirements when searching for trading opportunities.
The easiest way to find potential straddles using the criteria I've mentioned is to run a stock screen. You can find stock screeners on almost any financial Web site. I ran a screen over the weekend with an average trading volume greater than 1 million shares a day and a number of shares outstanding of less than 100 million. It's a simple screen that yielded some interesting names:
My next step would be to take a look at the charts and calculate the historical average, one day percentage price move after earnings. I would then add my favorites to a watch list and note the upcoming earnings release date. Once the date approached, I would have to calculate the total option premium percentage of the current stock price, be in a position to purchase the straddle when the stock was as close as possible to the selected strike price, and decide if it was worth the risk to pull the trigger.
Brian Burns is an investor, options trader, and author. In addition to freelance writing, Brian has written a book on stock options entitled,
. He holds a bachelor's degree in business finance from the University of Phoenix and an associate's degree in philosophy from Fullerton College. He has worked extensively in the field of accounting and was formerly an auditor for a certified public accounting firm.