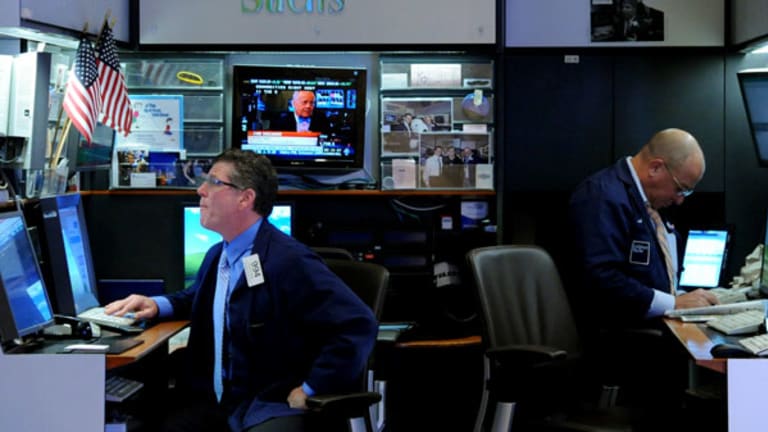 Portfolio Vega and Risk
After you've done the obligatory portfolio check of delta, take another look at portfolio vega...and don't get caught with a large vega position unless it's absolutely on purpose.
The
CBOE Volatility Index
undefined
spot closed today at $16.09, down 5.7% with IV30¿ (which is like the VIX of the VIX) down 1.3%. The
Livevol® Pro
Summary is included below.
The market has seen some volatility return of late, and for good reason. The reality of a troubled Eurozone (Greece in particular), a realized double dip in housing prices, an uneasy Middle East (to say the least) and a debt level covenant nearly broken by our own US government are enough to spook any market -- even the most fluid in the world.
More risk means a higher VIX which hit the 20 level (in the spot) on May 23 for the first time in exactly two months. Right now, the majority of stocks have higher IV30¿ than HV30 to the tune of a 3.05:1 ratio. That feels like a lot, even without a frame of reference. But how about this:
On March 16, when VIX broke 30 for a day, that ratio hit 6:49:1. Or, in English, the ratio of stocks trading with elevated implied vol to historical vol was more than twice what it is now.
Point #1: What seem like a huge number of stocks with elevated vol and what could be some juicy sales, it can get much worse (or better, depending on your position).
Here's another tidbit: On March 25, just nine calendar days after VIX broke 30, the IV30¿ to HV30 ratio dipped to 1.87:1. So, the ratio dropped by more than 70% in a week and a half.
Point #2: The VIX itself can be incredibly volatile.
Let's finally look to a historical (not implied) vol chart of the VIX (below). The top line is the HV360 (360 trading day realized vol -- substantially longer than a calendar year). The bottom line is the HV180 (the 180 trading-day realized vol).
Historical Volatility VIX Chart
Source: Livevol Pro
We can see that even as volatile as VIX has seemed to be over the last six months (the bottom line), in fact, it can get A LOT more volatile. The HV360 is substantially elevated to the HV180. I've added a little marker for the HV10 (the realized vol of VIX over the last ten trading days. We can see HV10 is right in between HV180 and HV360.
Market gyrations are not only common in this new world of finance, they're more common than we've seen over the last six months. Is vol a sale right now? I don't know - but a 3:1 ratio of IV > HV actually doesn't mean a whole lot. Since the 2008 meltdown, VIX itself has become volatile "stock."
If the very short-term trend (HV10) and the very long-term trend (HV360) are your point of reference, we're going higher in VIX and vol in general is a purchase. If the medium-long -term measure (HV180) is your point of reference, vol is a sale.
Point #3: We don't know where we are, because we might only have three years of reference. Is it absurd to think that everything before 2008 might as well be erased from our memory with respect to VIX and vol of VIX?
Conclusion:
After you've done the obligatory portfolio check of delta, take another look at portfolio vega...and don't get caught with a large vega position unless it's absolutely on purpose. Vega may be your biggest risk right now -- don't forget about it. Remember, options trading is vol trading, whether you're aware of it, or not.
Source: Data provided by the Livevol® Market Scanner and Report Builder.
Special Invite to the Floor of the NYSE: Join Skip Raschke, Jill Malandrino and OptionsProfits for exclusive access to the to the NYSE trading floor. Skip and Scott Redler of T3Live will provide informative presentations on trading and the markets in the Exchange's main boardroom. Following the session, we will head to the trading floor for a mock trading session and cocktail reception. This is an amazing opportunity that you will not want to miss!
Ophir Gottlieb worked as an equity option market maker and prop trader on the NYSE ARCA exchange floor since February 2008. He is now upstairs (off floor) and visits the floor a few times a week. Prior to working on the exchange floor, Ophir worked as a structurer on the Countrywide trading desk, and before that as the Director of Client Services and Research for the quant modeling firm Audit Integrity.
He has a master's degree in financial mathematics from Stanford University as well as an MBA in finance from the University of Southern California and an undergraduate degree in quantitative economics with a focus in mathematics from the University of California, San Diego.
OptionsProfits For actionable options trade ideas from a team of experts, visit TheStreet's OptionsProfits now.
Readers Also Like:
>>LVS: Drawing a Vertical Line in the Sands
Readers Also Like:
>>Testing a Trading Idea in Microsoft Excel
Readers Also Like: