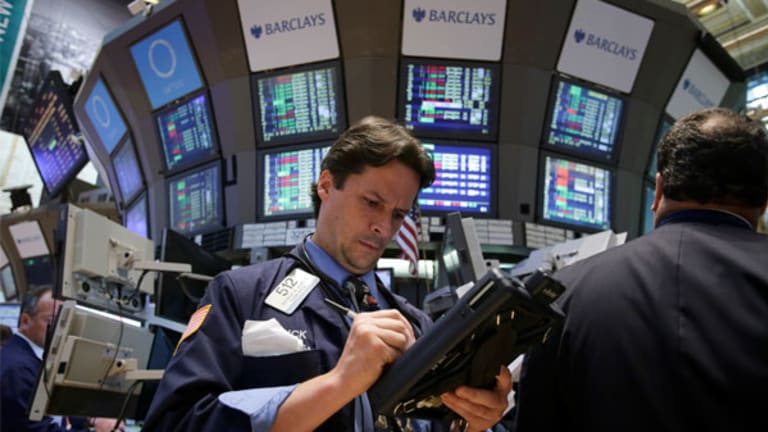 Playing the Fed's Decision for Profit
With little expectation the central bank will introduce QE3, here's how to possibly get a quick pop.
NEW YORK (TheStreet) -- We're almost there. Tomorrow is the much-anticipated speech from Ben Bernanke from Jackson Hole, Wyoming. The $64,000 question is: Will an announcement about another round of economic stimulus -- called QE3 for the third step in quantitative easing -- be made or not?
Watching market action this week, it has been painfully obvious that investors and traders have been on the sidelines. The likes of gold, the dollar/euro and Treasuries have seen some relatively quiet, yet erratic, trading as position squaring is done ahead of the speech.
With some new negative headlines coming out of Europe today, one must wonder about the euro/dollar. I am of the opinion that we will not get a QE3 announcement tomorrow. Assuming I am right, what is a way to potentially profit from this?
I think a long-dollar, short-euro position makes sense. After all, who really believes that the eurozone is going to get its problems under control any time soon? I certainly don't.
Although the dollar has been on the softer side recently because of the notion of QE3, it seems to me that a lack of additional Fed stimulus, along with more negative headlines, could quell this little rally we've seen in the euro of late, and could put upward pressure on the greenback.
If your outlook is similar, here is one way to potentially play it for a quick "pop." Due to better liquidity, we will use the Eurocurrency futures rather than the dollar. If futures are not your thing, feel free to contact me to discuss how to structure a position using other instruments or vehicles (such as options).
Sell 1 September Eurocurrency futures at 12460 on a stop good until canceled.
If filled, place a protective stop at 12580 good until canceled.
Target 12200 or lower.
Stop may be trailed based on an individual's risk tolerance and money management preferences.
Risk on trade: As stated above, $1545 including a $45 R/T commission inclusive of all fees.
Profit potential: theoretically unlimited down to zero. If target stated above is reached, profit would be $3205 after subtracting a $45 R/T commission inclusive of all fees.
Please note that mini euro futures may be used. Risk and profit objectives would be half that of above-stated amounts.
Please note: Futures and options trading is inherently risky and isn't suitable for all investors. Past performance isn't indicative of future results. Stop-loss orders meant to limit losses may not be effective because market conditions may make it impossible to execute such orders.
Matt Zeman is a trader at
. He began his trading career as a runner in the grain pits at the Chicago Board of Trade before becoming an arbitrage clerk. Eventually he started trading equity options and stocks. Matt now is a full-time futures broker. He has been a frequent guest on CNBC, Fox and Bloomberg, and provides his views on the stock, bond and futures markets for financial media including Dow Jones, the L.A. Times and The Associated Press. Matt is a member of the Chicago Board of Trade, and carries series 3, 7 and 66 licenses.