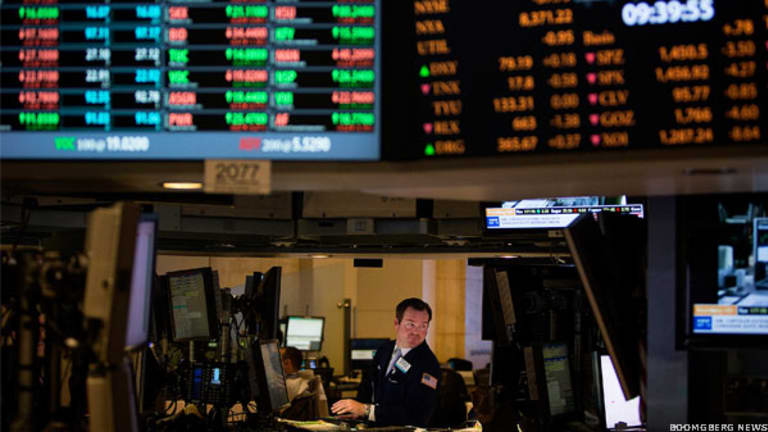 OptionsTrade Alert: May Bearish Double Vertical on Groupon
The tactic we have chosen takes advantage of a pullback in Groupon by May expiration.
The following commentary comes from an independent investor or market observer as part of TheStreet's guest contributor program, which is separate from the company's news coverage.
NEW YORK (
) --
Strategic Mindset:
At
, we remain overall market neutral with a bullish short-term outlook and bearish strategic long-term mindset. We do not plan on fighting the tape as the visible hand of the Fed, markets whistling past the eurozone graveyard, and Iran and Israel becoming best friends seems to be the theme on the Street. We know differently and adjust our model portfolios to meet the changing conditions on the battlefield. The target we have selected is a former internet darling, i.e. flash in the pan, and one that's starting to turn into a clown car run by 19-year olds who would rather watch Blackhawk games than run their company and have a tight fiscal ship.
The
Wall Street Journal
reported over the weekend that
Groupon
(GRPN) - Get Groupon Inc. Report
revised fourth-quarter estimates downward after a high rate of returns on high dollar products from the holiday season. Growth is slowing and many small retailers are reporting that they are losing money on GRPN offers and not seeing returning customers as planned, promised and hoped.
Groupon may get its house in order and turn things around, but it needs a dedicated effort that we're not seeing.
Target:
Groupon currently trading at $18.38.
Commit Criteria:
Groupon's successful IPO in November was promptly followed by a plop. As the six-month chart below shows, it underwent an equal and opposite reaction after the IPO. The shares halved from $30ish to $15ish in December and found a trading range after that.
Here's some good intel that adds to our Commit Criteria -- the lockup period for those who got in on the IPO expires in early May, and if I were one of them, I'd be dumping those shares like you read about in "Dump Those Shares" magazine.
The tactic we have chosen suits our strategic mindset and commit criteria and takes advantage of a pullback in GRPN by May expiration.
GRPN has found support recently around $16.50 and seems to be making a little run of late. We are sellers of this run.
Tactic: May 15/18/22/25 Bearish Double Vertical
Tactical Employment:
In our Primary Model Portfolio, we will:
Sell to open 14 May 15 Puts
Buy to open 14 May 18 Puts
Sell to open 14 May 22 Calls
Buy to open 14 May 25 Calls
Net debit of $0.94
Midcourse Guidance:
We've employed the double vertical recently, both bullish. LVS returned 720% and out current USO trade is hanging out. Remember -- double verticals are afterburner trades. We are making an assumption about the direction a stock will move in the future. But based on our strategic mindset and commit criteria, we feel GRPN is ready for a reality check to the downside.
There's a 23% probability of achieving the max profit, or $2884, with GRPN trading below 15 by May expiry. The max loss is $5516, a little north of our TGO trading rule of engagement which states that we will not risk more than 5% of the $100,000 model portfolio on any one trade. As the Pilot in Command of the Primary Model Portfolio, I am comfortable with this risk. We will not sit idly by and let GRPN soar through $22 -- we'll either bail or evaluate the position in our model portfolio if it looks like it's trending to $21. There's an 8.84% probability of incurring the max loss, if the stock rockets skywards and we drop dead and don't pay attention.
If the stock hits may expiry between 18 and 22 we'll lose our $.94 debit, or approximately $1300 in the model portfolio. There is approximately a 32% probability of this occurring. We don't see that happening. Insiders are ripe to sell, there are accounting problems, and to be frank, I used a Groupon once and never went back to the website, or the retailer for that matter. I've asked to be removed from their mailing list and I'm still getting spammed. Flash in the pan...
Our breakeven is 17.06.
We won't stay in this trade to see if we achieve our max profit, we have theta working against us on the bear put spread (debit), so we'll look to either exit the bear put spread if we don't see any movement and hang on to the bear call spread to retain the credit we're taking in.
Threats:
Earnings are on 22 April so we may see some movement around this event. If it's a nice move to the downside we may elect to take some profits on one spread and let the other ride to May to see if insiders sell. As we do with all our double verticals, we'll keep a close eye on it and send out alerts as necessary.
Contingency Plan:
If the stock shoots upward for some reason we will eject from the trade. The stock hasn't seen the mid-20's since February and we believe it's going to hang out for now waiting for earnings. Just based on the whispers on the Street, any company who says they have accounting problems is telegraphing bad news. We're ready for this in our Primary Model Portfolio.
As always at
, we close a trade if our Commit Criteria change for any reason.
Exit Tactic:
Reverse the entry position by closing the 2 spreads.
Happy hunting and make sure you hedge!
This commentary comes from an independent investor or market observer as part of TheStreet guest contributor program. The views expressed are those of the author and do not necessarily represent the views of TheStreet or its management.