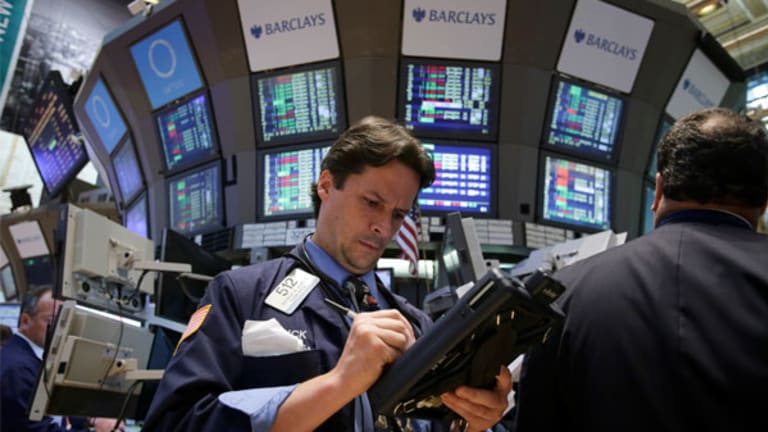 Options Trade: Ultrashort Euro ETF
The Top Gun Options team sees a bull call spread on EUO, taking advantage of a sinking euro.
The following commentary comes from an independent investor or market observer as part of TheStreet's guest contributor program, which is separate from the company's news coverage.
NEW YORK (
) --
Strategic Mindset
: The
team is overall bearish, but bullish in a particular vertical.
Target
:
ProShares Ultrashort Euro
(EUO) - Get ProShares UltraShort Euro Report
trading at 18.50 (after-hours quote)
Commit Criteria
: Fundamentally, Europe is slowly grinding to a halt with politics being the friction creator. Many euro shorts have been squeezed out in the last sharp move up, and bigger bank desks are looking to take advantage of these levels for selling.
Follow
TheStreet
on
and become a fan on
The European Central Bank will be printing 24/7 to help monetize debt and stabilize the banks; this should de-value the euro even further. Technically the EUO has a strengthening RSI and the MACD has crossed the signal line to the upside on medium to longer term charts.
Also, this ETF has minor support at 17.80 and major support at 16.40.
We believe a bull call spread would be a trade here as support seems solid and fundamentals could push EUO to profit-target levels in any given overnight session due to the overwhelming uncertainty for the eurozone and its financial system. We also need to give this trade time (theta) to realize some profitability; we will go out to Jan. 12, 2012 for breathing room. Important safety tip:
Do not forget this ETF is inversely related to the euro!
Tactical Employment
:
Buy to open 10 Jan 18.00 calls, ($1250 or 1.25 per option)
Sell to open 10 Jan 20.00 calls, ($650 for .65 per option)
As a spread:
Initial Outlay: $600
Break Even: $18.60
Max Loss at Expiry: $600 at $17.38
Max Profit at Expiry: $1,399.90 at $21.30
Eject Level
: This trade will be monitored closely as it involves a slight dosage of theta and covers the holiday season. We will put on 10 spreads at this level and will look to add to position depending on market conditions early in the trade.
Ejection strategy
: Movement below the support level of 16.50 would signal ejection and trade out sequence. Spread price ejection detection would be at the salvageable level of .10 to .15 with little theta left.
Factors, including time decay of trade, level of adding to position and overall market conditions could be signals to abandon mission.
Profit Level
: If 40% of max profit level is achieved (+560; .92) we will bring the stops closer to the breakeven point of .50 spread value.
Threats to success
: China or U.S. might decide to print capital to help back the euro with full force in an effort to help stabilize the eurozone.
Exit
:
Sell 10 18.00 JAN 2012 calls to close
Buy 10 20.00 JAN 2012 calls to close spread for a credit.
After the exit of Berlusconi and his sexy dance parties, we're looking for a trade that can take advantage of this imbalance. Happy hunting and make sure you hedge!
This commentary comes from an independent investor or market observer as part of TheStreet guest contributor program. The views expressed are those of the author and do not necessarily represent the views of TheStreet or its management.