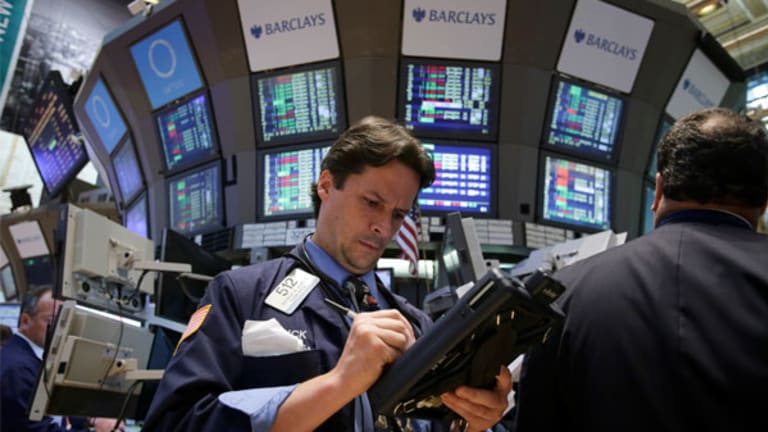 Options Trade on Deutsche Bank
Target is Deutsche Bank trading at $39.25.
The following commentary comes from an independent investor or market observer as part of TheStreet's guest contributor program, which is separate from the company's news coverage.
NEW YORK (
) -- Strategic Mindset: Even with the recent massive rallies, the
trading team remains net neutral on the market.
Target:
Deutsche Bank
(DB) - Get Deutsche Bank AG Report
trading at $39.25
Commit Criteria: We think DB has had a nice run and can congratulate it for that, but we feel the liquidity injection will not be able to take it past $45 to $46 and hold, also it is enough juice to keep it above the $34 to$35 support level for a mere 16 days. DB is a German bank so it might seem to be stronger than most in the region, the problem is this bank has made loans to all the losers in the
European Union, and might have a lot of dead weight to deal with before ever emerging as a leader of the pack.
Tactic: Short Strangle on DB Dec 35/45
NOTICE: We are opening this trade at an offer above (1.40)
Tactical Employment:
Sell to open 30 DB Dec 35 Put at .85
Sell to open 30 DB Dec 45 Calls at .55
For a credit of $ 4,200
Max Risk = Infinite/Stop Loss level
Maximum reward = $ 4,200
Break Even (B/E) = $33.75 on put side and $46.25 on call side
Midcourse Guidance:
Profit Target: We are looking for time to eat away at the options and for volatility to decrease to take advantage of the max profit of $4,200. We will look to take profit when the spread begins to trade .40 or lower.
Threats to Success:
Europe is fixed in one week (rally past $46)
World ends (crash below $33)
Eject level:
Stop loss for spread is if the spread rallies past $2.10
If stop not elected we will take action with each leg or with stock
Exit:
Buy 30 DB Dec 45 calls
Buy 30 DB Dec 35 puts
Buy 30 DB Dec strangles at .40 lower (spread value)
Firing Line: Looking to get spread offer lifted, then hope for calmer waters for several days. Happy hunting and make sure you hedge!
This commentary comes from an independent investor or market observer as part of TheStreet guest contributor program. The views expressed are those of the author and do not necessarily represent the views of TheStreet or its management.