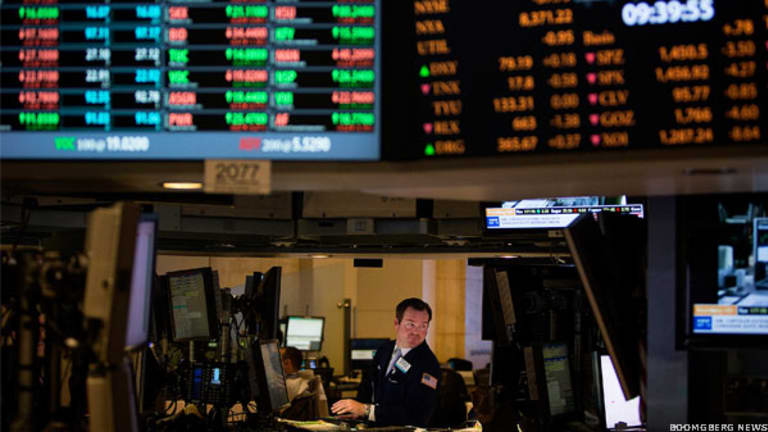 Options Trade Alert: May Iron Condor on Apple
Target is Apple trading at 607.35.
The following commentary comes from an independent investor or market observer as part of TheStreet's guest contributor program, which is separate from the company's news coverage.
NEW YORK (
Top Gun Options ) --
Strategic Mindset:
Our overall strategic mindset at
Top Gun Options is Market Neutral with a Bearish Bias.
Target:
Apple
(AAPL) - Get Apple Inc. Report
trading at 607.35
Commit Criteria:
Apple had an outstanding first quarter as seen in the three-month chart below.
After five straight losing sessions and a formal 10% correction, Apple has regained its footing and we believe found support. Two standard Wall Street forces are also effecting AAPL :
"Window Dressing"
"Sell in May and Go Away"
Many large institutional holders of Apple (Large Hedge Funds, Mutual Funds) tend to sell their biggest winners and the end of a quarter to "dress up" their numbers in their quarterly report to clients and investors. When institutional holders with significant holdings sell they can leave a mark on the stock. With so many institutional holders of Apple wanting to report good Q1 numbers and after a nice healthy run up, it was inevitable that Apple would suffer some window dressing or sector rotation for a brief period.
At
Top Gun Options, we believe that pullback is over but Apple will not begin a broad rally with heavies at major trading desks heading to the Hamptons and wanting to keep their powder dry. We see Apple settling into a channel until May expiry.
Add an upcoming battle with the new Ipad and Windows 8 Tablet , and we believe we can take advantage of the rising increase in IV (implied volatility, see below) relative to historical volatility with earnings next week and employ a potentially profitable tactic on Apple.
Tactic: May Iron Condor
with Neutral Bias.
Iron Condor Tactical Employment (2 Spreads - a Bull Put Spread and a Bear Call Spread):
Bull Put Spread
Buy 8 May 530 Puts for 6.10 as a hedge
Sell 8 May 540 Puts for 7.825
Bear Call Spread
Sell 8 May 680 Calls for 7.40
Buy 8 May 690 Calls for 5.925 as a hedge
For a net credit of $3.20, or $2,560 in the Primary Model Portfolio.
Midcourse Guidance: We will monitor this trade and make adjustments in our Primary Model Portfolio (Up over 20% Q1) as necessary. If we see one of our short strikes (the strikes we sold -- 540/680) take a 50% loss, based on current market intelligence we will decide whether to close that spread, roll it 'up and out' to June, or take other measures as needed.
Using ATM (at-the-money) volatility there is a 63% probability of this trade retaining the max credit collect, $2,560.
At Top Gun Options our risk management ROE (rule of engagement) is to never risk more than 5% of our Primary Model Portfolio on any one trade. Using our $100,000 virtual account, this equates to $5,000.
As the "pilot in command" of the Portfolio, I am comfortable being just slightly north of our ROE.
Threats to Success:
Earnings next week on 24 April. Apple tends to "under promise and over deliver" but our short strikes are well outside the historical moves the stock makes around earnings. Additionally, Apple could unveil something new in the next month that is not already factored into the current stock price.
Eject Criteria:
We plan on letting this trade expire worthless and collecting the max credit in the Primary Model Portfolio, or we will manage the trade according to our Midcourse Guidance. As always at Top Gun Options, we eject from the trade if our Commit Criteria change.
Matthew "Whiz" Buckley is the Founder and CEO of
an exclusive provider of options training and practical trading applications for options traders of all skill levels. He is also the founder of Strike Fighter Financial LLC, a business-consulting firm specializing in leadership development, risk management and strategic planning for Fortune 500 companies and related organizations. He's also a Managing Partner and Chief Financial Strategist at
Buckley flew the F/A-18 Hornet for the U.S. Navy. He's a graduate of TOPGUN, has close to 400 carrier landings and flew 44 combat sorties over southern Iraq. After leaving active duty, he served as a Managing Director at a Wall Street volatility arbitrage options firm and was a founder and the CEO of a financial media company. He is an
internationally recognized speaker
and combined his experiences in the military and corporate America in his first book "From Sea Level to C Level."