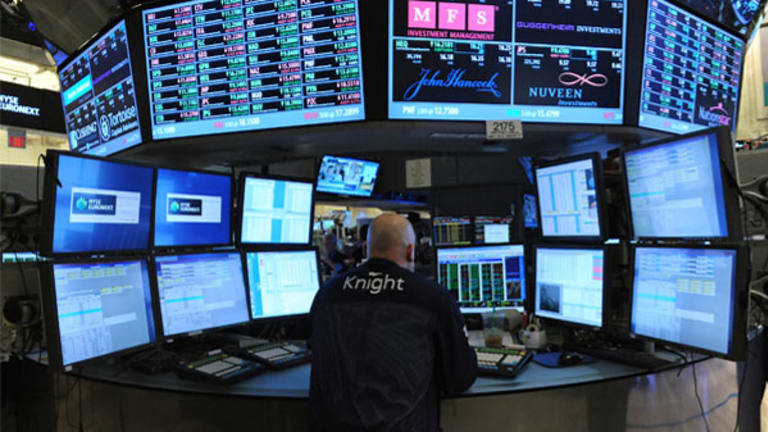 Options Trade Alert: Bullish Double Vertical on USO
This is a highly bullish trade that oil will spike between now and June.
The following commentary comes from an independent investor or market observer as part of TheStreet's guest contributor program, which is separate from the company's news coverage.
NEW YORK (
) -- At
Top Gun Options, we're overall market neutral. Volatility
(VXX) - Get iPath Series B S&P 500 VIX Short-Term Futures ETN Report
is plumbing new lows not seen since July 2011 and the invisible hand of the
Fed
seems to be lifting this market gently skyward.
Even Bernanke's "no QEIII for you" comments in front of Congress didn't spook the market liquidity drunks, and the party continues. It will end -- not a matter of if but when. We have identified a potential target based on our overall strategic mindset.
Target:
United States Oil ETF
(USO) - Get United States Oil Fund LP Report
currently trading at $40.48.
Commit Criteria: At the beginning of February, the
Washington Post
reported that Secretary of Defense Leon Panetta believed that Israel would strike Iran potentially as early as "April, May or June." Nearly two weeks later, the head of the Russian General Staff,
General Nikolay Makarov, echoed Panetta's strategic mindset by saying, "Iran is a sore spot," and "I think a decision will be made by the summer."
I have several heavy friends ("heavy" is a navy term for high-ranking officers) deployed as commanding officers of fighter squadrons on the "tip of the spear" in the NAG (Northern Arabian Gulf) who confirm that tensions are much higher than reported. The intel-gathering we've done on this trade has been significant and even if Obama "bribes" Netanyahu to keep cool until after the elections, we still have the approaching summer travel months where oil tends to spike and oil CEOs are dragged in front of Congress by "leaders" who don't understand the words supply and demand.
6-Month and 20-Day Charts:
Our 6-month radar reflects the steady rise in oil as tensions in the Middle East rose and Europe considered sanctions.
But after the immediate threats cooled, USO has found support in the mid-30s, seen another spike based on some saber rattling and other supply issues, and is now on the 20-day chart is channeling in a pennant formation. We believe USO is posied to a breakout to the upside.
Tactic: Bullish Double Vertical Debit Spread
Tactical Employment:
Buy to Open 15 Jun 33 Puts
Sell to open 15 Jun 36 Puts
Buy to Open 15 Jun 43 Calls
Sell to Open 15 Jun 46 Calls
For a net debit of $.17 per contract
Maximum risk = $4,755 (just under 5% of Primary Model Portfolio risk rule of engagement)
Maximum reward = $4,245
Tactical Analysis:
Theta (time decay) is working in our favor initially with the bull put spread, but the more time that goes by, theta starts turning negative and eating into our bull call spread.
Mid-course Guidance:
This is a highly bullish trade that oil will spike between now and June due to world events, or at least historically rise on the summer seasonal travel cycle. We like the "thrust to weight" ratio of this trade -- it's nearly 1 to 1. Risking $4,755 to potential make $4,245.
But like in combat and trading, nothing goes as planned.
Eject Level:
At
Top Gun Options, we have strict risk management rules of engagement so we can live to fight another day if things go south on us. We would eject from this trade if USO started heading south as "world peace breaks out" and people decide not to drive this summer (SOLD! On both accounts). We'll keep a close eye on this afterburner trade since it's a double-edged sword -- when it goes right it rocks, when it doesn't, well...it doesn't.
As always at TGO, we close the trade if the commit criteria change.
Our bullish double vertical on
Las Vegas Sands
(LVS) - Get Las Vegas Sands Corp. Report
last week returned over 700% in one week.
Profitability Target: The trade objective is to allow the spread to achieve max profit but we'd be looking to take profits in the model portfolio on any spike or significant movement. We would not hold that bull call spread to expiry, unless it went through the roof.
Exit Tactic:
Simply reverse the trades.
Firing Line: Oil is here with us to stay no matter how many Chevy Volts the president wants to shove down our throats (production has been halted, BTW...good times) or how many solar companies get sweetheart deals from us -- the U.S. Taxpayer -- that eventually implode leaving us on the hook and deeper in debt. And with the anti-drilling mentality and killing of projects like the Keystone Pipeline by this administration, black gold is here to stay and will continue to be volatile as international and domestic issues dominate the headlines.
This commentary comes from an independent investor or market observer as part of TheStreet guest contributor program. The views expressed are those of the author and do not necessarily represent the views of TheStreet or its management.