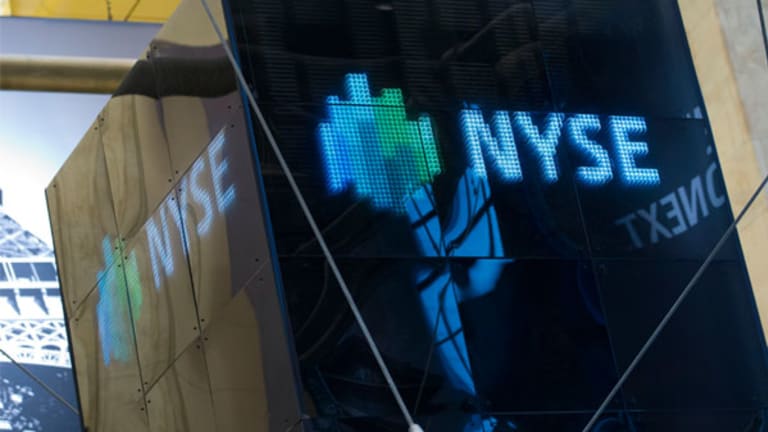 Options Trade Alert: Bank of America
Top Gun Options is moderately bullish on the financial sector.
The following commentary comes from an independent investor or market observer as part of TheStreet's guest contributor program, which is separate from the company's news coverage.
NEW YORK (
) --
Strategic Mindset:
As the "invisible hand" of the Fed keeps the market at least mentally out of freak mode and the threat of a European contagion subsides, the
Top Gun Options Trading Team is moderately bullish on the current market environment and the financial sector in particular.
Target:
Bank of America
(BAC) - Get Bank of America Corporation Report
currently trading at $8.84
Commit Criteria:
We're seeing some relative strength overall in the financial sector
(XLF) - Get Financial Select Sector SPDR Fund Report
and specifically the banking sector. Financials usually lead the market out of the recession. Usually. Bernanke's announcement that interest rates will remain low for the foreseeable future is good and bad for banks, mainly good. Bad because people aren't flocking to BAC branches because of their incredibly high CD rates! You can make more interest on your money right now by burying it in the yard. But the Fed has made it clear that the printing press will remain open 24/7, as long as they don't run out of ink.
Three-Month Chart:
Definitely showing a bullish trend and BAC has found some support around the $8 level in the past month or so. The last time BAC hit this altitude was early August 2011. So while the stock is definitely on a rebound the question remains whether or not it can sustain this lift. At
Top Gun Options, this type of question leads us to one tactic in particular.
Tactic:
Apr12/Jan13 Bullish Call Calendar Spread
Tactical Employment:
Sell to Open 20 contracts of the April 12 Calls
Buy to Open 20 contracts of the Jan 13 7.5 Calls
Maximum Loss in Intermediate Model Portfolio = $4,220
Maximum Profit before Jan13 expiration = Unlimited
Breakeven point = $8.91 (52% of at least breaking even)
Midcourse Guidance:
The beauty of a Call Calendar tactic is that we can sell upside front month calls, in this case the April 10 Call, to eventually "pay" for the deep in the money long call, the Jan13 7.5 Call. We selected the Jan13 7.5 call because it has a Delta of nearly .75 and the trading rules of engagement at
Top Gun Options calls for calls close to a Delta of .80.
Threats to success:
BAC earnings on 16 April places that April 10 call in the zone of a potential pop, but owning that deep ITM call is our hedge. We will monitor all movements in the stock and send out adjustments to our traders as necessary.
Profit Target:
It potentially is unlimited so we'd stay with the 7.5 calls as long as we can and they're profitable. If the stock pops and financials go on a tear we'd adjust our tactic accordingly and stop selling front month calls to finance the ITM call -- it's doing it on its own at that point.
Eject Criteria:
In the Intermediate model portfolio we would bail out of this trade at a 50% loss, but we would re-evaluate at a loss of 25% -- we don't wait to fly into the side of a mountain to eject. We should know way before that point in time and make that decision as early as we can.
Exit Tactic:
Buy the front month calls back and sell the Jan13 calls for a profit.
Note:
We were filled in the Intermediate Model Portfolio at 2.11
Firing Line:
It looks like the world might not actually end. Maybe. Israel/Iran still creeps us out and Europe is still a house of cards. Oh yes, there's an election where a former heavy from Bain could potentially be president. We think that would be a bullish sign for stocks. Happy hunting and make sure you hedge.
Follow us on Twitter at either
@WhizCheck6 or
@topgunoptions.
This commentary comes from an independent investor or market observer as part of TheStreet guest contributor program. The views expressed are those of the author and do not necessarily represent the views of TheStreet or its management.