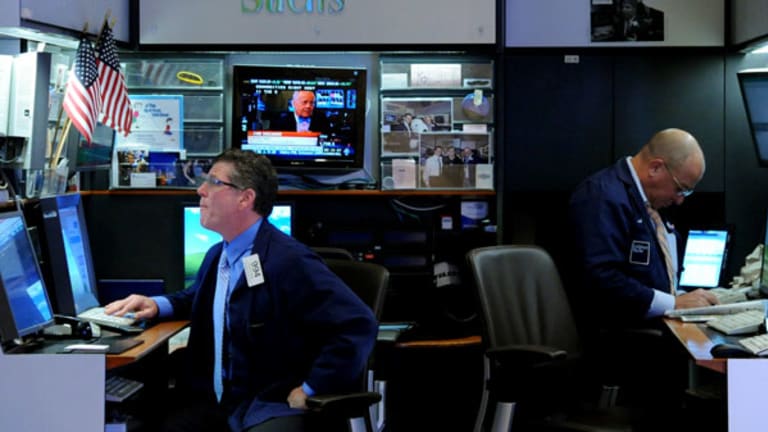 Attention shifts back to Corporate America next week. While a number of widely held names, like
Alcoa
,
JPMorgan Chase
(JPM) - Get JPMorgan Chase & Co. (JPM) Report
, and
Google
(GOOG) - Get Alphabet Inc. Class C Report
, have already released results, the floodgate on third quarter earnings doesn't begin until next Tuesday. Interestingly, volatility in the options market is falling ahead of the results and, while a lot of focus has been on macro trends in recent months, the third quarter earnings reporting season could bring along some long-awaited good news.
CBOE Volatility IndexI:VIX is down 1.05 to 29.65 today and now off 35% in less than two weeks. VIX has not closed below 30 for more than past two months and the dramatic decline in the market's "fear gauge" reflects a sharp decline in investor anxiety and risk perceptions seen during the past two weeks. VIX tracks the implied volatility priced into S&P 500 Index (.SPX) options and rallied to 45.45 on October 3 amid worries about the European Debt Crisis. Also, on October 3, the euro fell to 8-month lows against the dollar and decade lows on the yen.
The European debt mess continues to drive a lot of action in the US equity market and the S&P 500 has rebounded along with the euro and European equity markets since October 3. VIX has been falling during that time and, at 29.65, reflects expectations for lower levels of market volatility in the weeks ahead. Since VIX tracks implied or expected volatility, it is a forward-looking indicator. By way of comparison, the actual volatility of the S&P 500, which is based on previous closing prices, is 35.4% over the past 60 days. VIX is now 16.2% below the 60-day actual volatility.
Looking across sectors of the market, the difference between the expected volatility priced into options and actual volatility is even more striking. For example, implied volatility in the options of the SPDR Basic Materials ETF (XLB) - Get Materials Select Sector SPDR Fund Report, which holds all of the metal, chemical and other "basic material" names from the S&P 500, has fallen to only 22.6%. The actual volatility of the fund over the past 60 days is twice that, or 45.1%. (See Table 1 for a breakdown of volatility by sector). Since the options market is often very efficient in anticipating changes in market volatility, the falling levels of implied volatility across all S&P sectors could be signaling a return to more orderly market action in the weeks ahead - i.e. the extreme levels of market volatility seen in August and September will subside.
While implied volatility is falling across the options market due to the diminishing fears about the European Debt Crisis, the third quarter earnings reporting season might offer some good news as well. Analysts currently expect year-over-year earnings growth of 13% for S&P 500 companies; with only the financials showing a decline (see Table 2). Overall earnings in the Energy sector is expected to improve to $12.49, up almost 50% from the $8.39 a year ago. Information technology, basic materials, and consumer cyclical sectors are expected to see strong year-over-year growth as well.
While third quarter results are expected to offer good news across most sectors, forward-looking guidance will be scrutinized for clues regarding future earnings. Ultimately, earnings are the primary driver of valuations and other news, like economic data, political events, or turmoil in the credit markets, only matter to the stock market when they affect earnings. As Briefing's Dick Green recently pointed out,
"The market is afraid that earnings will plunge in the quarters ahead if European credit markets and economic growth implode. That, of course, so the thinking goes, will lead to a recession in the U.S. that will drive U.S. profits sharply lower. The fears of the future are trumping current good news."
After an 18.2% market decline from July 21 to October 3, the S&P was clearly priced for a sharp decline in earnings. The question is whether such a decline is justified given that Corporate America is still delivering solid earnings growth - 17% year-over-year earnings growth is expected for the fourth quarter and 13.5% in the first of 2012. There is a good chance that many quality companies with solid long-term earnings prospects have been unfairly punished during the market decline of August and September.
Of course, not all earnings reports will be spectacular and some sectors are likely to fare better than others. Industrials, Energy, Technology and Healthcare names are expected to continue to deliver solid earnings growth in quarters ahead. These sectors are worth a closer look for bullish set ups and upside options plays in the months ahead. Volatility is likely to continue in the Financials. Meanwhile, Consumer Staples and Telecomms might be worth a look for longer-term horizontal plays like calendar and diagonal spreads.
On Wednesday, October 19 at 6:00 p.m. EDT, TheStreet's Options Profits is hosting a webinar featuring Fred Ruffy of WhatsTrading.com. Join Fred as he outlines how to look at the "big picture", drill down into the sectors and ultimately find the individual options trade. Utilizing specific trade examples and case studies, Fred will show you how to select simple and advanced options plays. The back half of the webinar will include an interactive, exciting Q&A session.
Please email: jill.malandrino@thestreet.com to secure a slot for the webinar as space is limited and for the link to the presentation. IF you have already RSVPd, there is NO NEED to send another reposnce. A spot has been reserved.
Click here for a 14-day free trial to Options Profits
OptionsProfits can be followed on Twitter at twitter.com/OptionsProfits