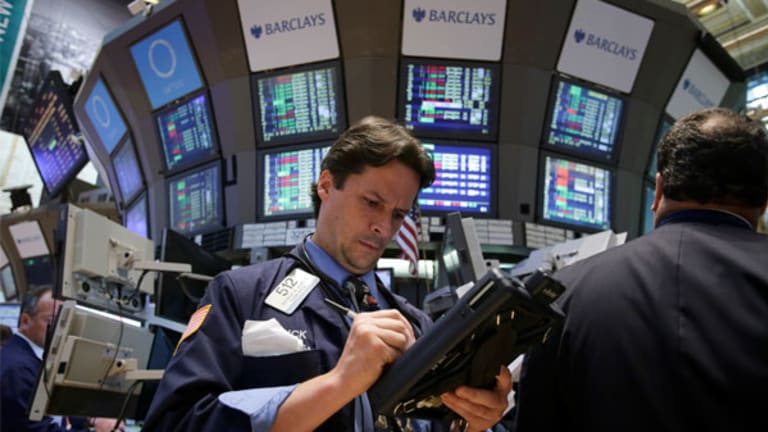 Opening Print and S&P Levels to Watch
For September quadruple witching, we expect a big NYSE volume print on the open, some small buying and selling in the S&P pit and then a long wait till the close
The Asian markets closed mostly lower and Europe is trading modestly lower, signaling a likely down day for the S&P 500. Today starts with the Atlanta Fed business inflation expectations number and a boatload of Fed speak (Esther George, Daniel Tarullo, James Bullard and Narayana Kocherlakota).
Today is the September quadruple witching. Prior to electronic trading, this day used to be one of the most volatile days of the year. It was filled with expiring options that generally had to be hedged with the S&P futures or rolled.
For us, the day was also known for its high level of fighting between our desk and the pit. The roar of the S&P pit has been replaced by the hum of computers and electronic trading.
Short-Term Overextended:
Expect a big NYSE volume print on the ope, some small buying and selling in the S&P pit and then a long wait till the close.
As expected, the S&P futures went into rest mode yesterday. After such a large rally and the big push up after the Fed meeting the futures acted exhausted yesterday, but after they sold off they bounced back up to unchanged on the close. While the ESZ did sell off, the overall tone was not all that bad.
Our View:
A one day selloff is not going to cure the S&P from being overbought. That said, there is a lot of Fed speak scheduled today, so be prepared for the headlines. The S&P should be busy in the first and last hour. Our view is to sell the early rally. The S&P may continue to rally, but it is a Friday, the quad witch, and the weekend, so we think there will be more lightening up than buying.
As always, use stops and keep an eye on the 10-handle rule. Don't forget to catch MrTopStep on The Closing Print video. We report directly from the SPX pits, wrapping up the day and positioning for trade tomorrow.
OptionsProfits can be followed on Twitter at twitter.com/OptionsProfits
MrTopStep can be followed on Twitter at twitter.com/MrTopStep
For LIVE futures chat, more information on the 10-handle rule and futures educational content CLICK HERE FOR A SEVEN-DAY FREE TRIAL.