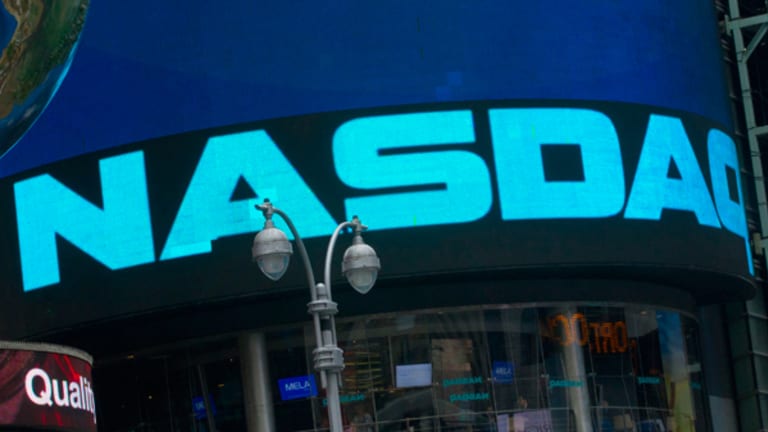 Nasdaq Back on Track, but Twitter IPO Worries Arise
Equity trading resumed on the Nasdaq after a 3-hour halt.
(Update reflects latest Nasdaq statement on the trading halt)
NEW YORK (
) -- The trading of
Nasdaq
-listed securities across the exchanges recommenced after trading glitches kept all stocks and options listed on the Exchange grounded from shortly after midday until around 3.25 PM EDT.
The Nasdaq resumed trading in positive territory, with the index rising 0.93% to 3,633.3. A number of high-profile tech stocks affected by the halt were trading mixed.
Microsoft
(MSFT) - Get Microsoft Corporation Report
was rising 2.2% to $32.30;
Apple
(AAPL) - Get Apple Inc. Report
was off 0.26% to $501; and
Facebook
(FB) - Get Meta Platforms Inc. Report
was rising 0.52% to $38.52.
Brian Frank, portfolio manager at Frank Capital was taking the event in his stride.
"As a long-term investor focused on businesses not stock prices, the NASDAQ shutting down gives me as much trouble as a weekend," he said. "My businesses are doing fine; just because their stock prices are shut down, doesn't mean much." He added that a 2010, "flash-crash" like event that could have undermined market confidence Thursday would been a buying opportunity.
The portfolio manager, added, however that "
Twitter
should watch this very carefully," as investors await a possible initial public offering in 2014. Nasdaq trading glitches blemished Facebook's IPO in May of last year and Kansas City-based electronic exchange
BATS
had to cancel its own IPO in 2012 due to technical problems. Frank cautioned that the
New York Stock Exchange
could gain some business out of the Nasdaq's debacles.
The
NASDAQ OMX Group
undefined
had announced the halt at 12:14 pm. Then at 12:26 pm, at the request of Nasdaq OMX, the
NYSE Euronext
(NYX)
said it halted trading in all Nasdaq securities and that all orders in those securities had been cancelled back to customers.
"Earlier this afternoon, NASDAQ OMX became aware that price quotes were not being disseminated by the Securities Industry Processor (SIP), which consolidates and disseminates all prices for the industry," a Nasdaq spokesman explained in an emailed statement. "There was a connectivity issue between an exchange participant and the SIP, which lead to a degradation in the ability of the SIP to disseminate consolidated quotes and trades. The cause of the issue has been identified and addressed. Responding to the SIP issue, in order to protect the integrity of the markets, NASDAQ OMX issued a regulatory halt for all trading in NASDAQ-listed securities."
"In the first 30 minutes, technical issues with the SIP were resolved. For the remaining period of time, NASDAQ OMX, other exchanges, regulators and market participants coordinated with each other to ensure an orderly re-opening of trading in NASDAQ-listed securities," the spokesman continued. "Trading resumed and the balance of the trading day finished in normal course."
"NASDAQ OMX will work with other exchanges that are members of the SIP to investigate the issues of today, and we will support any necessary steps to enhance the platform."
Jonathan Corpina, senior managing partner at Meridian Equity Partners said earlier in the day that clients had been having problems reaching the Nasdaq for more information. "I have many clients calling me, at the NYSE, and looking for answers/explanations because they can't get through to the NASDAQ on the phone. When there is an issue here, clients can call their floor broker and get answers immediately."
-- Written by Andrea Tse in New York
>To contact the writer of this article, click here:
Andrea Tse
.>