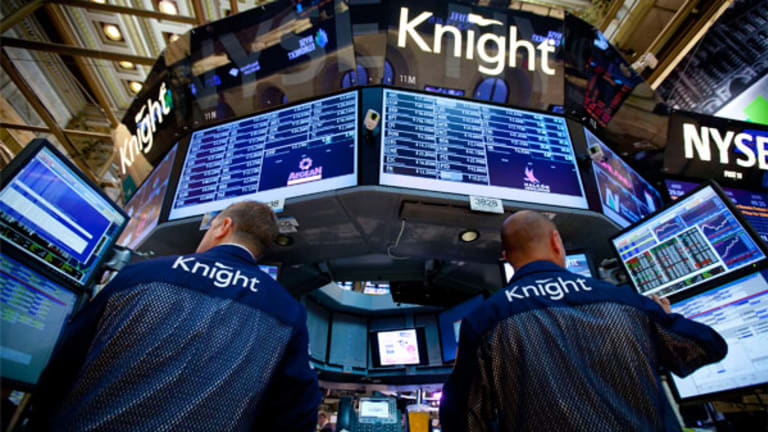 NASDAQ OMX Alpha Index Options Beat the Market
Let's break down the performance of NASDAQ's latest options product and set up a trade in GOOSY for you.
Will
Google
(GOOG) - Get Free Report
outperform the market? That's what some traders are betting on. But, as a trader, the burning question is: How will you play it? In this wily market, buying stocks can be a dangerous game -- especially stocks priced over $500 per share. A trader who buys GOOG on the speculation that it will outperform the market can still lose money -- even if he's right -- if the market overall falls.
This is where a clever little product called NASDAQ OMX Alpha Index Options comes in handy. This product is an index that measures how much a specific individual stock outperforms the market as a whole, as measured by the SPY. The specific Alpha index to use in this example is the NASDAQ OMX Alpha GOOG vs. SPY undefined. GOOSY specifically measures how much GOOG outperforms SPDR S&P 500 ETF (SPY) - Get Free Report.
Check out the video Jill and I did yesterday for more information and charts on GOOSY and NASDAQ OMX Alpha Index Options:
If a trader wants to take a position expecting GOOG to outperform SPY, the trader would take a positive delta position in GOOSY, like a long call, debit call spread or credit put spread. With the implied volatility of GOOSY as high as it is, the most practical play would be a credit put spread.
For example: Sell to open GOOSY October 79 puts at $2.19 and buy to open GOOSY October 77 puts at $1.67 for a net credit $0.52.
This strategy enables the trader to profit if GOOG does in fact beat the market, causing the GOOSY index to rise. Additionally, it benefits by the short-vega position, which would profit if implied volatility falls near the historical volatility level.
Click here for a 14-day free trial to Options Profits
Dan Passarelli is an author, trader and former member of the Chicago Board Options Exchange (CBOE) and CME Group. Dan has written two books on options trading -- "Trading Option Greeks" and "The Market Taker's Edge." He is also the founder and CEO of Market Taker Mentoring LLC, a leading options education firm that provides personalized, one-on-one mentoring for option traders and online classes.
Dan began his trading career on the floor of the CBOE as an equity options market maker. He also traded agricultural options and futures on the floor of the Chicago Board of Trade (now part of CME Group). In 2005 Dan joined CBOE's Options Institute and began teaching both basic and advanced trading concepts to retail traders, brokers, institutional traders, financial planners and advisors, money managers and market makers. In addition to his work with the CBOE, he has taught options strategies at the Options Industry Council (OIC), the International Securities Exchange (ISE), CME Group, the Philadelphia Stock Exchange and many leading options-based brokerage firms. Dan also contributes to financial publications such as TheStreet.com, SFO.com and the CBOE blog.
Dan can be reached at dan@markettaker.com. He can be followed on Twitter at twitter.com/Dan_Passarelli.
At the time of publication, Dan Passarelli and Jill Malandrino held no positions in the stocks or issues mentioned.