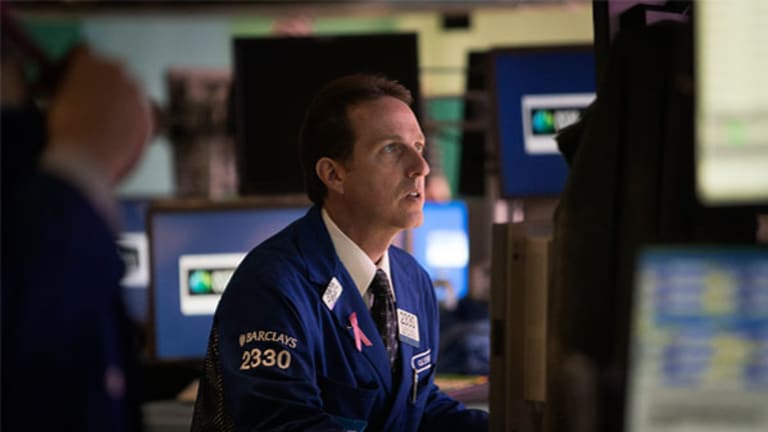 Momentum Carries Wall Street Past EU Concerns
Sideline institutional money is slowly finding its way back into the market in a steady stream.
The following commentary comes from an independent investor or market observer as part of TheStreet's guest contributor program, which is separate from the company's news coverage.
NEW YORK (
) -- So far this week, Wall Street continues to ride the slow but steady uptrend set in motion at the start of the New Year. Not even the indecisiveness of eurozone leaders in resolving the current round of sovereign debt crisis drama can derail the climbing equity train.
All of that can shift on a dime of course, but for now, it appears that sideline institutional money is slowly finding its way back into the market in a steady stream, an indication that appetite for risk is finding its way back into the equation of investors.
Follow
this link to see the Top Gun Options Advanced video trade alert on VXX and his take on the renewed Greek debt crisis; a bullish trade on volatility.
Wednesday's market action saw the
Dow Jones Industrial Average
(DJIA) edge just far enough across the line to put the blue-chip index into the black, though it did dive down around 60 points in early morning trading. That dip seemed to be in reaction to the news that Greece had failed to sign off on a deal that demanded greater levels of fiscal austerity, but investors decided to collectively shrug off their concerns, and the market began to make its way back to opening levels.
The
S&P 500 Index
(SPX) pretty much mirrored the Dow, eventually edging into the black and scratching out a small victory. The SPX will now test the 1350 level for resistance, having danced around that mark a few times over the course of the day.
Of particular interest to technical traders is the fact that the SPX had a "crossover event" about two weeks ago, when its 50-day moving average crossed above the 200-day moving average. This "golden cross" is often regarded as the confirmation of a bullish trend, and frequently used as a way to time the market. Though market timing of any variety is always, by nature, a risky venture, the 50-200 crossover has been used to good effect by numerous traders in the past.
As for Greece, once again the current focus of the eurozone concerns, the latest austerity-for-cash deal that investors demanded from Athens in return for more bailout funds failed to materialize, at least as of early Thursday morning. Investors, swayed by momentum, may not, at least for now.
A Look at the VIX
The
VIX
(Chicago Board Options Exchange Market Volatility Index) stood at 18.16 as of Wednesday market close, up .51. Intraday, it has touched as low as 16 twice out of the last four trading sessions. This may be seen as a test of support at that level, and, if viewed from that perspective, remains a good time to buy some volatility insurance for your portfolio. This can be accomplished by purchasing a near-month, slightly out-of-the-money call option on the VXX (iPath S&P 500 VIX Short-Term Futures ETN).
The VXX, which tracks the VIX, generally rises as the market goes down, and vice versa.
To see a different potential trade on VXX
click here. A great rule of thumb is when vol is cheap you buy it and when it's expensive you sell it. Vol is cheap right now so the Top Gun Options Advanced trading team is looking to buy vol now not only because of the renewed Greek crisis but the impending strike against Iran by Israel. That not if, but when.
Firing Line: Another option is to pair the VXX with a bullish play. This way, you can take advantage of the current bull trend while hedging the trade itself.
One example of this would be to buy a straight call option on Visa (V), which just announced better than expected earnings. Though it is at an all time high, it could easily run further up if the current trend continues. If not, the VXX side of the trade should help limit any loss.
Buy 1 VISA JUNE12 125 Call for a debit of 2.13
Buy 1 VXX JUNE12 33 Call for a debit of 2.10
Exit the trade at a total 75% gain or a total 30% loss.
Happy hunting and make sure you hedge!
This commentary comes from an independent investor or market observer as part of TheStreet guest contributor program. The views expressed are those of the author and do not necessarily represent the views of TheStreet or its management.