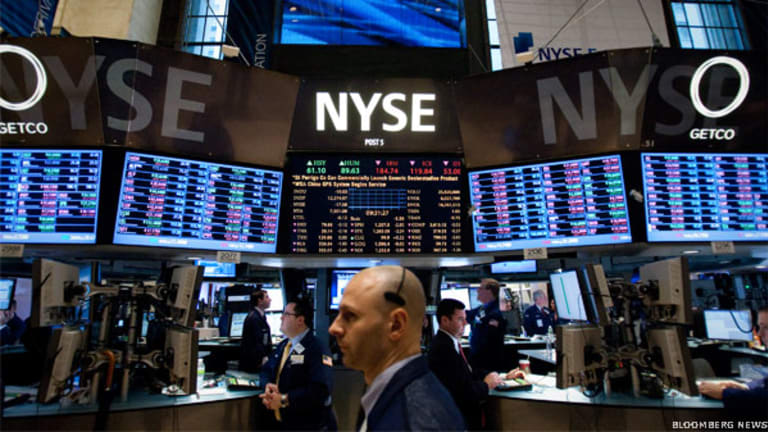 Meritage Homes Draws Put Selling
At least one investor was engaged in heavy put selling in the belief that any downside in the stock would be limited.
CHICAGO (TheStreet) --Shares of Meritage Homesundefined are on the decline during today's trading session, but the direction of heavy put activity suggests at least one investor expects further downside to be limited.
MTH is currently down more than 4%, or roughly $1.10, to $22.26 without any company-specific news on the wires.
On April 28, the company announced earnings of eight cents per share. Given that the MTH is a homebuilder, the recent slide in the shares might just be due to concern that the recent rally from the $20 level is over done if economic growth is not as strong as expected.
The jobs number that we will get on Friday morning will give more insights into that as well. However, it looks like at least one investor took a moderately bullish stance on MTH and expects the stock to hold above $20 during the next several months.
By noon EST, more than 10,000 out-of-the-money September 20 puts changed hands versus current open interest of 377 contracts, indicating the majority of this volume was initiated to open.
Investors who sold these puts collected an average net credit of $1.53 per contract, which means the investor is calling for the stock to hit a floor around $18.40, or not drop more than 18% prior to September options expiration. If the stock stays higher than the breakeven price, put sellers could make a maximum gain of the premium received, or $1,538,800 for the entire 10,000 lot.
In terms of implied volatility, these options traded on roughly a 53 implied volatility. That compares to a realized volatility of 45 for the last 3 months. Should implied volatility decline prior to expiration, and the stock stays in the same place, this investor could decide to lock in a profit on the short puts by buying them back.
Put selling activity such as this is not a reason to turn bullish on MTH, but it's interesting that at least one investor is willing to bet that further slides in the shares, or increases in implied volatility in the name will be limited.
-- Written by Jud Pyle in Chicago
Jud Pyle, CFA, is the chief investment strategist for Options News Network. Pyle started his career in finance in 1994 as a derivative analyst with SBC Warburg. After four years with Warburg, Pyle joined PEAK6 Investments, L.P., in 1998 as an equity options trader and as chief risk officer. A native of Minneapolis, Pyle received his bachelor's degree in economics and history from Colgate University in 1994. As a trader, Pyle traded on average over 5,000 contracts per day, and over 1.2 million contracts per year. He also built the stock group for all PEAK6 Investments, L.P. hedging, which currently trades on average over 5 million shares per day, and over 1 billion shares per year. Further, from 2004-06, he managed the trading and risk management for PEAK6 Investments L.P.'s lead market-maker operation on the former PCX exchange, which traded more than 10,000 contracts per day. Pyle is the "Mad About Options" resident expert. He is also a regular contributor to "Options Physics."