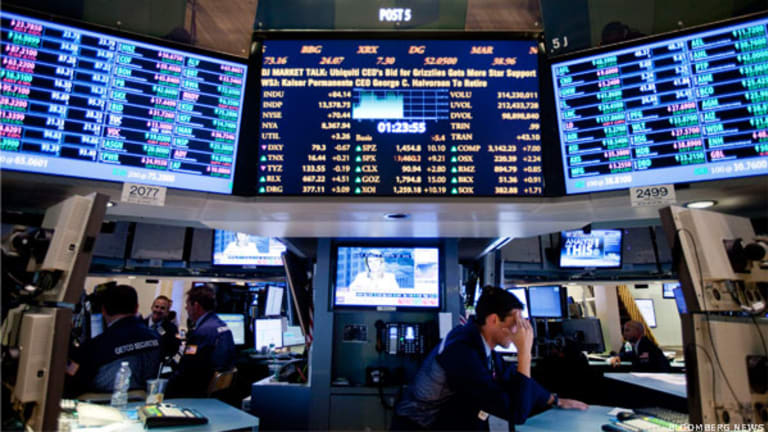 Markets Continue to Show Resiliency
Despite headwinds leading into the session, stocks were able to pare losses and finish the day in the green.
Traders kicked off the shortened week in front of a whole slew of negatives that were expected to weigh on prices. However, the major indices once again demonstrated the same impressive resiliency that has characterized this tape for the last several months and prices ended the day mostly higher.
Cyclicals outperformed, while defensives were mixed and financials underperformed. Materials were up 0.65%, outperforming on strength in precious metals and the fertilizers. Energy was also up 0.65%, moving higher on strength in integrateds, solars and a few E&Ps. Tech managed to finish higher by 0.3%, rallying off its lows after underperforming early due to news that Apple's (AAPL) - Get Apple Inc. (AAPL) Report CEO is taking medical leave.
The Dow Jones Industrial Average ended up 50.55 points, or 0.43%, to close at 11,837. The S&P 500 rose 1.78 points, or 0.14%, to close at 1295, and the NASDAQ was up 10.55 points, or 0.38%, to finish at 2765.
The CBOE Volatility IndexI:VIX closed up 2.65%, at 15.87, on choppy trading. Overall 163,000 put contracts trade compared to 436,000 call contracts, with February 37.5 calls as the most active series.
The SPDR S&P 500 ETF (SPY) - Get SPDR S&P 500 ETF Trust Report ended up $0.22, at $129.52. SPY January at 15 and March calls are 14, below its 26-week average of 22. Spreaders are rolling January 129 put positions into February 129 puts as traders adjust positions for January expiration.
PowerShares QQQ Trust (QQQQ) January volatility increased on more puts than calls and into AAPL and Google (GOOG) - Get Alphabet Inc. Class C Report EPS. The Qs are up $0.16, at $57.16, on overall put contract volume of 314,000 contracts compared to 166,000 call contracts. January call option implied volatility is at 15, above a level of 13 from January 15 and March is at 15, compared to its 26-week average of 21.
On January 19, TheStreet's OptionsProfits is hosting a webinar featuring John Carter of Trade the Markets. Concepts, citing specific trade examples, will include: market sentiment, technical indicators and trading psychology. We will also discuss how to use options and other asset classes to position and manage your portfolio through 2011.
OptionsProfits For actionable options trade ideas from a team of experts, visit TheStreet's OptionsProfits now.
Readers Also Like:
>>Understanding Volatility-Based Products
Readers Also Like:
>>Irrational Pessimism in Abbott Labs Presents Opportunity
Readers Also Like: