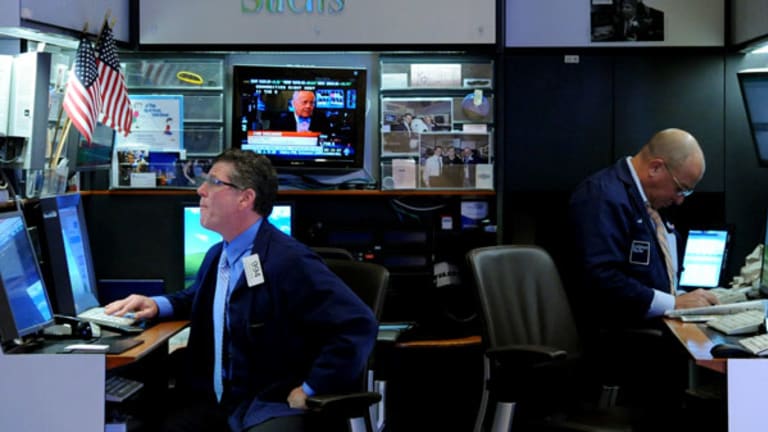 Markets Close Flat, VIX Lower on the Day
Stocks closed flat on Tuesday, ending an ugly month of low-volume trading in August.
Stocks closed flat on Tuesday, ending an ugly month of low-volume trading in August. The Dow Jones Industrial Average ended up 3.48 points, or 0.03%, to close at 10,013. The S&P 500 gained 0.27 points, or 0.03%, to close at 1049, and the Nasdaq was down 5.94 points, or 0.28%, to finish at 2114. Telecoms, financials and consumer staples rose, while technology and industrial stocks fell. Gold prices closed at a two-month high, while crude slid to $71.92, ahead of the inventory report tomorrow.
The CBOE Volatility Index (I:VIX) closed down $1.14, at $26.07. The VIX traded at an intra-day high of $27.83 then reversed itself lower as the Conference Board, an industry group, reported its index of U.S. consumer confidence rose to 53.5 in August, from an upwardly revised 51.0 in July. VIX September 25 puts were active on 10,000 contracts, a hedge if the VIX were to trade below $25.00. VIX September 40 calls were active on 12,000 contracts, an inexpensive hedge if VIX traded above $40.00. Expect volume to increase into Friday's August job report. Total put volume traded was 41,000 contracts versus 80,000 call contracts.
Total put volume on the SPDR S&P 500 ETF (SPY) - Get S&P 500 ETF TRUST ETF Report was 874,000 contracts versus 754,000 call contracts. SPY closed down $0.08, at $105.25. SPY September weekly option implied volatility is at 35, September monthly puts are at 25 and October is at 26, versus its 26-week average of 24.
The PowerShares QQQ Trust (QQQQ) closed lower by $0.15, at $43.46. Total put volume traded was 139,000 contracts versus 161,000 call contracts. September 43 weekly put option implied volatility is at 34. Momentum traders continue to be short the QQQQs as the index trends lower. QQQQ has a support of $42.00.
Saks (SKS) puts were more active than calls, as volatility and shares spike on speculation. SKS closed up $1.30, at $7.90. The Daily Mail reported takeover chatter was circulating on SKS. Put option volume of 77,000 contracts compares to call volume of 33,000 contracts. SKS September put option implied volatility is at 90 and November is at 62, above its six-month average of 54, suggesting larger near-term price movement.
Looking ahead to Wednesday, traders will be focused on several key economic data including: Challenger Job Cuts due out at 7:30 a.m. EDT, ADP Employment at 8:15 a.m. EDT and the ISM Manufacturing Index and Construction Spend reports at 10 a.m. EDT. In addition, the EIA Petroleum Storage report will be released at 10:30 a.m. EDT. Notable companies reporting tomorrow include: Borders Group (BGP) , FuelCell Energy (FCEL) - Get FuelCell Energy Inc. Report, Hovnanian Enterprises (HOV) - Get Hovnanian Enterprises Inc. Class A Report, H.J. Heinz (HNZ) and Joy Global (JOYG) .
OptionsProfitsFor actionable options trade ideas from a team of experts, visit TheStreet's OptionsProfits now.
Readers Also Like:
Readers Also Like:
Readers Also Like: