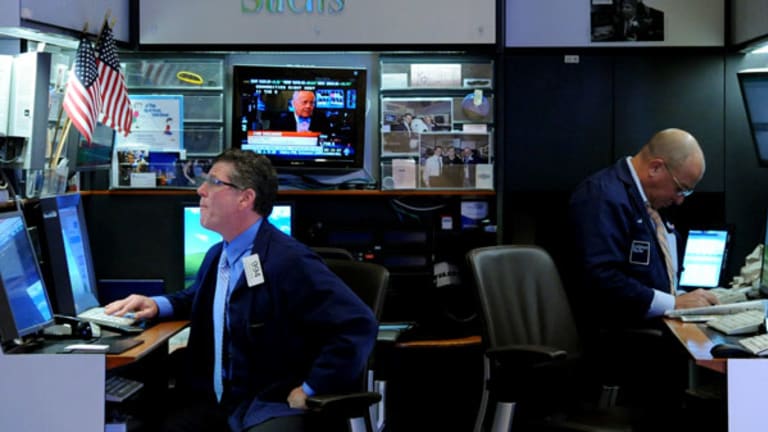 Marathon Could Be Ready to Run
MRO's chart is the story of a solidly profitable company about to break out of the $8 sideways trading range its been in for the past 18 months.
Energy names are on my radar this week as it seems that the combination of strong emerging markets' growth and the liquidity flush of global quantitative easing will defeat any possible deflation and keep a bid under crude oil prices. Today, I will look at
Marathon Oil
(MRO) - Get Free Report
for what could be a run to $40.00 in the near term. Though the stock trades at a rich P/E multiple (over 14x) for an oil and gas integrated firm, it has a much smaller market cap ($25 billion) than the giants in the space, and appears poised to earn $3.25 this year, which would knock its multiple down to 12x at a price of $40.00.
MRO clobbered 2nd quarter earnings, coming in at $1.11 when the consensus was $0.82 and the high estimate was only $0.99. Looking at analyst estimates for the next four quarters, we see steadily rising consensus projections from $0.90 to $1.25, putting forward estimates over $4.00. MRO appears diversified enough in exploration, liquefied natural gas (LNG), liquid hydrocarbon product transportation and even Canadian oil sands, that it does not suffer the fate of companies whose business relies heavily on refining, an operation that struggles when the "crack" spread makes it difficult to turn relatively expensive oil into gas pump profits.
Marathon is also in the process of completing a $900 million sale of under-performing assets in Minnesota. The divestiture is part of the company's continued strategy to restructure its business through aggressive cost reduction, exiting unprofitable markets and streamlining the organization. And the company recently received crucial permission from the Alaskan Energy Department to continue its exports of LNG to Asian markets.
Now, I am no expert on the fundamentals of energy companies. What first caught my eye about MRO was actually the chart. I offer the above analysis only for your further research. What we have on the chart is the story of a solidly profitable company about to break out of the $8.00 sideways trading range its been in for the past 18 months. While the stock has been essentially ignored during this time, it did express considerable strength relative to its industry since the Gulf oil disaster, making new highs in June and August while its oil and gas peers fell.
And now the 50 and 200-day moving averages, which have been coiling between $31.00 and $33.00 this year, appear ready to turn upwards and chase the stock price on a breakout to new 52-week highs. If I am right, here is one way to play it -- a bull synthetic stock strategy where we sell the put to buy the call, comfortable if we are assigned on the put and ready to reap profits on our "free" call if the stock catches fire:
Trades: Sell to open MRO April 35 puts at $2.80 and buy to open MRO April 35 calls for $2.80.
Synthetic long stock can be done for even money, with MRO below $35.40.
If MRO does breakout to new highs this week, you will have to pay a debit for this strategy as the call has a delta of around .550 and the put .450 with stock at $35.50. I would not chase it though as we will probably get a pull back with the 50 and 200-day moving averages left down below around $33.00 and $32.00, respectively. I have gone out to April to give plenty of time for this one to work. And the beauty of this "all one way" strategy is, you do not have a spread on with a hedge, so you can sell that call anytime you like and collect your potential profits.
Tomorrow, I will look at another energy chart I like. Valero (VLO) - Get Free Report has recently returned to profitability and a breakout above $18.00 and the 200-day moving average could target the May highs above $21.00.
At the time of publication, Kevin Cook held no positions in the stocks or issues mentioned.
OptionsProfits For actionable options trade ideas from a team of experts, visit TheStreet's OptionsProfits now.
Readers Also Like:
>>How to Trade the Jobs Market
Readers Also Like:
>>Just Say "No", Don't Force the Trade
Readers Also Like: