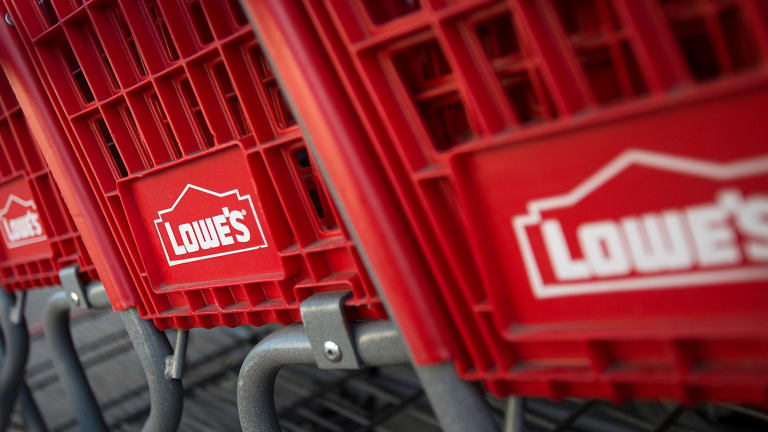 Lowballing Lowe's Low Volatility
Lowe's will report earnings Aug. 19. The consensus view of $1.24 per share is a 20% improvement year over year for the home improvement company. Time to start trading.
NEW YORK (TheStreet) -- Lowe's (LOW)  has been in the home improvement business since 1946, long before Home Depot (HD) was established in 1978. LOW has a good ISS QuickScore of 3 (1 is the highest out of a possible 10), which for me always signals whether or not I should trust a company's management.
On Aug. 19 LOW will report earnings and consensus sees $1.24 per share. If so, that would be a 20% improvement year over year. Such improvement is the call for this current quarter (+25% projected). LOW currently trades at a trailing price to earnings ratio of 25 times and a forward PE of 18 times.
Less than 2% of LOW's total share float is currently sold short. As for other technicals, I read LOW's one-year stochastic and RSI as slightly bullish, but with room to move in either price direction. What also pops up technically is that LOW is almost coiled, which for me implies to get long gamma and keep delta close to neutral.
The trade I prefer now for LOW is the crisscross strangle tactic, expiring in September. That expiration date gives LOW time to react to both the general market, as well as earnings. The volatility level for the trade should be near an average (of the put and call) of 20. The caveat emptor here is that this trade requires a very high capital outlay.
Trades: Buy to open LOW Sep 67.5 calls and buy to open LOW Sep 72.5 puts for a total capital outlay of $6.80.
The total capital at risk is $1.80. The suggested target to close for a gain is a bid of $7.25, or higher for the XXS. The suggested target to stop out the trade is a bid of $6.35, or lower.
As always, this is a guideline, and you should always stick to your trading plan and what's best for your risk/reward tolerance.
OptionsProfits can be followed on Twitter at twitter.com/OptionsProfits
Skip Raschke writes regularly for Options Profits. You can get his trades first and interact with him there with a free trial.
This article is commentary by an independent contributor. At the time of publication, the author held no positions in the stocks mentioned.