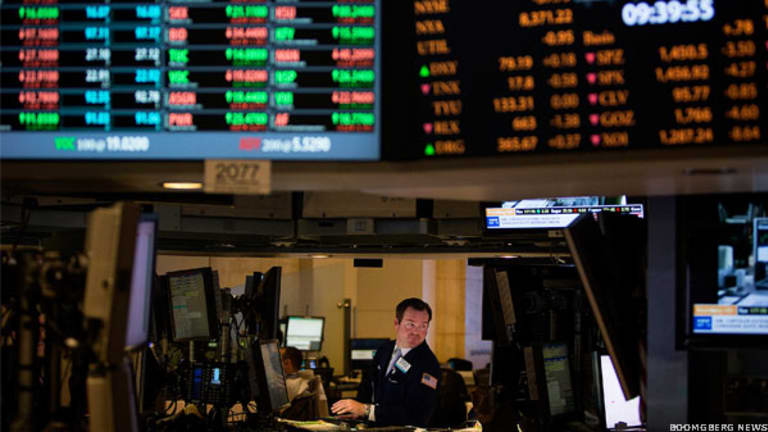 Keep Looking for Buying Opportunities
December S&P futures appear range-bound but that could soon change.
December S&P futures appear range-bound but that could soon change.
NEW YORK (TheStreet) -- As of this writing, the December S&P futures are down 8.5 handles at 1443.
Driving the market lower Friday is some apparent disappointment in earnings from
General Electric
(GE) - Get Report
and
McDonald's
(MCD) - Get Report
. Let's not forget Thursday's
Google
(GOOG) - Get Report
as well, which continues to weigh on tech.
Not much has come out of the European summit this week (surprise, surprise), and it is the 25th anniversary of the 1987 market crash, with no shortage of articles and media coverage regarding that event and why it is likely to happen again. Finally, it is option expiration day as well, which can make for some "quirky" price action.
It kind of appears that the powers that be are going to pin the December S&P futures at the 1440 level. We shall see.....
I do think it is important to keep things in context. Overall, the broad market simply continues to trade range-bound. For the past month or so now the
S&P 500
futures have traded from 1420ish to 1460ish on the top side.
Although we have seen three failures at that 1460ish level, I suspect that the market simply needs to engage in some "back and fill" trade before taking another run at that level and breaking out to the upside. After all, it's difficult if not impossible to fight the
Federal Reserve
.
Overall, when one looks at the bigger picture there has been improvement in the economy, although the pace could certainly be a bit better.
Keeping those factors in mind, I feel that one has to continue to look for opportunities to be a buyer in this market until proven otherwise.
Currently, the market is testing the 20-day exponential moving average (EMA) on the daily charts. This also coincides with the 1441 level that so far has facilitated trade.
There is a lot of day to go, however, and whether buyers step up here again remains to be seen. This could be nothing more than another "fishing" expedition looking to take out stops.
Should this level be taken out decidedly today, however, that will set the stage for lower prices next week. One could certainly look to get long the market here with a tight leash.
I am of the opinion, however, that there may be some more downside to go and at this point would prefer to be a buyer in the 1400-1420 area. I like the prospects of being a put seller in that area or perhaps even a call buyer.
Because I will look to use options, I will also have a larger "margin for error" than a straightaway futures position, and thus not get "shook out" by fishing expeditions that are prevalent in a range-bound market like this.
Please note: Futures and options trading is inherently risky and isn't suitable for all investors. Past performance isn't indicative of future results. Stop-loss orders meant to limit losses may not be effective because market conditions may make it impossible to execute such orders.
Matt Zeman is a trader at
. He began his trading career as a runner in the grain pits at the Chicago Board of Trade before becoming an arbitrage clerk. Eventually he started trading equity options and stocks. Matt now is a full-time futures broker. He has been a frequent guest on CNBC, Fox and Bloomberg, and provides his views on the stock, bond and futures markets for financial media including Dow Jones, the L.A. Times and The Associated Press. Matt is a member of the Chicago Board of Trade, and carries series 3, 7 and 66 licenses.