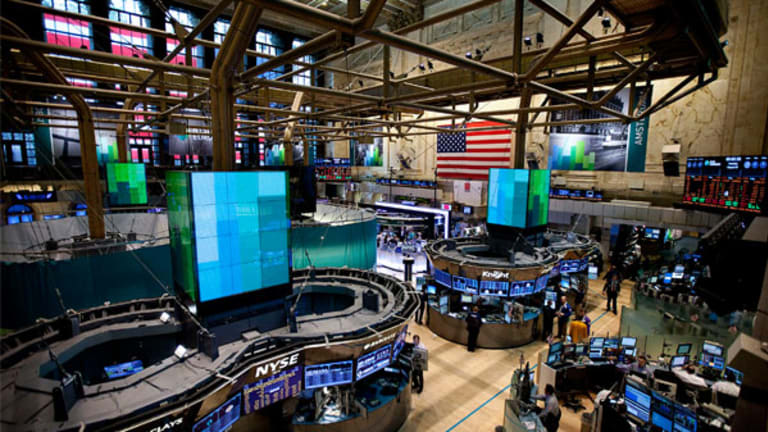 January 2011 Options Review
While the January Barometer is bullish for this year, the early gains in 2011 have been driven by a handful of sectors and significant event risk could drive higher levels of volatility in the months ahead.
According to the January Barometer, the stock market's returns during the first month of the year often predict the performance for the full year. The S&P 500 Index is on track to record its first January gain since 2007 and this bodes well for the remainder of 2011. Although the indicator failed in 2009 and 2010, it has been accurate 34 out of 41 times since 1950 for an accuracy rate of 83%. However, while the January Barometer is bullish for this year, the early gains in 2011 have been driven by a handful of sectors and significant event risk could drive higher levels of volatility in the months ahead.
Much of January's gains were erased Friday when fears about political unrest in Egypt and other parts of the Arab world sent the S&P 500 skidding for a one-day 1.8% loss. Still, it's on pace to add almost 2%for the month. Strong gains in the financials, industrial and energy names have driven the advance. The Energy Select Sector Fund (XLE) - Get Energy Select Sector SPDR Fund Report is up nearly 6% month-to-date. Shares touched their best levels since September 2008 Monday, fueled by higher prices across the energies. Crude oil (March) gained 66 cents to $90 a barrel today and, although down $2.85 year-to-date, crude has more than doubled during the past year. Natural gas prices are heating up. At $4.32 today, natural gas is up 5.4% since mid-December and hit five-month highs of $4.88 last week.
Shifting attention back to the equity market, the table below shows the performance of the Select Sector Funds. Collectively, these nine funds hold the five hundred S&P 500 stocksgrouped by economic sector. The industrials, which includetransportation, machinery and construction companies, have been strong. Financials and technology have also helped pace the market's advance in 2011. On a down note, almost anything consumer-related has been in the toilet. The basic material sector is showing a year-to-date loss as well.
One trend that has continued in the first month of 2011 is merger and acquisition activity.
Massey Energy
( MEE) shares are rallying 10% today after
Alpha Natural Resources
(ANR)
made a bid for the coal producer. Other noteworthy deals announced so farin 2011 are
AMB Property's
( AMB) bid for
Prologis
(PLD) - Get Prologis, Inc. Report
and
Verizon's
(VZ) - Get Verizon Communications Inc. Report
acquisition of
Terramark
( TMRW). The trend is likely to throughout 2011, as large companies seek to boost revenues and profits through acquisitions amid sluggish economic growth.
While M&A activity is likely to continue, we might see an uptick in volume and volatility in the weeks ahead. Volume in the options market has picked up in late-January, driven by increasing activity in the exchange-traded funds. 5.6 million puts and 3.4 million calls traded across all ETF products Friday, as nervous investors stepped up demand for portfolio insurance and bought puts on names like the SPDR S&P 500 Trust (SPY) - Get SPDR S&P 500 ETF Trust Report, the PowerShares QQQ Trust( QQQQ) and the iShares Small Cap Fund (IWM) - Get iShares Russell 2000 ETF Report. The heavy volume stands in stark contrast to the light volatility, low volume trend seen in December and throughout the first few weeks of 2011.
The
CBOE Volatility Index
closed above 20 Friday for the first time since early-December. VIX, which is sometimes called the market's "fear gauge," is down .62 to 19.42, but has added 9.4% for the month of January. So, while the S&P 500 has been trending higher this month, VIX is moving higher as well. VIX normally eases when the S&P 500 moves higher.
There appears to be a macroeconomic risk premium priced into the VIX. The actual volatility of the S&P 500 (based on the 20-day statistical volatility) is just 10 percent. Therefore, relative to actual volatility, the volatility index is almost double and is really quite high. In addition, since VIX is based on expected volatility priced into S&P 500 Index options, it is forward-looking and warning investors to brace for higher levels of market turbulence in the future (relative to the past). Not only is the European Debt Crisis still unfolding and China could slow its growth engine with tighter monetary policy, but now unrest in Egypt and other parts of the Middle East poses a new political risk for global financial markets. These macroeconomic problems create a risk to earnings that are difficult to quantify.
So far,fourth quarter earnings reports have been largely uninspiring. Ford (F) - Get Ford Motor Company Report, Amazon.com (AMZN) - Get Amazon.com, Inc. Report, and Microsoft (MSFT) - Get Microsoft Corporation (MSFT) Report were among the latest widely-held names to fall on disappointing earnings Friday. For the quarter, analysts surveyed by Standard & Poor's expect S&P 500 companies to report total earnings of $21.80 for the fourth quarter, which is slightly less than the $21.83 expected before the start of the reporting season and only 1.1% above the third quarter. Total earnings over the next fourth quarters (including the fourth quarter of 2010) is now $92.10, which gives the S&P 500 a forward P/E ratio of 13.9X. Total S&P earnings are expected to grow by 14.6% in 2011 over 2010. Therefore, a P/E ratio of 13.9 might be justified, but there's not much room for negative guidance, downward revisions, or increasing macroeconomic earnings risk.
Consequently, as the VIX suggests, market volatility might pick up a bit going forward as international events unfold and the fourth quarter earnings-reporting season continues. Domestic economic news poses some event risk as well. Auto and truck sales numbers are due Tuesday. The ISM Manufacturing Index and Construction Spending are released tomorrow as well. Investors get their first peek at the January jobs situation courtesy ADPs report Wednesday morning. Monthly employment figures from the Labor Department are likely to rattle the market Friday.
At the time of publication, Fred Ruffy held no positions in the stocks or issues mentioned.
Frederic Ruffy is an experienced trader and provides daily commentary and analysis of the options market. He is co-founder of the web site, WhatsTrading.com. His work has also appeared in Futures Magazine, Technical Analysis of Stocks & Commodities, Stock Futures and Options, and Sentiment.
In addition to writing market commentary and trading-related books and articles, Fred has also worked as an instructor, educating investors on advanced topics like measuring volatility, the benefits of sector rotation and the risks and potential profits from trading around earnings. An active trader himself, with over 15 years securities industry experience, his market observations and analysis of the options market are featured regularly in the financial press including Barron's, Reuters, The Wall Street Journal, and Bloomberg.
OptionsProfits For actionable options trade ideas from a team of experts, visit TheStreet's OptionsProfits now.
Readers Also Like:
>>The Cheapest 'Cloud' in the Sky
Readers Also Like:
>>Political Risks From Unrest in the Arab World
Readers Also Like: