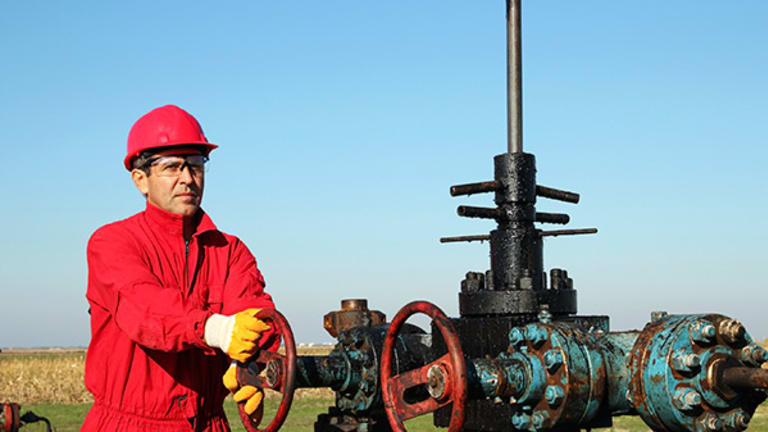 Inside the future of oil futures
Bad geo-political news translates into higher prices for oil futures and there is lots of bad news in the oil patch.
After many months when some investors have ignored oil futures, suddenly there has been an uptick of interest, at least among bolder commodities players. The reason: some experts see big changes coming that, if they are right, will result in higher prices for crude oil and thus for futures that aim to forecast what a barrel of crude will be worth a year or so out.
Don't think oil does not move in price. This year it has been at a low in the high $20-range, and in early June, U.S. crude crested above $50 per barrel, the highest price in a year. That is nearly a 100% jump.
Some bears early this year saw nothing but doom and gloom for oil prices. J. P. Morgan for instance in early January pegged its crude forecast at $31.50. Many other analysts did similar.
But new developments have prompted analysts to take a fresh look at how oil should be priced. That has rippled through the market for oil futures - commodities where units of 1,000 barrels of oil are bought and sold by speculators, typically three months to a year out. Few buyers of futures ever want to claim the actual physical oil but there are some futures players - airlines, for instance - that use futures to hedge against price volatility of fuel. Mostly, though, it is a bet for savvy investors. It also is a busy marketplace. Crude oil futures usually rank among the top five most traded futures.
Is this market too volatile for you? "The average investor could very well look to have a position in oil futures," said Albert Goldson,executive director of Indo-Brazilian Associates, a global advisory firm. He, by the way, optimistically forecasts price increases for oil in the near term.
So, too, does Jay Hatfield, president of Infrastructure Capital Advisers, an investment advisor, who expressed real optimism about the future of oil prices.
An irony about oil is that bad news usually is what lifts prices, and analysts see the potential for a lot of bad news. Goldson, for instance, pointed to political volatility, especially in two oil providers - Venezuela and Nigeria. In the latter, the Niger Delta Avengers, an insurgent group, have threatened to cut off all oil production and they have backed that up with violent attacks.
In Venezuela, plunging crude oil prices have rocked an economy that was built around high prices and this economic meltdown has impacted the ability of the government to govern and that in turn threatens oil production. "If Venezuela [production] goes offline, there will be less oil available," Goldson said. There would be a perception of shortage, he says, and that in turn will nudge oil prices higher.
As for Nigeria, Goldson said, "Nigeria is devolving into a very nasty situation. The president may not be able to secure the supplies."
Some add Russia to the list of oil producers in big trouble, especially because Russian oil reserves increasingly are in parts of the country where it is physically difficult - and expensive - to operate, and it is unclear whether Russia has either the cash or the expertise to access those reserves.
"Oil futures," said Goldson, "will start to move up."
As for Hatfield, he said that as soon as 2017 his company sees oil rising to the $60 to $70 per barrel range, as supply continues to shrink. In that regard, Hatfield sees production declining in fields he said are "uneconomic" - he pointed to offshore production and also oil sand fields in Canada. "About 20% of our production comes from fields that are uneconomic and we see that ending next year," said Hatfield.
He also said that U.S. consumption of energy has been higher than expected.
Hatfield also sees surging production in traditional continental U.S. oil fields - such as in Texas's Permian Basin - and he predicted that very soon "the U.S. will be a net exporter of energy. We now are the lowest cost source of incremental production," meaning it is cheaper to produce new oil in the U.S. than elsewhere on the planet.
"The long term story is very bullish for oil," said Hatfield.
And that's an outlook that is prompting more to take a fresh look at oil futures, because suddenly, to some, it looks as though real profits can be had there.
This article is commentary by an independent contributor. At the time of publication, the author held TK positions in the stocks mentioned.