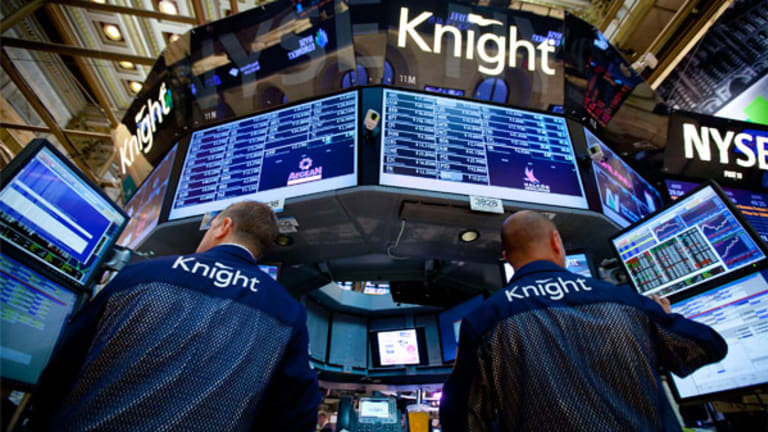 iLove the Products, Not the Stock
The ebbs and flows of AAPL to the upside are over, and weekly order flow will mutate into a downward bias that could last for months.
Apple (AAPL) - Get Apple Inc. Report is a great company with great products and a huge market cap. I have no doubt they will continue cranking out great new ideas. I, for one, love both my iPhone and my iPad. My love for the stock, on the other hand, is another story.
Nearly every trader and investor knows, or at least has recently come to realize, that no market goes straight up or straight down. The ebbs and flows of the markets are the natural order of things as traders change positions and reallocate capital. There comes a time, however, when the natural ebb and flow mutates into a tidal wave of change. It is at this point in time that many investors get caught off guard and have their heads handed to them. How do traders step back and recognize a shift in sentiment well before they are issued a margin call? That is where the weekly charts come into play.
A weekly chart cuts out all of the noise and presents a picture that resonates with clarity. This weekly chart of AAPL shows a sell signal on the TTM (TradeTheMarkets) Squeeze on September 12, 2008. At this point in time, APPL toppled in price by over 50% as the markets got hit. On April 3, 2009, a buy signal emerged that pushed AAPL up well over 100%. And on March 12, 2010, another buy signal fired off that pushed AAPL from $200.00 per share up to its all time high of $279.01.
The most recent signal has been developing for six weeks now (the red dots at the bottom of the chart). This signal indicates a build up in momentum, the release of which will be indicated by the first green dot after this series of red dots. If at this point in time the momentum histogram is headed higher, this pent up energy will be released on the buy side, as was the case on the prior two signals.
Apple (AAPL) Weekly
Source: Trade Station

Unfortunately for die hard AAPL fans, the current weekly momentum on AAPL has been sloping downward for 10 weeks now. This signal will most likely release at the end of this week, especially if the GDP numbers hit the market to the downside. And even if the market rallies on the GDP numbers, it will not be enough to save AAPL from the signal that is developing - a full court press sell. This would tell us that the ebbs and flows of this stock to the upside are over, and weekly order flow will mutate into a downward bias that could last for months.
Do not be fooled by news releases with new products. Stocks only rise when the demand for shares outstrips the supply of shares available for sale. Once that balance shifts, the supply of shares for sale can exceed demand for many months, making it a painful experience for those who are not tuned into weekly order flow. For those in the know, watching weekly order flow in this manner, makes the timing of investments an activity that nearly borders on rational exuberance.
So, how am I going to take advantage of this massive shift of order flow? First, no long plays off daily signals, let's not try to swim upstream on this one. Then I will break the weekly down into daily or 60-minute charts and look for a squeeze to form. You could also use the crossing of key moving averages on a larger time frame to signal the sell. Once I go to my options chart, I will be looking further out to something like October expiration. Remember, we are actually taking a signal off a weekly chart, and looking for a delta of at least .70.
At the time of publication, John Carter held no positions in the stocks or issues mentioned.
John is a Commodity Trading Advisor with Razor Trading. McGraw Hill commissioned him to write a book entitled Mastering the Trade, which was released in January 2006. Carter has also been featured on ABC Money. He and Hubert Senters founded and run the Trade the Markets web site.
OptionsProfits, a new provider of options news from TheStreet, educates investors and acts as a catalyst for trading.
Readers Also Like:
Readers Also Like:
>>Blockbuster Bankruptcy Weeks Away?
Readers Also Like: