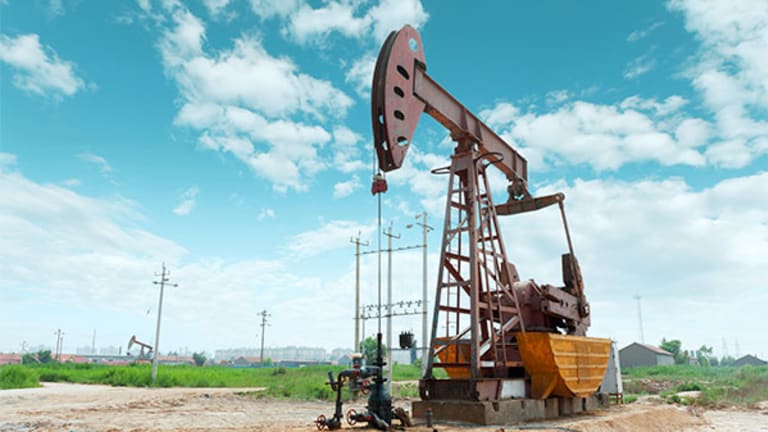 How to Trade Crude Oil Futures as Prices Ramp Up
Crude oil prices rose this week as production has been disrupted globally, boosting a surge of interest from investors as futures prices tend to surpass the stocks of energy companies.
Crude oil prices rose this week as production has been disrupted globally, boosting a surge of interest from investors as futures prices tend to surpass the stocks of energy companies.
Crude oil prices rose this week as production has been disrupted globally in Canada and Africa, boosting a surge of interest from investors as futures prices tend to surpass the stocks of energy companies.
During the past ten years, on average in a positive month for energy, futures gained 6.14% compared to a 5.04% for stocks, said Jodie Gunzberg, global head of commodities and real Assets at S&P Dow Jones Indices, a New York-based company which provides indices for financial markets.
"This is not surprising, since many of the producers hedge to reduce the volatility of revenues and earnings," she said.
While this upward trend appears promising, especially to novice investors and traders, oil futures also underperform when energy dips and at a greater percentage.
"The correlation of stocks to the underlying energy is 0.77 and on average when futures are down in a month, they lose 7.10% versus the stocks that lose 5.28%," she said.
Purchasing oil futures give investors greater diversification compared to buying the stocks of oil companies.
"The correlation of energy futures to the S&P 500 is 0.46 versus a correlation of 0.66 of stocks of energy producers to the S&P 500," Gunzberg said.
When the broader stock market declines, the equities of energy companies dips further than futures. When the S&P 500 fell on average in a month, it declined by 3.81%, but in those months, energy futures fell just 3.52% compared to the stocks of energy producers which dipped by 5.14%.
"The equities of energy producers had a much higher sensitivity to overall stock market losses than energy futures did," she said.
Investors often chose to buy energy futures instead of energy company stocks, because their inflation beta is 18.2 compared to only 11.3 for energy stocks, Gunzberg said.
"The same inflation protection can be gained with a smaller investment in energy futures than energy stocks," she said. "Still, many investors like the familiarity with stocks and they prefer to use them rather than futures."
As crude oil prices broke the $50 plateau in October 2015, a critical price point, more average retail investors began to watch it closely or trade it. It is now the second most traded futures contract at TD Ameritrade, mirroring the trends seen at the Chicago Mercantile Exchange.
Making money from speculative trades on crude oil futures can be challenging. Oil can be quite unpredictable and complicated when it comes to futures, said J.B. Mackenzie, director of futures and forex of TD Ameritrade, an Omaha, Neb.-based online broker. The commodity has rebounded from its record lows and a 70% decline; last June it was trading at a high of $61 per barrel of oil, but in February it had weakened to a low of $26. 
While oil futures are not more volatile than other asset classes, the probability for it to rise or decline even within a 24-hour period can be higher than purchasing investments such as an E-Mini S&P 500 (ES), he said. Even a $0.50 move in prices can be expensive since one crude oil futures contract is equal to 1,000 barrels of oil and has a margin requirement of $4,000.
The contract specifications of oil futures are not identical to equities, because despite trading in penny increments like equities, the value of that $0.01 move or tick is not the same. "However, having the ability to react to market news by accessing futures almost 24 hours a day is a huge advantage over equities," he said.
"Most people have a comfort level with crude oil futures, and they feel like they understand the product," Mackenzie said. "However, in crude futures, a penny change is valued at $10, so it is important that investors define their risk thresholds prior to entering a trade."
Purchasing oil futures give investors the ability to "immediately place a hedge which is a huge advantage over equities," he said. "It gives you the true market price of crude oil versus buying energy ETFs or other products."
"Crude oil futures are also very capital efficient and a single futures contract has a notional value of $50,000," Mackenzie added. "Otherwise, you would have to buy 4,000 shares of iPath S&P GSCI Crude Oil Total Return (OIL) - Get Report ."
The benchmark North Sea Brent crude oil spot prices averaged $47 per barrel in May, a $5 per barrel increase from April and the fourth consecutive monthly increase after reaching a 12-year low of $31 per barrel in January, said the Energy Information Administration (EIA), the independent statistical arm of the Department of Energy based in Washington, D.C., in a report.
The increase in demand, declining U.S. production and growing global oil supply disruptions pushed prices higher, the EIA said.
"Despite the recent increase in supply disruptions and rise in oil prices, the EIA expects global oil inventories will continue to build in 2016, which should limit upward price pressures in the coming months," said Timothy Hess, a lead analyst for the EIA.
The outlook on oil prices remains uncertain due to the current values of futures and options contracts, the EIA said on June 7. The EIA estimates that Brent prices will average $43 per barrel in 2016 and $52 per barrel in 2017, while West Texas Intermediate (WTI) crude oil prices are predicted to be slightly lower than Brent in 2016 and to be the same as Brent in 2017.
"The EIA's forecast for the average WTI price in September 2016 of $46 per barrel should be considered in the context of Nymex contract values for September 2016 delivery," the report said. "These contracts traded during the five-day period ending June 2 suggest the market expects WTI prices could range from $36 per barrel to $69 per barrel in September 2016."
Average gasoline prices from April to September are estimated to range from $2.27 a gallon to $2.13 a gallon for 2016.
Oil prices are expected to remain at or above $50 a barrel for the next year, "even in the face of growing production by most OPEC members, especially Iran and Saudi Arabia," said Bernard Weinstein, associate director of the Maguire Energy Institute at Southern Methodist University's Cox School of Business in Dallas.
The demand in Asia is outpacing the slow consumption growth in North America and Europe while consumption in China and India has jumped by 80%, he said.
"Fossil fuels generally will still account for 78% of world energy consumption, so hold on to your Exxon (XOM) - Get Report stock," Weinstein said. "Fossil fuels won't disappear soon, because no other power source can offer the same levels of energy density and reliability."