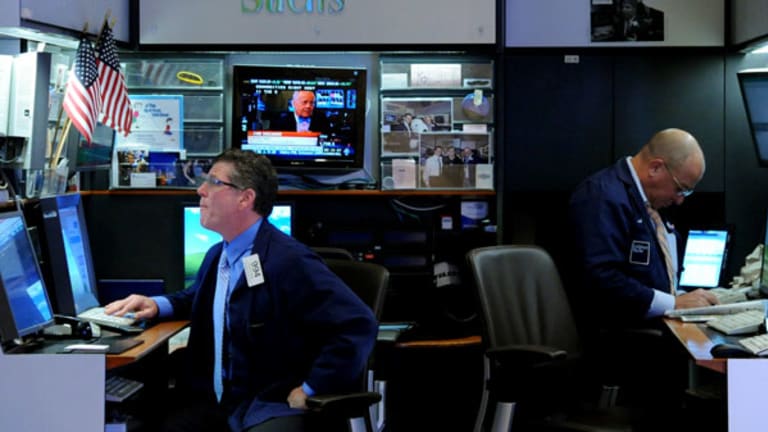 How to Trade Bond Futures as the Fed Steps In
The December contract may go lower, reversing course.
NEW YORK (TheStreet) -- With the Federal Reserve's announcement of an open-ended QE3, investors and traders have spent the past week sorting themselves out following the news.
We have seen a number of trending markets reverse course lately, including the euro, and conversely the dollar; the grains have turned lower; oil has been broken; and gold continues its upside run. Bonds have broken down as well and are probing lower prices and higher yields.
Looking at the bigger picture, I think most people understand that the Fed's primary goal in cranking up the printing presses is not only to try to magically induce job creation, but also to force people into risky assets. The markets just
love
low rates and money falling from the sky, as we have now. Simply take a look at an S&P 500 chart for the past two weeks, and you will clearly see what I am talking about.
As of this writing, the S&P 500 futures are down about 6 handles, the euro is getting crushed, and bonds are almost a full handle higher. I believe that what we are seeing is the beginning of a modest correction in many assets after post-Fed movement. The S&P 500 remains bullish overall, I think -- it's tough to fight the Fed -- but I think some back-and-fill trade is in order. Perhaps a test of the breakout level of 1,440-ish, at the least.
Likewise, it is not surprising to see bonds and notes bouncing this morning on weaker equity futures and some increased geopolitical tensions around the globe.
Because these markets are clearly trending, we can look at our charts and try to come up with some decent trade opportunities by keeping the overall trend in mind. After all, going with the trend, rather than against, can increase the odds of success. This is all a game of probabilities.
One potential opportunity I am looking at this morning is in the 30-year bond futures. Looking at the December futures contract, the market really broke down from September 4th through the 14th, falling from just under the 152 handle to a swing low of 14,415 this past Monday (the 17th). We have seen some corrective action in the long bond each session this week, and are currently trading at 14,710 as of this writing.
Looking at the chart, I think the market may test the 14,800-14,818 area. If it does, this would be a decent area to try and get short with the assumption that the down trend will continue.
There are a number of ways to play this area. Below I will discuss an option play because I believe it can give you more flexibility on the trade, and even if the market does not break down, you may still have the potential to profit from the time decay of the option. Keep in mind that this is a naked option position with unlimited risk and is not suitable for all investors. The position must be monitored carefully with active risk management. Feel Free to email me to discuss other alternative ways to take a position in this market. Please note today is Sept. 20, and this trade is based off the most recent data.
Sell 1 November T-bond 152 call at 40 ticks or better good-until-canceled.
I would recommend exiting this trade if the option value doubles in premium or if December T-bond futures break out above 14,931.
Risk on trade: unlimited.
Profit potential: In the scenario above, profit potential is limited to premium collected (40 ticks at $15.625 per tick equals $625, minus a $45 R/T commission inclusive of all fees, bringing the total to $580.) If the option expires, it's worthless. The position may be closed at any time prior to expiration with a gain or a loss.
Please note: Futures and options trading is inherently risky and isn't suitable for all investors. Past performance isn't indicative of future results. Stop-loss orders meant to limit losses may not be effective because market conditions may make it impossible to execute such orders.
Matt Zeman is a trader at
. He began his trading career as a runner in the grain pits at the Chicago Board of Trade before becoming an arbitrage clerk. Eventually he started trading equity options and stocks. Matt now is a full-time futures broker. He has been a frequent guest on CNBC, Fox and Bloomberg, and provides his views on the stock, bond and futures markets for financial media including Dow Jones, the L.A. Times and The Associated Press. Matt is a member of the Chicago Board of Trade, and carries series 3, 7 and 66 licenses.