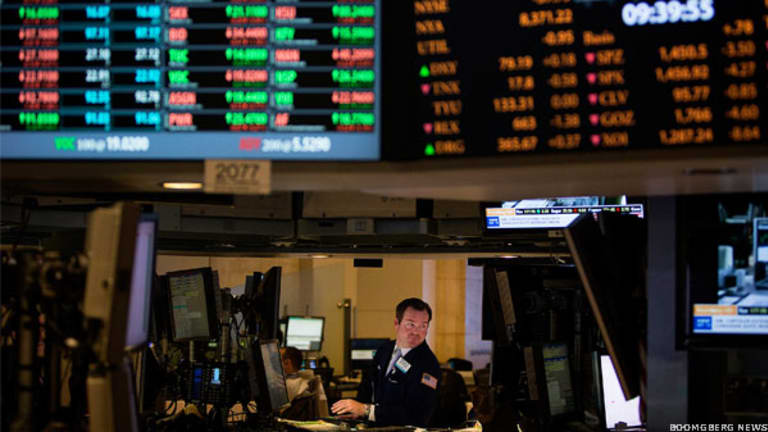 Publish date:
How to Play the Dollar's Temporary Bounce
The greenback has traded higher as investors exit riskier assets. Here's how to use options and futures to profit from this short-term situation.
The greenback has traded higher as investors exit riskier assets. Here's how to use options and futures to profit from this short-term situation.
NEW YORK (
) -- Fears about the creditworthiness of governments -- like those in Dubai and Greece -- have resurfaced, prompting a flight to quality and a move away from riskier assets.
Naturally, the greenback has benefited, while dollar-denominated commodities have declined.
Given our country's spending habits, however, I am a long-term dollar bear.
Rallies in the greenback present good selling opportunities in the U.S. currency and excellent buying opportunities in commodities and higher-yielding currencies.
Crude oil has been nearing the bottom of its trading range. It continues to be range bound, and any price activity at the bottom of the trading range presents an excellent opportunity to go long the commodity.
One way to do this is to sell put options. The losing streak crude has seen over the last several sessions is its longest since July, so put premiums have increased dramatically as volatility has risen. Sell the February 64 puts at $850.00 or better.
This trade can show a profit in two ways. First, if the February crude contract (which was trading at $75.38 a barrel as of this writing) stays above $64 until expiration, sellers of the put contracts keep the entire premium as profit.
Second, the trade can show an immediate profit if current volatility levels decline. This is a classic example of "selling volatility."
For those who prefer to trade the outright futures, I recommend buying February crude futures on any dip to or below $75. You can place a protective stop at $73.50, below the low that was established immediately following the Dubai news. If crude is bought at $75 this would represent a loss potential on the trade of $1,500.00 per contract.
Another way to trade the temporary dollar bounce is with the euro. This currency has been trashed over the last week and is also trading near the bottom of its recent range. Again, selling puts is attractive.
I recommend selling the January 1425 puts for 45 ticks ($562.50) per option. They expire on Jan. 8.
In addition, I like selling the February puts as well. With almost 60 days until expiration, you will have to hold them longer. But the advantage is that the additional time premium allows the sale of options with even lower strike prices. Look to sell the February euro 1390 puts at 60 ticks ($750.00) per contract or more.
Risk disclosure: Past performance is not indicative of future results. The risk of loss in futures trading is substantial and such investing is not suitable for all investors. An investor can lose more than the initial investment.
-- Written by Matt Zeman in Chicago.
Matt Zeman is a principal with Lasalle Futures Group and chief market strategist for Time Means Money.Com.