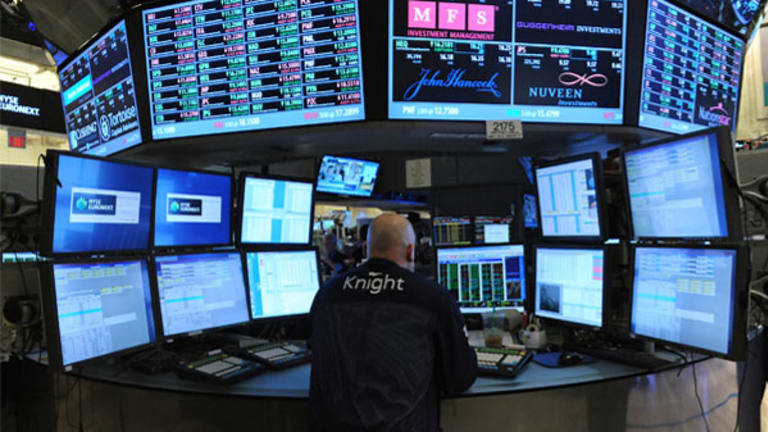 How to Play Crude Oil Futures
If this is a normal correction, at some point the equities and risk assets will bottom. The question is when.
If this is a normal correction, at some point the equities and risk assets will bottom. The question is when.
NEW YORK (TheStreet) -- I am staring at a sea of red on my screen as I write this.
S&P 500
is down 23 handles, a stronger greenback, interest rates falling, and a whole lot of "risk-off" trade. Looking at the context of this sell-off it is not surprising. Earnings have been disappointing, the S&P's failed to break out above the 1460ish area, and overall the economy remains sluggish.
Add to that a presidential race that looks to be very close going into the home stretch, and investors have plenty of reasons to pull the trigger on the sell side and take some risk off.
I maintain that thus far this is a normal correction, and that at some point the equities and risk assets will bottom, the question is when. In the meantime, I think it is very important that one look at overall "sentiment" when looking for trade opportunities during times like this.
Today I am looking at crude oil in particular. As I have stated in previous articles, once support on oil is broken, oil has a tendency to fall in dramatic fashion. Thus far, that tendency is once again proving to be the case as oil is currently down $2.50 per barrel at $86.18 on the December futures contract. I bring up oil because I have written previously about how to play the range it had been in for several weeks.
Well, as of today, oil has now clearly broken out of that trading range to the downside, and therefore the trading plan must change.
The market is now trending lower on the daily as well as weekly timeframes, and you all know what they say about the trend. Get on the right side of it for the highest probability trade opportunities. Now, does this mean I would go in and sell oil today? Probably not.
The market has lost a lot of ground in a short period of time, going from a high of $93.49 just on Friday to a low of today at this point of $85.69. I am of the opinion that markets do not go straight up or straight down, and therefore to sell here would present a poor risk/reward scenario on the trade.
Oil is currently in a very technically "oversold" condition, and although these conditions can extend for periods of time, at some point shorts in the market will look to cover and thus a short covering rally will ensue. This is where I will be looking for opportunities to sell crude oil. In addition, once a market has broken out of a previous trading range, the market has a tendency to go back and "test" the previous range. I think such a scenario in oil is likely.
That being said, how could one potentially look to play oil from the short side at this point? Well, there are numerous ways. I think given recent market activity one should look to be a seller on a test of the $90 per barrel mark should the market get back up to that level. In addition, one can watch the "pullbacks." If the market attempts to rally, but the rally attempts are shallow and lacking in any conviction, that may be a cue to get short.
One could either sell crude oil futures or sell call options depending upon one's risk tolerance, capital, and experience. For those more comfortable with limited risk positions, put options may be purchased. Regardless of how one decides to position in the market, I feel that selling into rallies is the way to go and will put you on the right side of the market.
Please note:
Futures and options trading is inherently risky and isn't suitable for all investors. Past performance isn't indicative of future results. Stop-loss orders meant to limit losses may not be effective because market conditions may make it impossible to execute such orders.
Matt Zeman is a trader at
. He began his trading career as a runner in the grain pits at the Chicago Board of Trade before becoming an arbitrage clerk. Eventually he started trading equity options and stocks. Matt now is a full-time futures broker. He has been a frequent guest on CNBC, Fox and Bloomberg, and provides his views on the stock, bond and futures markets for financial media including Dow Jones, the L.A. Times and The Associated Press. Matt is a member of the Chicago Board of Trade, and carries series 3, 7 and 66 licenses.