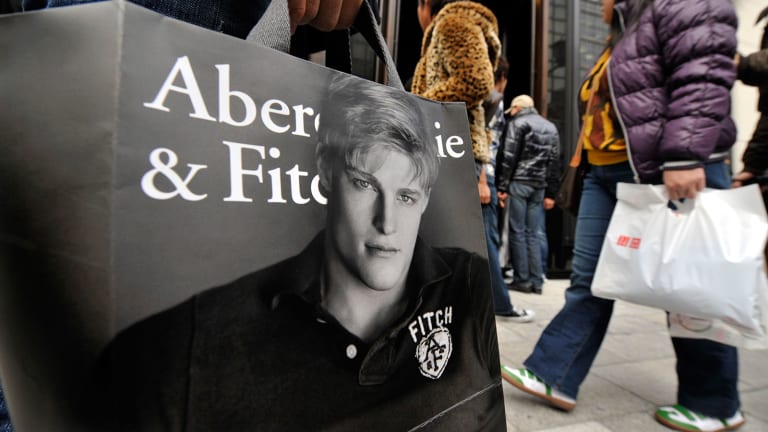 How to Manage Your Abercrombie & Fitch Position With Options
What options strategies prepare you for earnings and, more to the point, for earnings surprises? A few basic options moves can position you to exploit overreaction in the market.
This article has been updated with Monday's market close for trading today.
NEW YORK (TheStreet) -- Abercrombie & Fitch (ANF) - Get Abercrombie & Fitch Co. Class A Report fell through an important support level last week but then bounced higher Monday, presenting traders with challenges. Using smart options strategies can help you manage the risks of a stock like this.
The chart for this apparel retailer's stock shows a strong bearish tendency even before the big point drop of Friday. The technical signals combined a breakout below support and runaway gaps. This occurred as the company announced a
. But is there more to this story?
The company plans to report earnings for the current quarter on Wednesday. On Friday, the weekly options on shares of Abercrombie & Fitch expire. Friday is also the ex-dividend date, so anyone holding the stock before Friday earns an attractive 4.56% dividend.
This is a lot to take in. Will the company's earnings match analysts' expectations, or will there be a surprise? Given recent volatility in the stock and the overall market, any surprise is likely to move the stock's price several points in one direction or the other. When this high volatility occurs, the price usually retreats back to less-exaggerated levels within one to three sessions.
Here is where options strategies come into play. Given the earnings date combined with ex-dividend date, not to mention the volatility of the market itself, a lot of price movement could take place by Friday.
Anyone going short (selling call options) will be at great risk in this situation. The period right before ex-dividend date is the most likely timing for an early exercise of call options, meaning a trader who has sold calls could have shares called. If they own shares, they give them up and also lose the dividend; if they don't earn shares, they lose the net difference between the call option's strike price and current market value of shares.
Anyone who owns shares of Abercrombie & Fitch is no doubt worried at this very moment. The poor earnings news helped the stock move strongly below support. Now, a negative earnings surprise could move the price even lower than the Monday's closing price of $17.30. 
The price also may fall on or right before ex-dividend date, which often occurs to offset the obligation to pay dividends to shareholders.
There is a lot of potential trouble here. However, as the stock chart shows, the relative strength index had also moved into "oversold" territory. The last time this happened was back in early March. Moves of this momentum oscillator outside the idle zone are unusual and tend to not last long. The move in March set up support at $19.50 and that level held until the beginning of August.
Here are a few possible option strategies that address the uncertainties of these conditions, based on Monday's closing price:
1. Insurance puts. When you buy a put option, you offset downside risk. Any price movement below the put's strike is offset by a rise in intrinsic value. But the rise has to be greater than the amount you had to pay for the put. For example, the 8/28 weekly 17 put was at ask price of 1.22, which translates to $122. Adding an estimated $9 for trading costs, this put will require payment of $131. So the breakeven would be 1.31 points below the strike of 17.00, or $15.69 per share.
2. Long spread. If you think the chances are equal that the price will move either up or down due to an earnings surprise, you can open a long spread. This involves buying a long call above the current price and a long put below. For example, the 8/28 17.50 call was at 1.16, translating to $116. Adding $9 for trading fees, the total cost is $125. So combining the long call with the insurance put, the total long spread cost is $131 + $125, or $256. In this strategy, you break even at 2.56 points above and below the strikes. That is a considerable move, but if you think the chances of a big move are real, placing $256 at risk places you in a position to profit below $15.69 (put breakeven) or above $20.06 (call break-even). 
3. Long call. If you believe a stock will rise due to a positive earning surprise, the long call -- by itself -- can represent a well-timed but speculative strategy. Given the examples above, an Aug. 28 16.50 long call will cost $119 after trading costs. So if you are willing to risk losing $119 in exchange for the chance to make a larger profit, this is yet another strategy to consider. The break-even of $17.69 (16.50 + 1.19) has to be exceeded before Friday in order for this to work. But if the earnings surprise is bullish, this could be a very profitable choice. Given the move of RSI into "oversold," it could be one of the many ways to go.
The point to remember about these basic long option strategies is that none represent enormous risks. The most you can lose is the cost to open each position -- $117 for the insurance put, $245 for the long spread, or $119 for the long call. For those worried about the possible volatility in the next few trading days, all of these positions are speculative, but they could cap your market risk while opening up the potential for profits.
As with all options strategies, it's wise to remember that you should understand all of the risks before making an options trade. You also have to be approved by your broker and enter into an options agreement before you will be allowed to trade options of any type. The more experience you have, the greater the number of strategies you will be allowed to enter into. Options open up a world of potential, but the risks are real. As long as you know those risks before getting into a trade like the three described above, you can learn to use options as a portfolio management tool or for effective swing trading.
This article is commentary by an independent contributor. At the time of publication, the author held no positions in the stocks mentioned.