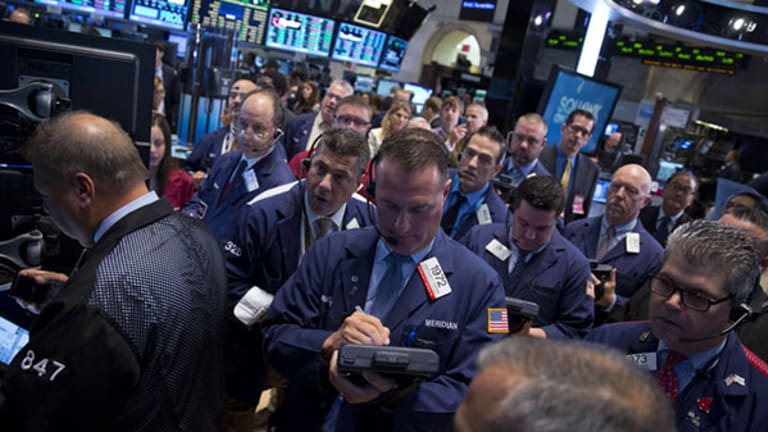 Here's an ETF That's Coiled and Ready to Rumble
The ProShares UltraShort Dow 30 exchange-traded fund is an intermediate options trade.
NEW YORK (TheStreet) -- Each week, subscribers to my Web site (SOTDaily.com) get an updated list of stocks that have formed into being the pattern of what I label as "coiled." That culled coiling list is the result of computerized data-mining as that program literally searches thousands of stocks for those that are coiled, as well as for any coiled major market indices.
Rarely does the list include any major averages/indices. Thus, when the S&P 500, the S&P 400 (the mid-caps) and the Dow Industrials all find their way onto the same weekly the coiling list, that is a wake-up call to get long volatility -- or, at the least do not be short it!
This is how the ProShares UltraShort Dow30 (DXD)  is explained on Yahoo! Finance: The investment seeks daily investment results, before fees and expenses, that correspond to two times the inverse (-2x) of the daily performance of the Dow Jones Industrial Average. The fund invests in derivatives that ProShare Advisors believes, in combination, should have similar daily return characteristics as two times the inverse (-2x) of the daily return of the index. The index is a price-weighted index maintained by editors of The Wall Street Journal. The index includes 30 large-cap, "blue-chip" U.S. stocks, excluding utility and transportation companies. The fund is non-diversified.
For the past 52 weeks DXD has traded between $19.74 and $28.04. Technically, I read the chart of the Dow 30s one-year stochastic and RSI as while being bearish for weeks now, both of these "tea leaves" are at the nadir of their respective ranges.
My coiling pattern has a decent track record for signaling an upturn in the stock or index's volatility cycle after the bottoming process is ending. That signal almost always comes in tandem with options being offered (puts and calls of the underlying) at what I label as "wholesale prices". In other words if I were making markets in the options of the coiled underlying stock or index I would quietly be bidding and offering my options markets a little bit higher in price.
DXD is a XXS (Criss Cross Strangle) candidate now as I think the crisscross strangle tactic is one of the better ways to play a coiled underlying stock or major index.
Trades: Buy to open DXD October 20 calls and buy to open DXD October 23 puts for a total of $4.
This approximately equates to a 30+ volatility, as well as being a total risk trade of $1 per XXS. The capital outlay for this XXS is $4 but the total capital at risk is $1. The suggested gain is a bid of $4.50, which would equal a 50 cents net gain. The suggested stop loss price level is a bid of $3.50, which would equal a net loss of 50 cents per XXS.
As always, this is a guideline, and you should always stick to your trading plan and what's best for your risk/reward tolerance.
OptionsProfits can be followed on Twitter at twitter.com/OptionsProfits
Skip Raschke writes regularly for Options Profits. You can get his trades first and interact with him there with a free trial.
This article is commentary by an independent contributor. At the time of publication, the author held no positions in the stocks mentioned.