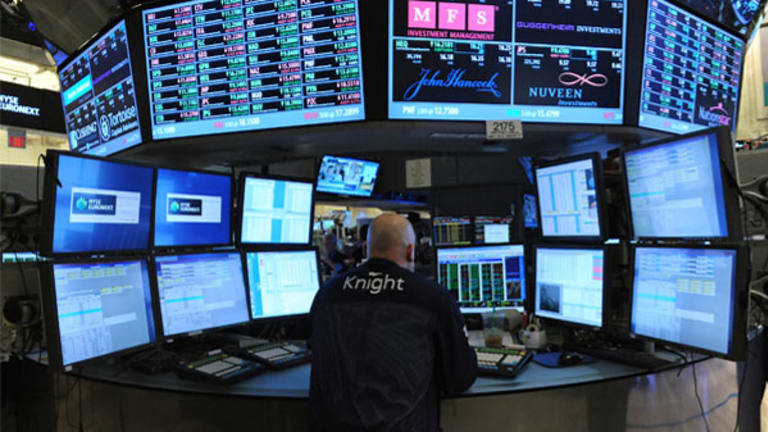 The adage "Sell In May and Go Away" has been apropos in 2010. The seasonal tendency is for stocks to the post the strongest gains in the six months from November through April. Over the past 60 years, the Dow Jones Industrial Average has gained 7.4% on average during the seasonally strong period, but only a 0.4% advance from May 1 through October 31 interval. So far in May 2011, the Dow Jones Industrial Average is down 430 points, or 3.4%. Now, with volatility beginning to edge higher and a three-day Memorial Day weekend fast-approaching, what steps can investors take to limit risk heading into the long weekend?
One of the primary concerns facing investors these days is related to problems in the Eurozone. The euro is reeling and volatility in the European equity markets is spilling over onto US shores. Monday, for example, a downgrade of Italy's credit rating sent the country's benchmark FTSE MIB Index tumbling more than 3%. Benchmarks finished broadly lower across the Euro-zone and, in the US, the Dow Jones Industrial Average lost 131 points.
Like in May of 2010, vibrations from the volatility in European markets is being felt on Wall Street and negative headlines over the Memorial Day break poses some event risk for US investors. In addition, since the European currency is normally the first to take a bruising when fears about the debt crisis resurface, buying puts on the CurrencyShares Euro ETF (FXE) - Get Invesco CurrencyShares Euro Trust Report can help hedge some risk. The ETF tracks Euro/USD currency pair X 100 and currently trades at 140, because the euro is quoted at 1.40 against the buck. FXE has already tumbled 5.7% from the 52-week high set on March 4 and could face further carnage on debt worries in the weeks ahead.
Of course, volatility across the Atlantic is not the only factor weighing on investor sentiment these days. Higher energy prices are another. Crude oil is once again trading north of $101.50 a jug on bullish weekly inventory data Wednesday. The high cost of fuel has potential implications for economic activity and consumer spending. The retail sector has already been hit with disappointing earnings forecasts from a handful of retailers in recent days. Costco (COST) - Get Costco Wholesale Corporation Report and American Eagle (AEO) - Get American Eagle Outfitters, Inc. Report are under pressure today. The Gap (GPS) - Get Gap, Inc. (GPS) Report and Aeropostale (ARO) sold off sharply on Friday. Consequently, SPDR Retail Trust (XRT) - Get SPDR S&P Retail ETF Report is off 4.6% from the 52-week highs set less than two weeks ago. Bearish spreads, like the one highlighted here on May 16, could serve as an effective hedge should anxiety about higher energy prices and consumer spending resurface in the weeks ahead.
Volatility often makes sudden spikes after a weekend. For example, CBOE Volatility IndexI:VIX hit a high of 20.03, moving beyond the 20 "psyche" level for the first time in two months, Monday morning after European stocks sold off on a Standard & Poor's downgrade of Italy's credit rating. Consequently, one way to hedge the risk of unexpected events over the weekend is bullish spreads on the VIX. The index tracks the expected volatility priced into S&P 500 and is down .55 to 17.27 midday Monday. A June 20/25 call spread at $0.50 (buying June 20s for $1 and selling June 25s for $0.50) would offer a hefty pay-off if volatility spikes following the three-day break.
A little over one year ago, on May 6, fears about the European debt crisis, the economy, and a technical glitch conspired to send the Dow Jones Industrial Average skidding more than 1,000 points - in just one trading session! The so-called "flash crash" is a reminder that it's never a wrong time to think about taking defensive action in anticipation of volatility, especially in a volatile environment ahead of a long weekend. In today's environment, puts on the Euro ETF, spreads on the Retail ETF and bullish trades on VIX might make sense to hedge bets.
At the time of publication, Fred Ruffy held no positions in the stocks or issues mentioned.
Frederic Ruffy is an experienced trader and provides daily commentary and analysis of the options market. He is co-founder of the web site, WhatsTrading.com. His work has also appeared in Futures Magazine, Technical Analysis of Stocks & Commodities, Stock Futures and Options, and Sentiment.
In addition to writing market commentary and trading-related books and articles, Fred has also worked as an instructor, educating investors on advanced topics like measuring volatility, the benefits of sector rotation and the risks and potential profits from trading around earnings. An active trader himself, with over 15 years securities industry experience, his market observations and analysis of the options market are featured regularly in the financial press including Barron's, Reuters, The Wall Street Journal, and Bloomberg.
Special Invite to the Floor of the NYSE: Join Skip Raschke, Jill Malandrino and OptionsProfits for exclusive access to the to the NYSE trading floor. Skip and Scott Redler of T3Live will provide informative presentations on trading and the markets in the Exchange's main boardroom. Following the session, we will head to the trading floor for a mock trading session and cocktail reception. This is an amazing opportunity that you will not want to miss!
OptionsProfits For actionable options trade ideas from a team of experts, visit TheStreet's OptionsProfits now.
Readers Also Like:
>>Options Primer 101: Early Exercise
Readers Also Like:
>>MAKO: Maintaining a Hedged Position
Readers Also Like: