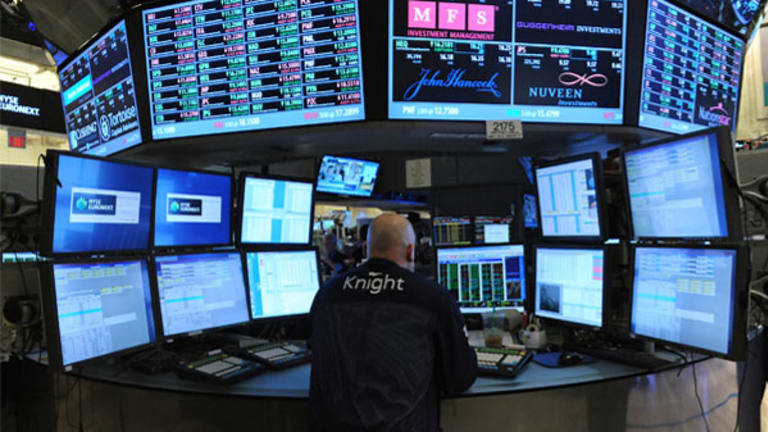 Have the Education Stocks Hit Rock Bottom?
We have done well trading in this space and will go short puts on shares of Apollo Group.
I love the compelling titles to the posts. Trying to name them is my big challenge of the day. For this article I have
Aqumin's
AlphaVision Landscape that I want you to pull up first below.
Earnings Landscape
(If you want to learn more about 3D visualization of financial data visit www.aqumin.com/thestreet)
Aqumin's landscape shown is the earnings landscape, where each city block is an earning date. This type of view allows an AlphaVision subscriber to never get run over by an earnings date. I wanted this horizon view of the landscape to illustrate a point. The building height of each name is the one-week price percent change. Building color is current normalized 30-day implied volatility over its one-year average normalized 30-day implied volatility. Green is a premium and red is a discount.
We can see Apollo Group (APOL) is up on the week but many of the other education names are down (highlighted, bottom of the landscape) for the week. Setting myself up for more post-earnings calls, I can easily monitor the group in total. Is this finally the bottom for these names?
APOL is the big daddy of the group and I believe sets the tone (maybe that is why I think there is a short-term bottom for the space) going forward. While lots of bad news has come down on the company and the sector, the model still earns money and the founders own big pieces which mean they want to make things work. I think this reversal is important as the industry slowly comes out of all this. Think Goldman Sachs (GS) - Get Goldman Sachs Group, Inc. Report last year. Once things are settled, you are left with companies and models that generate real cash and off they go.
After catching the move in AlphaVision, I hopped over to the option landscape for APOL and identified the February 36 put for a 41 volatility bid which is 29% over (green color) the trailing 3O-day historical volatility (ex-earnings). I see the low of the year in APOL as a good entry point. I have had two good swing type calls in the sector before (ITT Educational Services (ESI) - Get Element Solutions Inc Report and Education Management (EDMC) ) and looking for a third.
Apollo Group (APOL) Landscape
Trades: Sell to open 2 APOL February 36 puts for $0.51, or better, with APOL trading $40.83, or better, on a 16 delta.
Risk Level 2 for the short put. You must be comfortable owning APOL at $35.50, or lower.
At the time of publication, Andrew Giovinazzi held no positions in the stocks or issues mentioned.
Andrew is the Executive Vice President of Business Development for Aqumin, where he participated in the design team to apply AlphaVision to the financial markets. For 15 years he was a member of the Pacific Exchange and the Chicago Board Options Exchange, where he actively made markets and traded in both equity and index options. At the same time Andrew started and ran the Designated Primary Market Marker post for Group One, Ltd. on the floor of the CBOE where it became one of the highest grossing posts for the company in 1992 and 1993. While in Chicago and San Francisco, Andrew was instrumental in creating and managing a training program that allowed Group One, Ltd. to dramatically increase its trader count over an eight year period. He left Group One, Ltd. to co-found Henry Capital Management in 2001.
OptionsProfits For actionable options trade ideas from a team of experts, visit TheStreet's OptionsProfits now.
Readers Also Like:
Readers Also Like:
Readers Also Like: