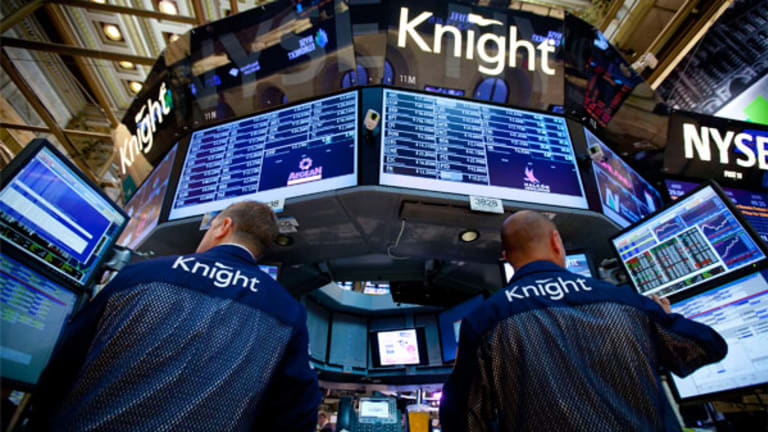 Gold Options Active as Volatility Declines
Veteran traders are taking a wait-and-see approach to this market.
The following commentary comes from an independent investor or market observer as part of TheStreet's guest contributor program, which is separate from the company's news coverage.
NEW YORK (
) -- Equity market indices surged higher despite poor housing data (third straight month of bad news on that front) and weaker-than-expected manufacturing data. Strong economic data helped lift Hong Kong's
Hang Seng index
2% and Japan's
Nikkei
rose 1.2%.
Trading was orderly across the eurozone and the market action overseas seemed to help set a positive tone for trading on Wall Street. The underlying tone Tuesday remained cautious after data released at 10:00 Eastern time showed New Homes Sales at an annual rate of 298,000 in July. Economists were looking for an increase to 310,000 from 300,000. The data had little market impact and major averages recorded solid returns.
Optimism that
Fed
Chair Ben Bernanke and other central bankers will offer soothing words at this week's meeting in Jackson Hole, Wyo., might be helping sentiment for the balance of the week. The
Dow Jones Industrial Average
was up 322 points and the tech-heavy
Nasdaq
rallied more than 100 points. CBOE
Volatility Index
was down 6.40 to 36.04. Trading in the options market is a bit lighter than usual, with 8.8 million calls and 9 million puts trading.
>> Keep the stock market at your fingertips with TheStreet's iPad app.
Regional surveys of manufacturers are pointing to a downshift in activity, as a key driver of the recovery retreats. The
Federal Reserve Bank of Richmond's
survey, offered the latest downbeat assessment of manufacturing, which contracted in the central Atlantic region. The survey's index of manufacturing activity fell to a negative 10 from negative 1 in July, indicating a sharp pullback in the sector.
New orders and shipments contracted, though manufacturing employment in the region showed continued expansion in August, albeit at a slower pace than a month earlier.
traders saw the
SPDR Gold Trust
(GLD) - Get SPDR Gold Trust Report
lose $5.97 to $178.92 after the yellow metal came off Monday's record levels and traded down an impressive $54.7 to $1835 an ounce.
Noteworthy recent options trades in the gold ETF include a January 150 to June 225 risk-reversal, trading 15,000 times on ISE. It traded at $4.60 BD-to-BD and appears to be a new position, based on sentiment data. Additionally, a 11,500-contract block of September 175 puts on the Gold ETF traded at $2.80 on ISE, and was also opening BD-to-BD. Volume in the contract is approaching 19,000, making it the most active in GLD this week.
The VIX fell more than six points or 15% as the rally in equities eliminated some of the fear in the markets. The VIX moved down slicing through the 10-day moving average near 38%, and is poised to test the 20-day moving average near 33.5%.
Firing Line:
We'll see what happen this week with the Fed Chair's comments as the market expects some form of QE3. And why not? Just like Dorritos: print all you want, we'll make more.
The GDP report, which may coincide with a hurricane making landfall on the east coast, doesn't look to be a shinning beacon of good news. Expect more volatility. Veteran traders are keeping their powder dry and selling into any rallies. One day does not a rally make. Happy hunting and make sure you hedge.
This commentary comes from an independent investor or market observer as part of TheStreet guest contributor program. The views expressed are those of the author and do not necessarily represent the views of TheStreet or its management.