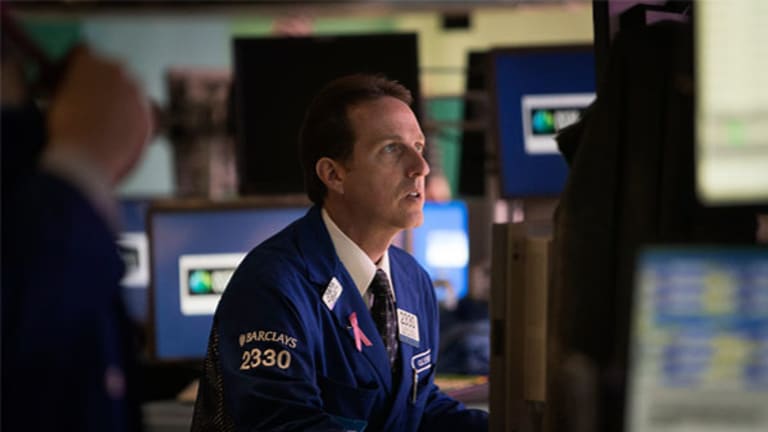 Gimme the DGITs
I am going to make an income play on shares of DG FastChannel by selling October puts.
With the market ripping this morning, it seems like an overdue dose of relief. The global economy can grow, as opposed to earlier this summer when we thought it was not. Do not get me wrong, I like it (I have a retirement account too), but I do not want to jump into it willy nilly. So, prior to the opening, I like to survey what happened yesterday and see if it carries over today.
I use Aqumin's AlphaVision landscape, with a volatility momentum view of the market, to get that end of the day snap shot of the entire S&P 1500. Essentially, I want to look at a stock going up (or down) with a positive change in 30-day implied volatility. A tall, green building in an industry group will signal stock up, implied volatility up.
What looked interesting this morning was, DG FastChannel (DGIT) . DGIT issued reduced guidance and they killed the stock a few days ago. What I find interesting is, the implied volatility crept up with the stock yesterday. To me, that means bouncing. Also, DGIT IV30 almost never gets above 60v (see the circled chart caption). The crazy sell off exploded the volatility. Some more bouncing cases, the company is buying back a lot of stock ($30 million worth, on a Market Cap of $451 Million) and the book value is $17.00 per share, with very low debt. The lowered guidance means we do not see $22.00 any time soon, but I do not see $14.00 with stock to buy. I will take advantage now of the potential income play and sell the October puts in the 75v+ range. If DGIT just coasts, you win.
DG FastChannel (DGIT) Volatility
Source: Aqumin

Trade: Sell to open 3 DGIT October 12.5 puts at $0.40 (82V).
At the time of publication, Andrew Giovinazzi held no positions in the stocks or issues mentioned.
Andrew is the Executive Vice President of Business Development for Aqumin, where he participated in the design team to apply AlphaVision to the financial markets. For 15 years he was a member of the Pacific Exchange and the Chicago Board Options Exchange, where he actively made markets and traded in both equity and index options.
OptionsProfitsFor actionable options trade ideas from a team of experts, visit TheStreet's OptionsProfits now.
Readers Also Like:
>>Don't Let an Early Rally Fool You
Readers Also Like:
Readers Also Like: