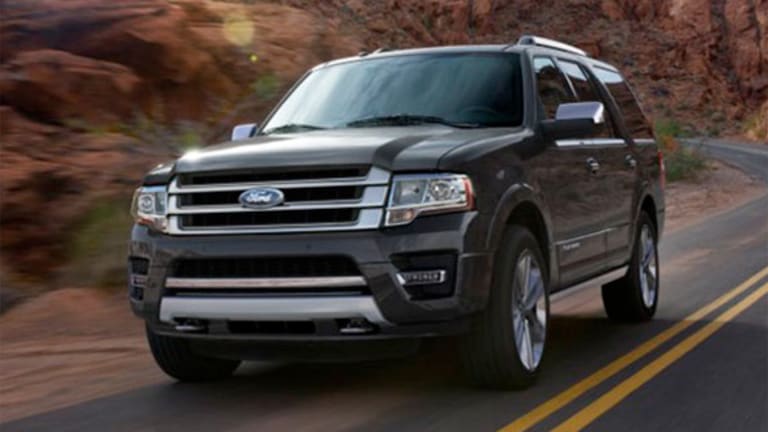 Ford Is on the Earnings Fast Track
Ford is doing plenty of things right in the auto market, and the stock market hasn't been giving it enough credit. Skip Raschke recommends an at-the-money synthetic call.
NEW YORK (TheStreet) -- Poor, poor Ford (F) ! Well, more like poor, poor Ford shareholders, as the automaker just cannot get going no matter what it does right. Down goes the stock market in August and up go Ford's August sales in the U.S. by 5%. And August was Ford's best month since 2003. But the media loves to print and spout off about the negatives when all around them, investors and traders are freaking out. Maybe that attitude helps the media sell ads. I think it shoots them in the foot over the long haul. Regardless, Ford's August sales were excellent and going forward should continue in that upward improving trend.
September has a history of being a good month for the auto industry, as next year's sales models are paraded and hyped. And Ford has a nice array of cars for 2016, and can only be welcoming the low cost of gasoline today that certainly helps sales of the company's SUV and truck lines! Ford makes a nice profit selling those big vehicles, a positive point too many times missed by the market.
As for earnings, Ford will report this quarter's results in late October. Consensus projects a mere 100% gain year-over-year, $0.48 vs $0.24 in 3Q14. If so, that number would set the stage for Ford earnings near or over $1.70 in FY15 (ending in December), which would be a 46% jump year-over-year. And Ford could earn $2.00 in fiscal year 2016. Thus, Ford trades now at a forward PE of 7X (!), while growing earnings at a double digit rate. There are few stocks now that fit that mold.
Technically, I read Ford's one-year stochastic and RSI as being bullish with ample room to move higher.
The trade tactic I prefer for Ford is the at-the-money synthetic call, expiring in June.
Trades: Buy 100 F and buy 1 F March 13 put for a total debit of $14.70, or less.
The total capital at risk is $1.70 minus projected dividends that should total $0.30 share. If so, that reduces the capital risk to $1.40 points if held at least until the January ex-dividend period. The target to close for a gain is a bid (long stock + long put) of $1.80 and the target to stop out the trade is a bid of $1.00. 

As always, this is a guideline, and you should always stick to your trading plan and what's best for your risk/reward tolerance.
OptionsProfits can be followed on Twitter at twitter.com/OptionsProfits
Skip Raschke writes regularly for Options Profits. You can get his trades first and interact with him there with a free trial.
This article is commentary by an independent contributor. At the time of publication, the author held no positions in the stocks mentioned.