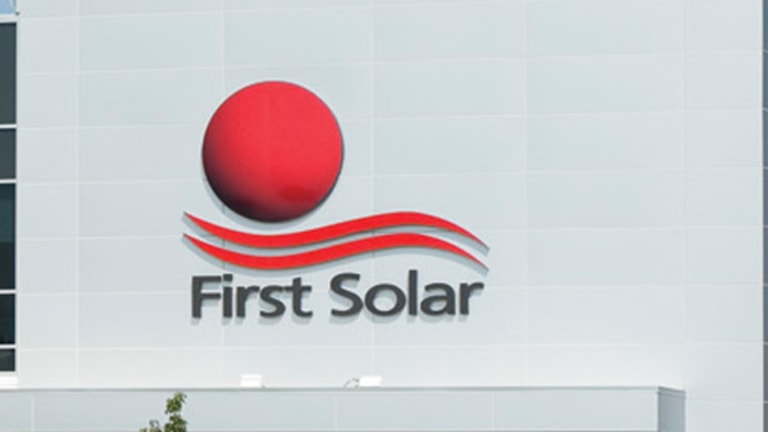 First Solar Is Sector's Best in Fundamentals, but Can You Stomach the Volatility?
The trade tactic for First Solar is not for the risk averse, as it is a bullish out-of-the-money vertical call spread.
NEW YORK (TheStreet) -- First Solar  (FSLR) has been in the relatively young solar energy business since 1999. The stock has traded between a $39 low and $74 high over the past 52 weeks. That uber range should instantly be your caveat emptor if you do not like volatility. For those who can handle volatility and its increased risk, please read on.
First Solar should report its next quarterly earnings in early November. First Solar analysts are projecting those earnings to be headline material (bullishly so) as the average number for this third quarter for FSLR is $1.66 per share. If that number is met, the year-over-year increase (that headline thing) will be 91%. And that size of earnings increasing in this market is not an easy task to find.
I prefer fundamentals over technicals when analyzing stocks, especially in this market environment. Looking over the balance sheet of First Solar will show you that the company has cash in excess of total debt that exceeds $1 billion. Thus First Solar has about $14 a share in cash in excess of debt. 
First Solar has a small float of only 74 million shares. And 9 million of those shares are currently held as being short the stock! Thus First Solar's management could do some nasty things to those short their stock, if they decided to say, buy-back shares, split the stock and maybe begin to pay a dividend if not also pay a special dividend -- the kind of things that choke a short seller and shoot up a stock's price in a New York minute.
The solar era is here regardless of what we might think of it. I, for one, embrace it as it's time has come and going solar makes total sense for all of us to use. First Solar is primed to take advantage of what should become this new solar energy era, as the company is one of the bigger companies in this growing sector.
The trade tactic for FSLR that I prefer now is not for the risk averse as it is a bullish out-of-the-money vertical call spread. 
Trade: Buy FSLR March 50 call and sell FSLR March 55 call for a net debit of $1.40.
The suggested target to close for a gain is a bid of $1.90 and the suggested stop-out level is a bid of 90 cents. As always, this is a guideline and you should always stick to your trading plan and what's best for your risk/reward tolerance.
Use a limit order! Do not use a market order in this market -- or any market, for that matter.
This article is commentary by an independent contributor. At the time of publication, the author held no positions in the stocks mentioned.