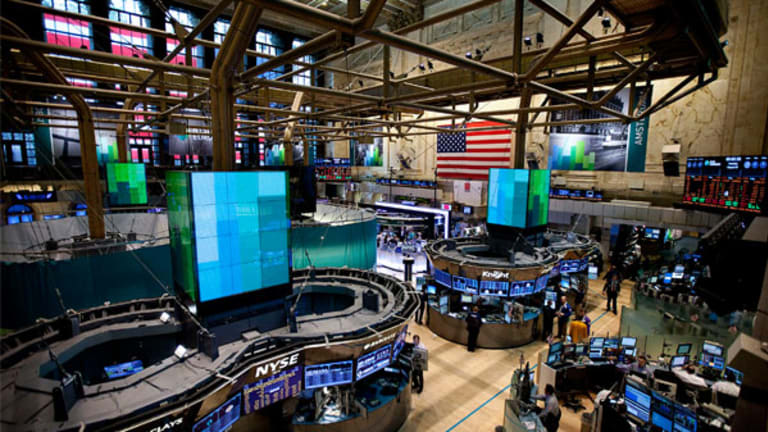 Firing Line: Top Gun Options Trades AMLN
The Top Gun Trading Team takes a bullish/neutral position in Amylin Pharmaceuticals.
The following commentary comes from an independent investor or market observer as part of TheStreet's guest contributor program, which is separate from the company's news coverage.
NEW YORK (
) -- Welcome aboard
Top Gun Options Trading Flight School
. This week promises to be
action-packed
. Here's your first look at the proprietary TGO trading methodology: Discipline. Risk Management. Superior Execution.
Strategic Mindset
: The Top Gun Trading Team is taking a bullish/neutral position on a drug company,
Amylin Pharmaceuticals
(AMLN)
, which appears set to move higher in the coming trading sessions.
Target
: AMLN Trading at $11.45
Commit Criteria
: AMLN showed unusually high call volume last week, and IV (implied volatility) has moved substantially higher to more than 145%, vs. the HV (historical volatility) of 30%.
We have noticed in recent weeks nothing catastrophically alarming to send the stock below the $10-$11 level. Technically speaking, we have a minor support level at the $11 area and a major support level at $8. A slight uptrend that is pointing to the $12.50-$13 price level also reaffirms our criteria to put on a Bull Put Credit Spread using February as our expiration month.
Note: One of our 'Rules of Engagement' at
is that we rarely trade options on stocks under $10. Why? Because at that price, the stock is an option on itself. So this one is on the border, and as the pilot in command of the Primary/Intermediate Model Portfolio, I feel confident in this position.
Tactic
: Bull Put Vertical Credit Spread
Tactical Employment
:
Buy to open 15 February $6 puts at $.30
Sell to open 15 February $10 puts at $1.30
For a credit of $1,500
Maximum Risk = $4,500
Maximum Reward = $1,500
Break-even point is $10.00 at expiry
Midcourse Guidance
:
Profit Target
: We hope to see the spread value fall significantly to $.10-.20 where we will begin to bring it back in for a nice profit.
Threats to Success
:
Unexpected news that would result in a substantial bearish move in price. Threat is low but not nil.
Eject Criteria/Contingency Plan
:
We will push the eject button in the Primary/Intermediate Model Portfolio if the stock begins to dive below the $10 level and our spread begins to widen past the $1.50 mark equaling a 50% loss.
Exit
:
Profit Target reached.
To close position, simultaneously
Buy 15 FEB 10 puts back for a debit
Sell 15 FEB 6 puts back for a credit
We are selling this spread. Therefore we want the dollar value of the spread to decrease in value to a theoretical 0. We feel that theta decay will aid in our efforts as it builds momentum with less than 30 days till expiry. Volatility crush should help us substantially within the coming weeks as IV should begin to gravitate back towards its historical value and this will help take the "hot air" out of the spread. So for our new Flight School Traders, we want the stock to climb or stay in a consolidated range while theta decay helps erode the value of the spread and we keep the credit received from the sale.
Firing Line
: I'll see you tomorrow in the Primary/Intermediate Live Trade Brief at 0900 as we review our current positions in the Model Portfolio and look to add a couple new ones. Welcome aboard the Top Gun Options Trading squadron and enjoy Flight School. Happy Hunting and Make Sure You Hedge!
This commentary comes from an independent investor or market observer as part of TheStreet guest contributor program. The views expressed are those of the author and do not necessarily represent the views of TheStreet or its management.