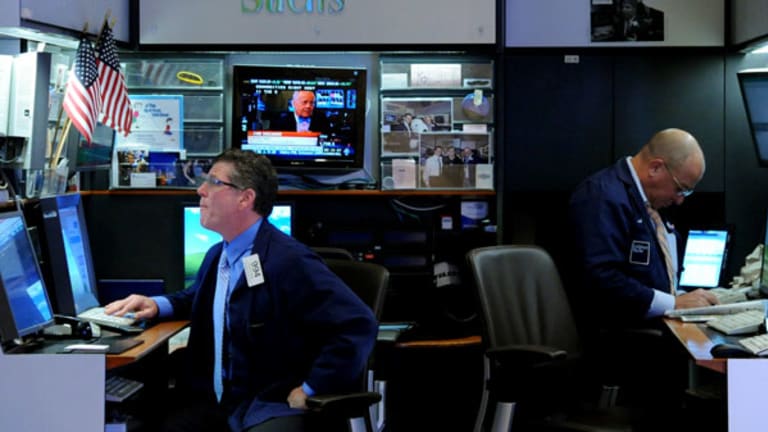 Firing Line: Top Gun Options Sells Sears
Sears appears headed for the retail dustbin. Here's a bearish options trade on the company.
The following commentary comes from an independent investor or market observer as part of TheStreet's guest contributor program, which is separate from the company's news coverage.
NEW YORK (
) --
Strategic Mindset
: Bearish on retailers, specifically this
gulag
.
Target
:
Sears Holdings
(SHLD)
, currently trading at $75.96
Commit Criteria
: Visit a Sears lately? Dirty, with few to no employees. The ones who are there don't seem interested in helping you buy anything, and the overall atmosphere is that of a store in central Cuba or North Korea.
With stores closing and negative earnings projections, Sears offers lots of fundamental reasons to be bearish on its shares.
Hedge fund giant Eddie Lampert recently declared defeat and announced that the troubled company would be selling scores of stores to
General Growth Properties
(GGP)
.
Following the pop that followed this "good news" (huh?), the stock is no longer cheap, and it appears to be getting hypoxic at these levels. The
Top Gun Options trade team
is also forecasting a decrease in volatility, which would point us in the direction of a positive-theta, credit spread tactic.
Tactic
: Bear Call Spread (also known as a Credit Spread)
A shorter-term bear call spread for a credit. The plan is to hold it just long enough to achieve an acceptable gain. Most likely, we'll exit the trade before April expiry.
Tactical Employment
Sell to open 10 April 75 calls
Buy to open 10 April 80 calls
For a net credit of $1.90 per share or $1,900 (53% probability of max profit)
Maximum overall risk through April expiration = $3.10 per share or $3,100 (38% probability of max loss)
Maximum reward through April expiration = $1,900 (100% of net credit received)
Break-even point through April expiration = $76.90 (57% probability of break-even)
Midcourse Guidance
Stop Loss
: We will consider a stop in the Primary/Intermediate model portfolio if the stock moves above the short strike of $75, and we will set an alert accordingly.
Profit Target
: The trade objective is to exit the trade prior to April expiration with 70% or more of the maximum profit.
Threats to Success
: Hedge funds loading up on this stock, news of a turnaround or general market bullishness could threaten this trade.
Eject Criteria
: We'd eject from this position using standard Top Gun Options trading rules of engagement: 50% loss of credit received, or .95. We'd most likely bail way before that point, however, depending on on why the stock is continuing to move up. Join us for
Options Weapons School
next week to review this trade and other skill-based trades in addition to two live trading events, all on us.
Exit Tactic
Buy 10 of the April 75 calls to close
Sell 10 of the April 80 calls to close
Firing Line
: Eddie Lampert had high hopes in 2005 that he could turn around the fading retailer and fashion the department store chains as "me too!" Walmarts. We were sellers of those hopes from the get-go. Interesting how billionaires think -- just because they're successful at one thing doesn't mean they're Jedi Masters at everything.
This commentary comes from an independent investor or market observer as part of TheStreet guest contributor program. The views expressed are those of the author and do not necessarily represent the views of TheStreet or its management.