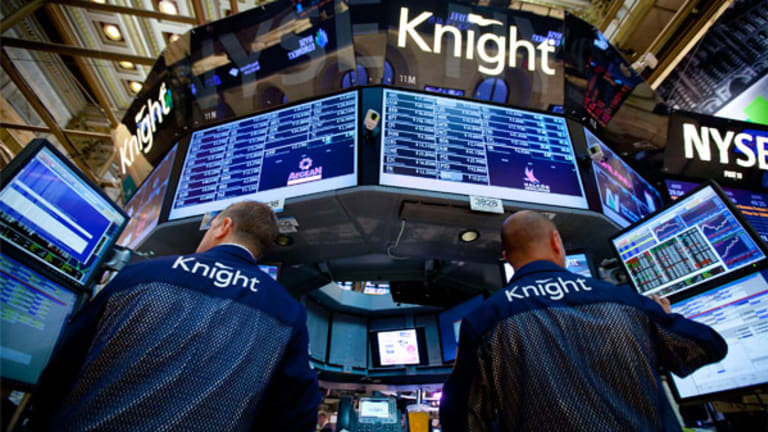 Feeling a Bit Moody
I'm a bit moody about the market itself, so I'm looking for somewhat defensive plays. Moody's seems ideal for this purpose.
Note** For this Hot Topic, there are two separate trade strategies, one that is short term, and the other is more long term in nature. The "Trades in This Article" box includes the first strategy recommended. Due to a technical glitch, we were unable to enter the trades as two separate strategies. The OptionsProfits Team.
I'm a bit moody about the market itself, so I'm looking for somewhat defensive plays that can make good returns even if my shares don't move up a lot. Moody's (MCO) - Get Moody's Corporation Report seems ideally suited for this purpose.
MCO is in the small group of credit rating agencies that perform almost all the bond ratings. The group has taken a lot of heat for their poor anticipation of the housing market collapse and their seemingly inaccurate credit ratings prior to 2008. Even so, competition is limited and MCO's operating margins and profits remain quite healthy.
Q3 results came in at $0.51 versus $0.43 and estimates now run about $1.93 for 2010 and $2.09 for 2011 against 2009's $1.69 per share. That puts MCO at about 13.8x this year's and 12.8x next year's expectations. Those are the lowest multiples for MCO in decades. Its relative P/E (compared to all 1700 stocks in the Value Line research universe) is now lower than ever before.
It's quarterly payout of $0.105 provides almost a 1.6% current yield. That's better than any time since the September 2000 spin-off from Dun and Bradstreet with the exception of 2009's market meltdown period.
Moody's (MCO) EPS Source: Value Line View Chart
It wouldn't take much of a rebound to see MCO back at $30.00, or better, by the end of next year. That would only take a 14.4 P/E rather than its 10-year median of 24x. MCO shares have actually changed hands above $30.00 during each of the past eight years, many of which showed lower sales and earnings than 2010's.
Short-term players can keep things very conservative:
Any move up of $0.28 per share, or better, will get you a best-case profit of $5,830/$21,170 = 27.5% plus dividends in a little under six months. Breakeven on the whole trade is $24.09.
Longer-term thinkers might like to put on the same shares but go out to January 2012 using the 30 strikes.
Your maximum gain would come on a move of at least 12.3% to $30.00, or above. If MCO is there on expiration date, you'll net $30,000 - $17,020 = $12,980 plus dividends. $12,980/$17,020 = 76.2% cash-on-cash for the 14 months until expiration. Breakeven on the whole trade is a very reasonable $23.51 per share, or 12% below our trade inception price.
Trades: Buy 1000 MCO for $26.72 per share, sell to open 10 MCO May 27 calls at $2.55 and sell to open 10 MCO May 27 puts at $3.00.
At the time of publication, Paul Price held no positions in the stocks or issues mentioned.
Dr. Price joined Merrill Lynch in 1987 and over the next 13 years worked with A.G. Edwards, Wheat First and Ferris, Baker Watts. Dr. Price enjoyed enough success to retire in October 2000, but he continues to write and give investment seminars.
OptionsProfits For actionable options trade ideas from a team of experts, visit TheStreet's OptionsProfits now.
Readers Also Like:
Readers Also Like:
Readers Also Like: